PSL & Birel ART drivers conquer and secure ECKC Championship titles in Mosport
Last weekend was the final round of the ECKC Championship for the Red Army in Mosport, Ontario Canada, where testing and driver development has really begun to show off.
In Senior Briggs, Michael Glaze (Ricciardo) & JF Lafontaine (Birel ART) would qualify P1 and P2 in a huge field of drivers. For Kevin King and Jeffrey Kingsley, they would finish P3 and P4 respectively. Kingsley ended up with the championship win aboard his 2016 Birel Art AM29, available at www.pslkarting.com.
In DD2, with the top 5 separated by less than 1 tenth, Kingsley put down quick lap of 56.015 (pole) and Bizzotto 56.100 (P5), however the final would be a different story with the DD2 duo putting down a 1-3. Bizzotto would lead the majority of the race jumping into the lead early undoubtedly showing the strength these two carry together. Kingsley would also secure the DD2 ECKC Championship earning another ticket to the Grand Finals in Italy, Bizzotto finished P3 overall.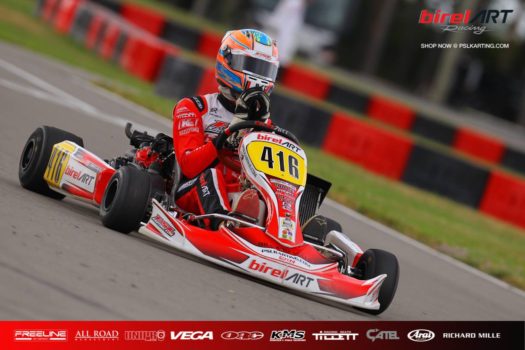 Andres DeAlba has grown into a very strong driver in 2016, adjusting his style to each circuit and using his speed to his advantage. De Alba qualified P2 in Junior Max against Canada's best battling hard throughout the prefinal. In the Main event, De Alba would go on to finish P3 behind Patrick Woods-Toth (BCR). DeAlba would also finish his debut on the Birel ART with P3 overall in the Championship.
Thomas Nepveu would make history, as the first ECKC driver in Mini-Max to score a perfect season going 7 for 7. Thomas has taken his talent to other engine platforms and tires and proved, it's not the engine – it's the driver and the entire team that surrounds him. Nepveu, one of the youngest pilots on the team secured his Championship and proved he is one of the top drivers in North America at the moment.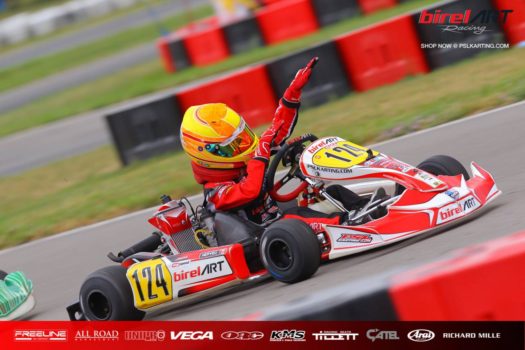 Senior Rotax pilot, Gianfranco Mazzaferro, made a perfect weekend qualifying pole, running away in the pre-final and checking out early in the main event. Gianfranco, aboard the same chassis Birel ART uses for both Junior and Senior competition (RY-30-S8) made smart moves and demonstrated his collective driving style. With he Senior Max Championship in the bag, Gianfranco will see the green flag for Grand Finals in Italy in October.
Dominic Labrecque, President, PSL Karting
"It's been a challenging championship, without a doubt. The competition, despite being smaller fields, was still very good. We have been able to focus more of our attention on driver and setup as the development
of the chassis has remained the same since the beginning of the season. We're happy with the results, I am very proud of our drivers, mechanics and families who have supported us for this season"
For arrive and drive at SKUSA Super Nationals, US Open Las Vegas, please contact info@pslkarting.com.