Press Releases
PR: Double-Victory for Justin Arseneau at ECKC Goodwood
It was a superb start to the Canadian karting season for Justin Arseneau as the young driver from Quebec traveled to Goodwood Kartways just north of Toronto, Ontario for the opening round of the Eastern Canadian Karting Championship and secured two race victories in the Rotax Mini-Max category. The impressive weekend also meant that Arseneau exited the weekend as the championship points leader.
Competing against the best Rotax Max pilots between the ages of 9 and 13, Arseneau was challenged at Goodwood as Saturday featured near perfect racing conditions with sunshine and a dry track, while Sunday was cold, wet and heavy rain showers during the Final race. However proving his skill-set, Arseneau remained in control during both finals, even with pressure coming from the drivers behind him.
Justin's driver coach and mechanic Wesley Schindel was very impressed with the results and efforts of his young driver stating the following.
"Coming off a great winter season with Justin, I was excited to get back on home soil. After seeing everything he learned over the winter I knew we were going to be tough for anybody to beat. Justin not only met but completely exceeded everyone's expectations this weekend and put on incredible performances to sweep all racing sessions of the weekend."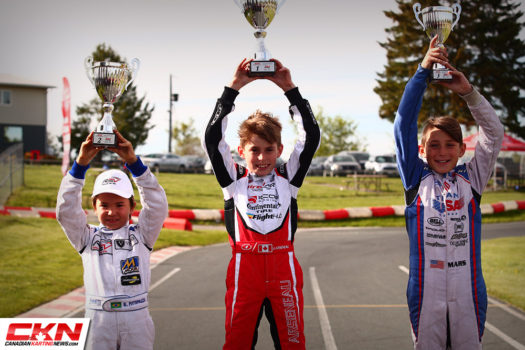 On Saturday, he missed the pole-position in Qualifying by a mere 0.001 seconds! But that didn't discourage him as he went on to control both the PreFinal and Final races to earn his second race victory of the 2017 season, adding to his success at the Florida Winter Tour.
It was a similar story on Sunday as fast-changing weather mixed up the strategies of all the Mini-Max drivers. Justin posted the third quickest time in that Qualifying session and then went straight to the front in the PreFinal and remained there in the Final, showing great kart control in the heavy rain.
Schindel continued, "I'm very impressed and proud to see the complete confidence and composure he showed all weekend. Nothing, not even the crazy change in weather, or the big name drivers making the trip from the US could phase him all weekend. I look forward to the next round in Mont-Tremblant and hope to continue right where we finished off."
Next up for Arseneau will be a pair of weekends back in his home province as he will compete in the Coupe de Montreal and ECKC races in Mont-Tremblant.
For more information about Justin Arseneau, you can follow his facebook page (https://www.facebook.com/arseneauj/). He is supported by PSL Karting, BirelART, Circuit ICAR and Continental Tires.