International News
PR: 6 Podiums for PSL at Summer Nationals; Nepveu & Kirkwood impress all
SKUSA Summer Nationals proved to be another big event in New Castle as the Red Army battled rainstorms and intense humidity.
Micro Swift stand out, Alex Powell fought against America's best Micro Iame pilots securing P3 in qualifying and backing it up with a P3 on the podium for Saturday & Sunday's main event. Thomas Nepveu, competing in Mini-Swift aboard the C-28 Cadet, adapted to the sticky tire and slower engine compared to his Rotax Mini Max, and qualified P3 in his first ever Iame 60cc event. An accident in the heats would force Thomas to start Saturday from dead last, however he fought his way to P8 in the final. In Sunday's main event, Nepveu would pass an astonishing 32 karts to finish P2 after starting 34th. A truly impressed run for the young Nepveu as he proves his adaptability in his 2016 season. Terklecki would finish P5 and Montoya P8.
Michael Patrizi, Birel ART / Ricciardo kart importer for Australia, would participate in the Masters S4 Shifter category, coming in strong after a good season of preparation for the event. Patrizi would qualify P3, but have a wheel stud snap in the main event in an absolutely stacked field again America's best aboard his DR-01-KZ, available for purchase from Phil Giebler Racing (West Coast and PSL Karting).
Kyle Kirkwood has fully submerged himself into the RY-30-S8, putting on two impressive qualifying runs with a P1 Saturday and Sunday. In Sunday's final Kyle lead every single lap from start to finish, but a very poor call for 'blocking' would put Kirkwood back to P3, however Kyle was able to back that up with a fast lap and a heat win earlier in the day.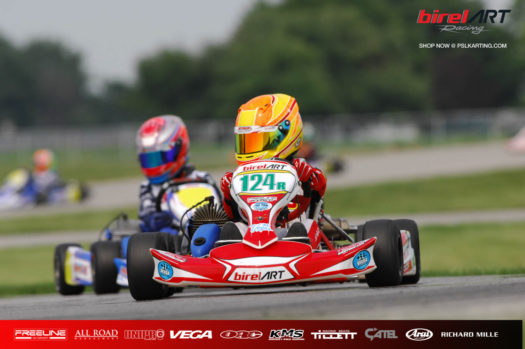 Oliver Askew, who has had a nearly perfect 2016 season, would find himself qualifying P3 on the high speed circuit of New Castle, setting quick times in all sessions. After some intense heat racing, Askew would cross P3 after attacking and pushing for the 20 lap final. Oliver would back that up on Sunday by qualifying P3, but unfortunately some on track incidents would put him outside the top 5 Sunday.
Dominic Labrecque, PSL Karting President
"We're just working hard, and focusing on what we know best. Birel ART is manufacturing the best product on the market, and the consistency is showing. Ricciardo, Birel ART and even COMP Kart, are all proving to be front runners in every class, on every tire and every engine package."
Coy Arbor, Team Manager, PSL Karting
"I can't say enough about this team. Our mechanics and drivers are working in complete harmony. But it's all coming down to good preparation and good training by our drivers. They are working harder than ever to stay focused and they are earning their results. Of course, all of this is possible with the support of our partners and families who are these races day in and day out."