Latest News
Pfaff Kartsport Cup Rok Cup Report: MacDermid Doubles in Senior; Greco Unstoppable in Shifter
The Rok Cup Canada race to Italy is on as the opening round of Pfaff Kartsport Cup at Goodwood Kartways was the first chance for drivers to score points towards the chance to compete in the Rok Cup International Final later this year. Saturday was practice and Qualifying day and it was dampened by rain and cold temperatures, while Sunday's racing action started cloudy and cool and closed out with brilliant sunshine and warmth.
The Rok Cup classes were at Goodwood for the second weekend in a row and the competition continues to build, as its first full year in Canada gains momentum. Drivers were much more prepared for this weekend's competition and it was shown on the results board as drivers were closer, more passes were happening and the racing overall was much more intense. In addition, the inverted starting grid for Final 2 on the day also provided another element of exciting racing and drivers looking to score a big points haul really had to show their worth to make it happen.
Here is how the day broke down and if you missed our Pfaff Kartsport Cup Briggs & Stratton 206 report, click here.
---
Senior: MacDermid Doubles Up with Impressive Drive in Final 2
Ryan MacDermid (Prime/BirelART) worked his magic on Sunday and drove like he did at last year's Canadian Championships to leave Goodwood with the points lead.
The start of Final 1 saw the outside row get off the line very slow, which was led by Nicholas Hornbostel (REM/Kosmic). This allowed MacDermid the clean line into turn one and all the way to turn four. Last weekend's CRFKC winner Christopher Chanko (VSR/TonyKart) slotted in behind MacDermid along with Kai Dalziel (Intrepid) and Hornbostel.
Slowly at first, MacDermid and Chanko began to pull away while Hornbostel was attacking Dalziel for third.
As the race hit halfway, MacDermid had checked out with the lead and Hornbostel was closing in on Chanko. Dalziel had slipped back to sixth behind Marco Signoretti (Energy Corse/Energy Kart) and Logan Cusson (REM/Kosmic), who returned to his kart after racing in a Formula 1600 race last weekend.
At the completion of the 14-lap Final, MacDermid took the win by three seconds with Hornbostel taking second and Chanko third.
Robert Soroka (REM/Kosmic) inherited the pole-position for Final 2 after the invert but he was only able to hold the lead for one lap before Xavier Harris (Goodwood/Exprit) went to the point. Harris initially built up a decent lead but some inconsistent closing laps allowed a hard-charging MacDermid to close in and make a move into turn nine that caught Harris off guard with just over a lap to go. Harris wasn't able to recover enough to make a pass back for the lead and MacDermid doubled up his weekend victory count. Signoretti joined the two on the podium.
When the points were tallied for the day, MacDermid holds a 105-point lead over Signoretti and Chanko going into round two at Mosport.
---
Junior: No Shortage of Excitement as Curran Wins the Day and Clark Crashes Hard
As to be expected, Rok Junior was full of commotion on Sunday.
Final 1 featured a number of collisions between drivers, including a tangle between Dale Curran (REM/Kosmic) and Andrew Maciel (Prime/BirelART). Curran was set to start the race from the pole position after winning the PreFinal, however, he spun on the pace lap and regained his starting spot after the commitment line, thus earning himself a six-position penalty from the stewards. Curran was quite aggressive in the opening laps trying to recover some positions and while not all his fault, came together with Maciel in turn seven, albeit he was able to continue.
Out front, there was nobody stopping Nolan Bower (VSR/TonyKart) as he went flag to flag for the win. That is until he got to post-race tech, where he was excluded for a technical infraction. Mackenzie Clark (Prime/BirelART), who also spun on the pace lap of the Prefinal, but instead started from near the rear instead of third, recovered to finish second on track and inherit the win, followed by Gianluca Savaglio (Goodwood/Exprit) and Matthew Miles (PRO/Intrepid).
It took a few attempts to get Final 2 started and that meant that provisional pole-sitter after the invert, Marcello Paniccia (Prime/BirelART), was moved back to row two. This benefitted none other than Curran, who then led the field to green.
The race was halted after a couple of laps as Clark endured a wild crash on the main straight. While Clark's kart was done for the day, he was able to walk away to the applause of the crowd that watched the incident that saw Clark get airborne.
Curran led the group back to green and with his impressive pace, he set the fastest lap of the race in both Finals, Curran was unstoppable en route to the win.
Gabriel Savoie (REM/Kosmic) used his second starting spot to stay up front and finish second behind his teammate with Paniccia taking third. Bower recovered twelve spots to finish fourth in Final 2, followed closely by Jacob Miles (PRO/Intrepid).
With almost every competitor having one good and one bad finish, the points race going to Mosport is very close with Curran leading the way followed by Savaglio and Clark as the top-ten drivers are separated by only 120 points.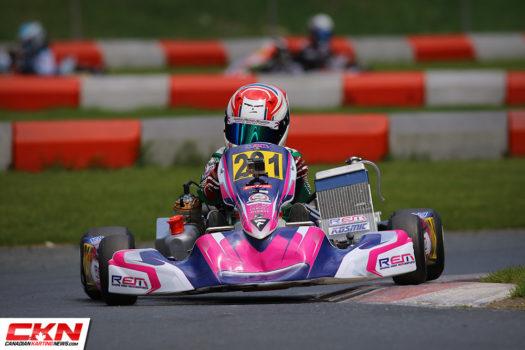 ---
Shifter: Additional Competitors No Issue for Greco
It was very positive for the grid of Rok Shifters to grow from the weekend prior as eleven karts lined up on the main straight for the standing starts, and we're still expecting more come summertime at Mosport.
The day was dominated by Davide Greco (Prime/BirelART). For the second weekend in a row, he stood out from the field and on Sunday he delivered two victories in fine fashion.
Behind him, there was some hard wheel-to-wheel racing for the podium. Justin Luik (Prime/BirelART) came home second in both Finals while Zachary Shearer (Innisfil/GP Kart) and Tyler McCullough (VRS/Intrepid) each scored a third. Overall, it was Greco winning the day followed by Luik and Shearer.
In the Rok Shifter Masters division, Dean Cotton (Prime/BirelART) also secured both victories for Prime Powerteam, giving them the clean sweep of the Shifter and Senior categories at Goodwood. David Nevin (Energy Corse/Energy Kart) and Paolo Gomes (Goodwood/Intrepid) each had a second and third.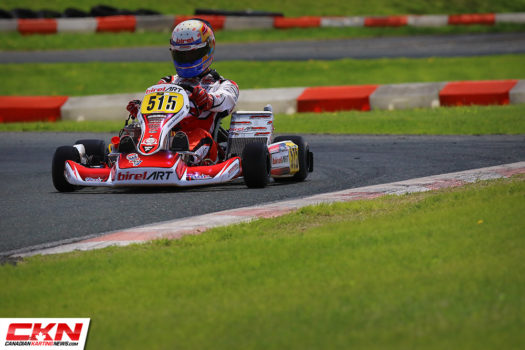 ---
Mini: Esposito Remains Unbeaten
Frankie Esposito (Prime/BirelART) was once again a young man on a mission in Mini Rok at Goodwood and he was able to come out successful. Esposito secured both victories on Sunday and in addition to his win last weekend, remains unbeaten during this Canadian season.
He was challenged by Ayden Ingratta (AI/Ricciardo) in both Finals along with Ethan Donkers (VSR/TonyKart) and Cooper Simpson (Prime/BirelART).
Ingratta was the closest to Esposito in both Finals, coming home second, while Donkers and Simpson each had a third-place finish to their name.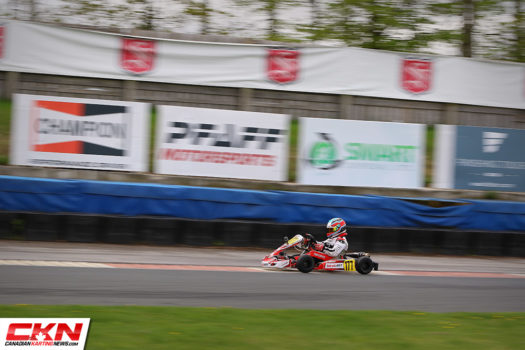 ---
Masters: LaPlante Comes Out on Top
Dave LaPlante (Premier Karting/FA Kart) just narrowly came out on top in Rok Masters ahead of Adrian Donkers (VSR/TonyKart). After two Finals on Sunday, the pair were separated by only ten points after each of them earned a race win.
The first Final saw Joe Crupi (Goodwood/Intrepid) work his way to the lead just before halfway only to break a chain a lap later and end his race on the spot. This allowed Donkers to regain the lead and then hold off LaPlante for the win. Alessandro Deluca (Goodwood/Exprit) was third.
Donkers had an issue on the grid and wasn't able to leave when the group was released onto the track. Getting his kart to run and onto the track, he started more than half a track behind. LaPlante overtook Alexander Mankovski (Intrepid) on lap one to take the lead and he never looked back. Crupi, looking to recover, came into contact with Deluca on the Final lap while racing for second, which allowed Peter Courteau (VSR/TonyKart) to sneak through and take the position. The contact also earned Crupi a penalty, moving Donkers onto the podium.