Driver Blogs
Parkers Blog: Back in the seat for the Dan Wheldon Memorial Pro-Am
About a month ago I was invited by one of my sponsors Bell Racing Helmets to be apart of their team for the Dan Wheldon Memorial Pro Am Memorial race. The race was in remembrance of Indycar Dan Wheldon who passed away just over two years ago. Drivers from various racing disciplines came together October 26th to compete in the Dan Wheldon Memorial Pro-Am Karting Challenge at New Castle Motorsports Park in Indiana, USA.
The race consisted of twelve corporate sponsored teams in a timed 2-hour race that began at 12:30 p.m. Each team had one professional racing driver paired with three amateurs. All the karts were a basic stock chassis with a Honda 4-stroke engine. Proceeds from the event benefited the Alzheimer's Association, a cause Wheldon worked to raise awareness for after his mother was diagnosed with the illness in 2008.
Scott Dixon, James Hinchcliffe, Simon Pagenaud, J.R. Hildebrand, Josef Newgarden, Tristan Vautier, Sebastian Saavedra, Alex Tagliani, Conor Daly, Bryan Herta, Martin Plowman, Marino Franchitti, Jay Howard, Zach Veach, Sage Karam and Gabby Chaves were those among the professional drivers competing. It was awesome meeting with these drivers, they are all down to earth and so easy to get along with. Also it was really cool to chat it up with fellow Canadian James Hinchcliffe, who is definitely my favorite Indycar driver. Best of luck to him next year in Indycar with Andretti Austosport for another year!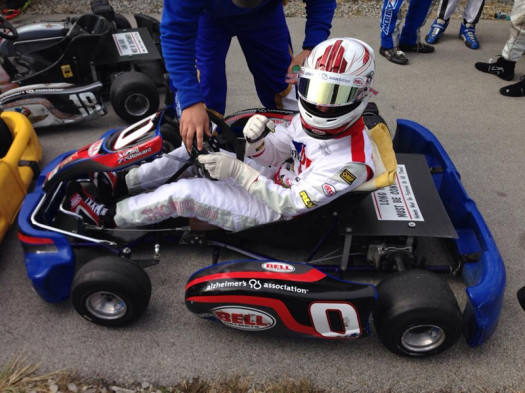 My team sponsored by Bell Racing Helmets and was composed of Jay Howard, a former Indycar driver, Zach Veach, current driver in the Firestone Indylights with Andretti Autosport and Chris Wheeler, manager at Top Kart USA and a former kart racer. These teammates were the best group of people I could have asked for! We had an absolute blast together! Our team was definitely the most comedic team at the event.
Every driver got a ten-minute practice session. The best time posted by anyone in your team would be your qualifying time. Team Bell Racing Helmets put our kart P5 in qualifying. Not bad, but we would definitely have some work to do.
The race worked was split up into four 25-minute segment races. Wherever your teams kart finished in the first race is where you would start in the second, wherever you finished in the second race is where you would start in the third and wherever you finished in the third race you would start in the fourth and final race. Wherever you finished in the fourth and final race was your finishing position. We had some bad luck in our first two races with Jay and Chris as they both got crashed on the start. Zach Veach lined up for the third segment race where he drove a stellar race from the back of the pack to P2. I was the fourth and final driver where I drove against the best of the best Indycar drivers, including the current Indycar Champion Scott Dixon.
The race started off great; on the cold tires I was pretty good and was able to grab P1 and nice gap on second. One thing about the Honda 4-cycle engines is it is almost impossible to pull away and break the draft. The whole field eventually caught me, so instead of get passed and lose places I decided to start blocking to protect my lead. This worked extremely well for about ten laps, but eventually the other drivers got to the point where they tried moving me out of the way as a last resort of not being able to get around me. This started an all out battle between the top ten in the lead pack. Sadly there were a few wrecks and one of the wrecks happened two laps to go while I was in second. This made me fall to about tenth place. I worked my way back as fast as I could in the two laps but there was just not enough time to catch the lead pack, so I would settle for a fourth place.
Honestly though, it was one of the most fun races I have had in a while. I would really like to thank Bell Racing Helmets for their support of my racing career, and for choosing me as one of the team members to represent them for this event. I wish the best my teammates, especially the up and coming Zach Veach! For those who don't already know him; he is not only great in the racecar, he is great outside of one. Definitely a great role model for my career, and I am glad to have raced along side him!