Club News
Nickerson Doubles Down at First Stop of 2016 ARMS Championship
June 25 saw the first of three regional races to crown an Atlantic Region Motor Sports Karting Champion for 2016. This race also served double duty as the Don Nickerson Memorial Race, a race day dedicated to the hard work that Don gave the sport for over 25 years, up until his passing in 2012. Atlantic Region Motor Sports is the governing body of amateur motor sport in Atlantic Canada, under ASN/FIA Canada.
All kart classes use the now extremely popular Briggs & Stratton LO206 engine.
The Novice division saw last seasons AMKA Champion William Lowther make the long journey from PEI to do battle for the ARMS Championship and Lowther left nothing on the table as he swept both heat races and followed it up with a win in the Feature race. Although not entirely easy as sophmore racer Jesse King was trying his best to have something to say about Lowther winning and was nipping at his heels the whole time. Lowther never put a wheel wrong and secured max points for the first round of the ARMS Regional Championship. Following Jesse King in third was Jaxson Sellers, followed by fellow Tony Kart pilot Cashton Woolliscroft in fourth and rounding out the top five was younger Lowther brother Rookie Racer, Ethan Lowther who was also making the long haul from PEI.
The Junior division was a tight battle at the front, Devin Wadden of Hammonds Plains, NS put his CRG at the front and held off hard charging Joel Patterson of the Annapolis Valley in his Tony Kart. followed closely in third by Andrew Robbins in his First Kart. The three raced close and hard in the heats and features with all three events having the same results.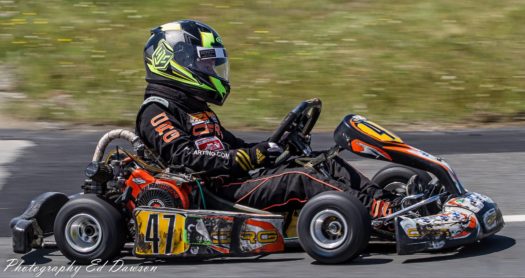 The Senior division started the day missing last years AMKA Senior Champion Catherine White due to illness. We wish Catherine a speedy recovery and will see her at round #2 of the ARMS regional series in August.
The large group of seniors took the green flag in a much anticipated battle of the Birels of Don's Kart Pit Stop, Piloted by veteran Barry Nickerson and first year senior racer Cameron Nickerson. Although a rookie at the senior level Cameron is a multi-time champion in Junior and Novice racing.
Heat Number one saw the Nickerson Birels to the front with Barry taking the win followed by Cameron a close second. Zach Grosse of Dartmouth, NS made it a top-three Dartmouth group. Heat two was similar at the front with Cameron Nickerson taking the win this time followed by dad Barry in second, Nicole Richard chased the Nickersons in her Birel to show the crowd that this is not a sport just for the boys, by taking third in heat two.
The feature race was a show of thunder as the roar of the Senior karts echoed at Scotia Speedworld. Cameron Nickerson took the win with team mate and fellow Birel pilot Barry Nickerson showing that old guys still have it chasing him down in second.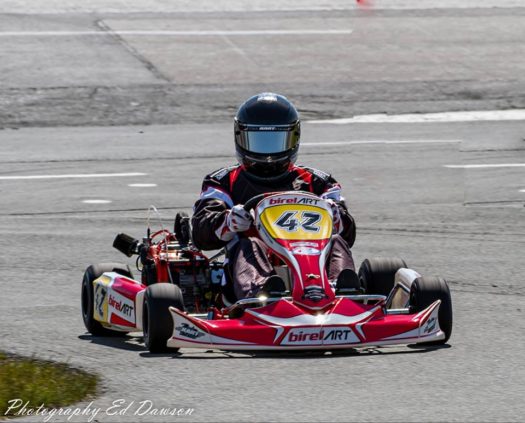 Showing that his brothers third place in heat one was not a fluke Grosse Racing's Josh Grosse drove his wheels off to take third in the feature. Both Grosse Racing drivers were later heard joking that their success was because of the rare absence of team crew chief Charles Grosse who was spending his anniversary at Daytona with his wife Roxanne. We think the team was so well prepped by Charles for his absence that the drivers couldnt help but succeed.
New for 2016 is the Masters Class for the ARMS Reional Series
Masters is intended for a more senior group of senior racers, although these racers are anything but slow. Heat #1 saw Barry Nickerson take his Birel to the front and never look back and accomplishment he would repeat in Heat #2. although the finishing order behind him would be slightly different. Heat 1 & 2 saw rookie Kevin Stoneman wheel his Birel to second place in both heats, rumour is he's got a family tie with the Nickerson racing clan and may be recieving some inside tuning advice, we think that advice may soon stop as he's getting quite fast.
Harlen Patterson took his Birel to a solid third in heat one for his rookie start with AMKA and ARMS and Richard Ramsay kept everyone honest by wheeling his MBA Kart to a solid third in heat 2 for the Masters. The Feature race brought good racing with Barry Nickerson taking his Birel to the win followed by Rookie Kevin Stoneman and third was fellow Rookie Harlen Patterson making it a top three for Birel in the Masters division.
Race #2 of the ARMS Regional Series will take place Aug 27th at SSW near Halifax, NS
For more info on ARMS visit www.armsinc.ca | For more info on AMKA visit www.amka.ca
ARMS over sees Roadracing, Rally (Nav & Performance), Rally-X, Solosport (slalom, lapping and Time attack), as well as Kart Racing with AMKA near Halifax, NS.