Latest News
New Ron Fellows National Championship Briggs 206 Champions Will Earn Epic Prizes in 2018!
Have you ever wanted to race the Brickyard, Daytona, or maybe in front of the crowds at Rock Island? Briggs & Stratton Racing has stepped up to offer one of the unique racing opportunities to this year's Briggs & Stratton 206 Junior, Senior, and Masters Champions in the new Ron Fellows National Championship. Each will receive a paid entry into the Margay Ignite arrive and drive class at the coolest venues in North America.
Winners will simply pick one of these three race events they want to compete at and a full Margary Ignite package, support and all will be waiting for their arrival.
The package is non-transferable and good for the 2019 events only, and the racer must commit 30 days in advance of the event.
The new Ron Fellows National Championship (RFNC) is anticipating big grids at their two stand-alone events as well as their culminating round, which partners with the ASN Canadian Karting Championships. Events will be hosted at Goodwood Kartways on May 19-20 and Mosport Kartways on July 7-8, while the champions and prizes will be awarded at the Canadian Karting Championships at Mosport Kartways on August 15-19.
The Margay Ignite race program is a full arrive and drive package for racers simply looking to sign up and race without having to haul a trailer to the race. In 2017, Charlotte Lalonde competed in the Battle at the Brickyard and was victorious. She followed it up at the World Karting Association Daytona Kartweek and was on the podium again. All drivers compete aboard a Margay Ignite chassis powered by a Briggs 206 engine and are pitted under one big tent.
"One of the coolest experiences that we can give our champions is the opportunity to 206 race at one of the most hallowed karting events on the calendar. Thanks to the arrive and drive Margay Ignite program, it's turnkey excitement supported by one of the leading kart companies in the US," exclaimed David Klaus of Briggs & Stratton Racing.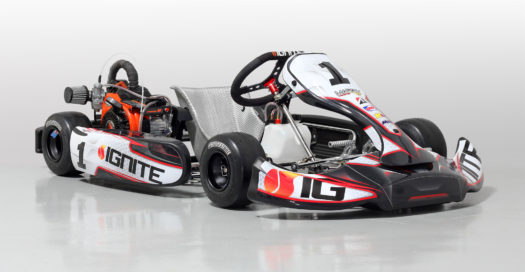 In addition to the Briggs & Stratton classes, the RFNC will feature the Rok Cup Canada engine platform for two-cycle racers where invitations to the International Final are up for grabs to the champions.
We've also been informed that more information about the Ron Fellows National Championship is coming very soon.