#RMCGF
Natael Cantin: "I wasn't so sure I would ever get another chance"
Next week Laval, Quebec's Natael Cantin will take on the world at the Rotax Max Challenge Grand Finals in Portimao, Portugal. It is an opportunity the young racer wasn't sure we ever get after the heartbreaking miscalculation he endured a year earlier while competing for the Canadian Championship and the invitation to the Olympics of Karting.
While leading the main event and in cruise control to the win, Cantin celebrated a lap too soon and in the process allowed second place to not only drive by with ease but also take away what Cantin thought would be his last chance to qualify for the Rotax Grand Finals, an opportunity he'd been chasing for more than half a decade.
Having a year to think about the incident, Cantin barely stepped back into a kart again until August of this year when he put a deal together with PSL Karting to make one last attempt at the goal. It was a last minute decision to race and following a week of getting up to speed and racing against many of Canada's best Rotax DD2 drivers, Cantin finished second on the podium and secured the position he needed to earn himself the ticket to the Rotax Grand Finals to represent his country.
Taking a deep breath before reflecting on the journey, Cantin showed a sigh of relief as he explained.
"I wasn't so sure I would ever get another chance as at the time because of school, money, and wrestling that was taking a lot of my time but with the help of my sponsor Chevrolet and Karate Sportif and the amazing set up with PSL, I managed to get a ticket this year."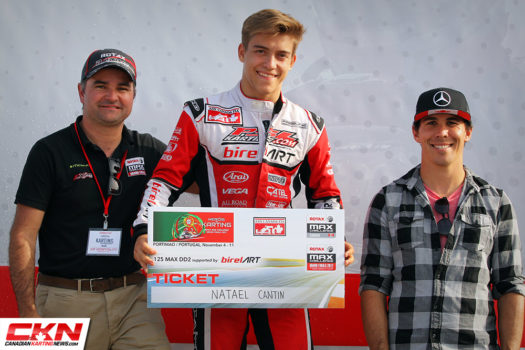 Representing his country is an honour he shares with many Canadian kart racers who get the opportunity to race at the Rotax Grand Finals each year, but with some added motivation after finally qualifying, Cantin is very excited to race this year in Portugal.
"For me it means a lot especially after what happened last year at Nationals. I can finally prove after all those years of racing that I deserve to be there and I will do everything I can to have good results."
While Cantin hasn't been in a kart very much over the past two seasons as he has shifted his focus on wrestling and karate, working with his father at Karate Sportif, Cantin recognizes that there are many similarities between the two sports and credits his training for keeping him in a condition that allowed him to jump back into a go-kart and immediately be back up to speed.
"As a matter of fact wrestling has a lot in common with racing, it requires to be in good shape and to be ready all the time! In wrestling, we practice a lot about our mental and to stay focus during the whole match which could help for karting as well."
With two months to prepare for the Rotax Grand Finals since winning his ticket, Natael Cantin has been counting down the days until he arrives in Portugal and hits the track against 71 other drivers in the Rotax DD2 category. It will be a tough week but we're expecting to see Cantin rise up to the occasion.
The Rotax Max Challenge Grand Finals runs from November 6 to 11 in Portimao, Portugal. Team Canada has fourteen drivers who have qualified to compete and looks to defend their Nations Cup title from 2016 as well as seek the podium in all six categories. CKN will be trackside for the sixth straight year at the RGF and will have all the action, updates, photos and information about Team Canada and the event!