#RMCGF
Mazzaferro Back on Team Canada for His Third RMCGF
After missing out on last years Rotax Max Challenge Grand Finals, Montreal's Gianfranco was relieved when he secured the Eastern Canadian Karting Championship Rotax Senior title and his ticket back to the worlds largest Rotax Max event.
With Italian in his family blood, Mazzaferro heads home in a way as the Rotax Grand Finals takes place in Sarno, Italy this week at the prestigious Sarno International Karting Circuit.
We caught up with Gianfranco to ask him how it felt after the final ECKC podium this summer.
"The feeling was amazing. The points were so close in the ECKC championship that it was extremely stressful and I knew I had to come ahead of my contender to get the ticket," he explained.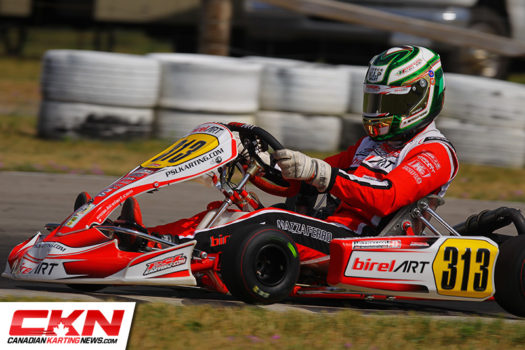 For the race, Mazzaferro has teamed up with Rotax Grand Finals veteran Steven Chapman, a mechanic and coach who has won the Rotax Grand Finals before, with fellow Canadian Daniel Morad back in 2010, also in Italy.
"I have a very good feeling for Italy. I'm excited to have Steven as my new mechanic. He has been to nine previous Rotax Grand Finals and his drivers have been on the podium in quite a few. I'm hoping I can add my name to that list."
The two took some time in Germany a few weeks ago to test out a Sodikart at the world renown Wackersdorf circuit. It is the brand he will be racing at the Grand Finals and it was also beneficial to get some European seat time before the race. While Mazzaferro competed in 2013 and 2014, both years he was a Junior and now is competing in Rotax Senior, a much more competitive category.
But that doesn't daunt him entering this weeks race.
"My goal for the Grand Finals is to finish in the top-five, but ultimately I'm going for the win!"
He also gave us some keen advice for the rookies on Team Canada this year.
"I would tell the rookies to have fun and hope for the best. There is great competition and being part of Team Canada is already an amazing accomplishment."
Mazzaferro is also excited to reveal his new race helmet it Italy, something he takes great pride in. Check it out below.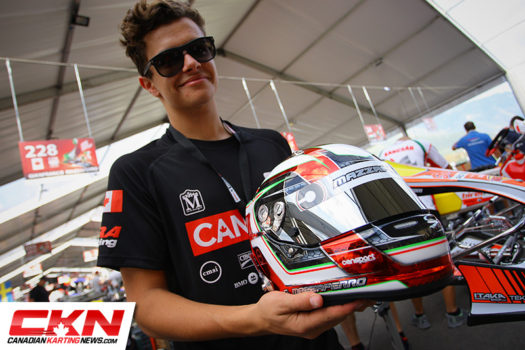 The action gets underway on Monday October 17 where Mazzaferro and his 15 Team Canada teammates get their first taste of the Sarno circuit and their new chassis for the week.
---
The Rotax Max Challenge Grand Finals runs from October 16 to 22 in Sarno, Italy. Team Canada has qualified 17 drivers to compete in the event and CKN is the official media partner for Team Canada covering every aspect of the event. Tune in often as we preview members of the team travelling to Italy.