#CanadianOpen
Maxwell Gets it Done at the Canadian Open
With his victory on Sunday, Ryan Maxwell is going to the Rotax Grand Finals after an exciting Rotax Junior Final at the Canadian Open in Mont-Tremblant, Quebec.
In a race featuring 25 Rotax Junior pilots, it was a wild shootout into corner one where Maxwell (REM/Kosmic) converted his front row starting position into the lead, attacking pole-sitter Lucas Deslongchamps (BCR/BirelART) at the end of the back straight.
Attacking early for the top spot, Frankie Esposito (Prime/BirelART) used a nice tow down the back straight to slip underneath Maxwell on lap three. At the same time in the same corner, Deslongchamps passed Max Raymer (KGR/RedSpeed) for third and contact was made, spinning Raymer off track and sadly, out of contention after a great weekend.
The shuffling for second place continued and that allowed Esposito to open up a nice gap through laps four and five, but once Maxwell settled into second place, just ahead of Christian Menezes (KGR/RedSpeed) the pair began to close back in on the race leader.
More contact for Deslongchamps knocked him outside the top-five on lap seven as the pole-sitter had a very challenging race.
On lap eight Maxwell and Menezes caught Esposito and the lead changed hands. Menezes tried to follow Maxwell through exiting corner four, but Esposito fought back and held the position allowing Maxwell to open a small gap.
The next time down the straight Menezes slipped by Esposito for second and Jensen Burnett (Energy Corse/Energy Kart), came with him.
Burnett pulled off the same pass on the next lap to gain second and set his sights on the race leader, who was now well ahead.
Blistering off the fastest lap of the race with two laps to go, the gap was shrinking but Burnett simply ran out of time and Maxwell made no mistakes.
Crossing the finish line to take the win was Maxwell followed by Burnett and Menezes with Frederique Lemieux (PSL/BirelART) fourth and Deslongchamps fifth.
The results did change post-race as Burnett had a pushback bumper penalty that moved him back to fifth, as did Deslongchamps and this promoted Lemieux onto the podium and Anthony Martella (REM/Kosmic) up to fourth after starting the race back in fifteenth!
With a second ticket to the Rotax Grand Finals up for grabs next month in Mosport at the Canadian Championships we can't wait to see these young Rotax Junior racers battle it out again for the win.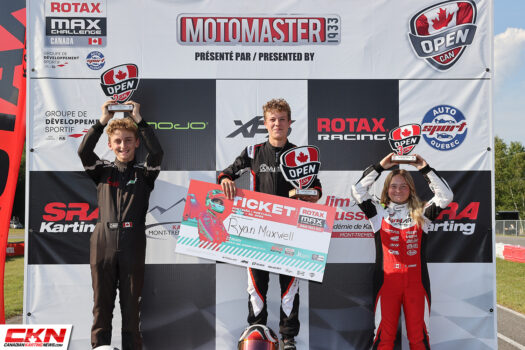 Canadian Open Rotax Junior Final Results
| | | |
| --- | --- | --- |
| 1 | Ryan Maxwell | |
| 2 | Christian Menezes | 1.397 |
| 3 | Frederique Lemieux | 2.934 |
| 4 | Anthony Martella | 3.639 |
| 5 | Jensen Burnett | 5.437 |
| 6 | Francesco Esposito | 6.365 |
| 7 | Ziming Wang | 6.427 |
| 8 | Olivier Pichette | 7.107 |
| 9 | Matisse Constantini | 7.392 |
| 10 | Lucas Nanji | 7.866 |
| 11 | Lucas Deslongchamps | 8.224 |
| 12 | Major Makovskis | 12.086 |
| 13 | Coco Chi | 12.994 |
| 14 | May Raymer | 16.442 |
| 15 | Callum Moore | 17.281 |
| 16 | Anthony Raducanoiu | 17.649 |
| 17 | Nolan Hofrichter | 19.197 |
| 18 | Nathan Nichols | 19.468 |
| 19 | Carlo Sasso | 19.661 |
| 20 | Johnathan Petrone | 19.840 |
| 21 | Mayer Deonarine | 20.575 |
| 22 | Amelia Chandler | 23.708 |
| 23 | Samuel Spurling | 31.623 |
| 24 | Elias McKenzie | 33.764 |
| 25 | Jesse Lambert | 43.138 |