From the northern part of Italy, MAXSpeed welcomes Vega as the official supplier of tires for all Rotax MAX Challenges (RMC) across America, beginning January 1, 2017. Undergoing extensive testing in all categories, including longevity development, the decision to move to Vega comes with tremendous research, and most importantly, the market's demand for a high-grip, soft tire. Coming to an end, effective after Las Vegas US Open Finale, the Mojo tire will no longer be available inside the United States. Kart racers across the nation should enjoy the new Vega tire, which will add significant grip and new speed to the current structure of Rotax programs throughout the nation.
"Over the last few months, we've listened to our customers and the market demand for high-grip tires," claims Richard Boisclair, President of MAXSpeed Group. "For MAXSpeed, this will add a great boost to driver confidence on track, and close the 'chassis gap' which has existed for years while using hard-compound tires."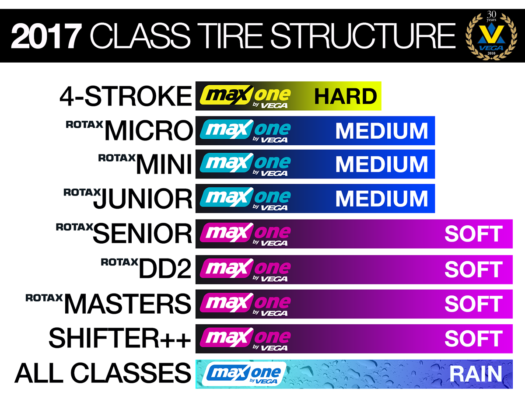 For the last few weeks, MAXSpeed has been busy organizing and structuring tire allocation for all Rotax MAX Challenge classes. This will place MAXSpeed as the US Importer of Vega Tires (5") beginning 2017, as well as the new brand "MAX One by Vega", which will serve as the official tire for Rotax events in America.
"Obviously, this was a great opportunity for our company to join an organization such as MAXSpeed Group as we are happy to provide our tires and support to their series," said Paolo Mantese President of Vega Tires, Italy.
More so, long time Vega importer, TS Racing, will continue to import and distribute 6" Vega Tires to their new and existing markets effective immediately.
---
About MAXSpeed Group:
The MAXSpeed Group is the sole company for the distribution of all Rotax Karting Products throughout the United States and Caribbean. MAXSpeed Group is also the operator of the United States Rotax MAX Challenge and is a two time Rotax Distributor of the Year award winner.