Driver Blogs
Kelsey Hann: "At last. The Canadian karting season is in full swing!"
Ah! At last. The Canadian karting season is in full swing! I couldn't be more ecstatic to see all my friends and competitors again, but more importantly to be back in my kart racing against some of Canada's best!
Well, as most of you know I made the decision to stay one more year in junior and so far its paying off. Two weekends ago I made the journey to Goodwood Kartways for the very first round of the new Pfaff Kartsport Cup. My determination for this weekend was bigger and better than ever before. This year is a new karting season and a new chance for me to finally break through with my first Ontario podium.
The weekend started off with a bang, I felt confident in practice throughout Thursday and Friday after not being at Goodwood since last years ECKC. Trust me its never easy going to tracks far away that I might get to once a year, trying to race against people who have the opportunity to be there every weekend, but we make it work. Saturday rolled around surprisingly quick and so did the rain, with the new format, qualifying was sure to be something to watch. The format definitely kept things interesting with the ever-changing weather conditions, but we managed a solid third place through the soggy conditions.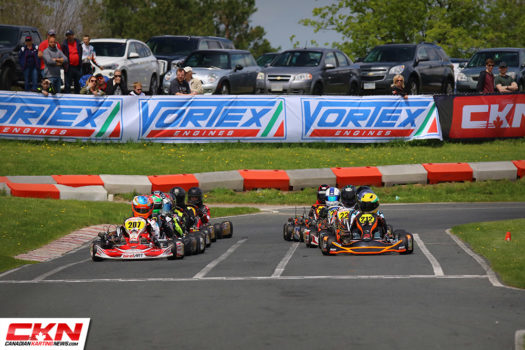 As Sunday morning rolled around, along came the sunshine. Sunday was different than most other race days, I truly felt confident in my ability's and couldn't wait to hit the track. The pre-final ran quite smoothly, finishing the race at a respectable position in 2nd. But this left me starting on outside pole which meant I had my work cut out for me.
As Final 1 vastly approached I was ready, the start went better than imagined and I was leading the race by corner one. After a last lap mistake, I ended the race second, getting my very first Ontario podium. As with the new format of inverting the top-10, I was left starting Final 2 from ninth position. Sadly things didn't end up as planned, after a tough race I found myself in some unlucky positions leaving me finishing eighth.
The final day's podium would be decided on the combined points from Final 1 and Final 2. After a rough go in Final 2, I was left fifth overall. Of course, I was still disappointed that I hadn't won after coming so close, but this was a big breakthrough for me. I feel that this weekend has lit a fire within me. I feel confident and determined that you will see me on the top step of the podium very soon. But for now I will wait for my next chance at an Ontario podium, but trust me, keep an eye out, because I'm coming!
On a side note as most of you are wondering, I have partnered up with Prime Powerteam for a set of Ontario races that PSL Karting and GCR (Gerald Caseley Racing) cannot attend. We had an awesome weekend with Prime and cannot wait for our next race!
I wanted to send a huge thanks out to Micheal Adams and my Father for all their hard work throughout the weekend! And everyone at Prime for the wonderful welcome. Gerald Caseley for his support all the way from the east coast. And lastly, my awesome Mom who makes all of this possible!
That's all for now!
Kelsey Hann#207