Features
Kart Stars Grand Prix – Kart Racing in Conjunction with the Honda Indy of Toronto
Kart racing in Canada now has another signature event: The Kart Stars Grand Prix of Toronto! Racing at Exhibition Place in conjunction with the Honda Indy Toronto and the Bay Street Grand Prix, the Kart Stars Grand Prix of Toronto delivers a truly unique opportunity in karting. With a temporary track located inside the famed IndyCar circuit, karters will be just feet from screaming Indy cars and even closer to the thousands of fans that annually flock to the waterfront to appease their need for speed.
"The Kart Stars Grand Prix is an event that will prove monumental in thecontinued growth and development of karting in Canada," said Daniel Di Leo, the man charged with the task of organizing track activities through Sunday. "In providing unparalleled exposure for karting, this event will open the eyes of all in attendance to what competitive karting is all about, and how they can get involved. Combine that with the fact we have a perfect setting in front of tens of thousands of Canada's most passionate race fans and alongside IndyCar racing heros, and this event becomes a definite must on everyone's racing calendar."
Karting will be spread over four days at the Honda Indy, beginning Thursday, July 5th, with the Bay Street Grand Prix, an exclusive event with up to sixty of Bay Street's top executives swapping tailored suits for racing suits in an effort to raise upwards of $600,000 for the Sunnybrook Foundation and the Sunnybrook Hospital Women and Babies Program. It's a cause near and dear to the heart of event founder Cathy DeFrancesco and her husband Andy, and one that gave life to their son and DFR Superstar, Devlin. Born fifteen weeks premature and weighing less than a pound, the incredible staff at Sunnybrook nursed him to health, and he's been racing into the world ever since. With an incredible kick-off day planned, the Bay Street Grand Prix will have a Celebrity/Media race begin the on-track action, and see its Grand Prix drivers sorted through qualifying and whittled down to a championship final field.
On Friday the track will be taken over by the Kart Stars staff as entry-level karting is put on display for the thousands of fans enjoying Free Friday at the Honda Indy Toronto presented by the Ontario Honda Dealers Association. All grandstands and paddocks are open to the public free of charge, with no tickets required. Having moved in Thursday evening, Kart Stars competitors can take in a day of IndyCar action prior to driver check-in at the Direct Energy Centre at 2pm, and their first Driver Briefing beginning at 5pm. With the fully-bumpered A&D karts sure to extend the track to its maximum width, the Kart Stars Grand Prix then takes over on Saturday.
Modelled after the most epic event in karting – SKUSA SuperNationals – the Kart Stars Grand Prix of Toronto will see its Rotax Mini-Max, Junior, and DD2 drivers warm-up, practice, and qualify in an AM session, before its Rotax Micro-Max, Senior and Masters drivers do the same in a PM session. Sunday will then bring morning warm-up, and championship finals beginning at 10am with podium ceremonies scheduled for 12:30, just prior to the start of the Honda Indy Toronto at 1pm – an absolutely incredible day of racing.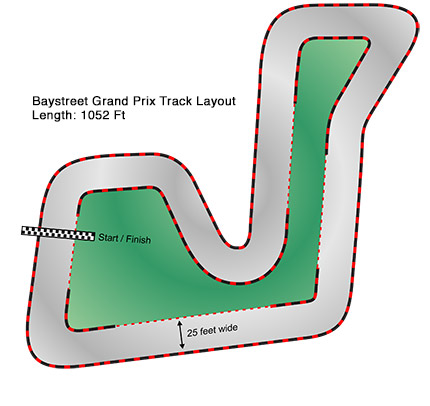 The Kart Stars Grand Prix track is located inside the IndyCar circuit between BMO Field and entry to pit lane. Running outside turn nine and inside turn ten of the big track, a temporary layout built at 25 feet wide and over 1000 feet long presents five left and two right-hand turns in a design that models the area skyline. Sure to present a challenge like no other in karting, a quick lap in qualifying and quicker thinking in traffic will definitely be required of those planning to reach the Kart Stars podium. The entire race day will be an experience few have enjoyed in the sport. After staging in front of a packed grandstand and filing onto the grid under the shade of umbrellas, races will then surely produce the most passing of any kart racing event in Canada and lapped traffic will come quickly and often – 50 laps of it in Senior and DD2! Those with a unique racing skill set will surely move to the front, and six among them will be crowned Kart Stars Grand Prix of Toronto Champions.
The Kart Stars Grand Prix of Toronto will have its classes capped at 24 with entries awarded on a first-come, first-served basis, and waiting lists will be created as required. Teams and drivers will be pitted in dedicated 10×10 spaces inside the Direct Energy Centre alongside the support classes of the Honda Indy Toronto. Security personnel will oversee racing equipment from Thursday through Sunday, and entrants will receive a 'hard card' paddock pass for driver and three team/family members that ensures unequalled access throughout the entire IndyCar paddock throughout the weekend.
The Kart Stars Grand Prix of Toronto is open to Rotax Max Challenge karts in Micro-Max, Mini-Max, Junior, Senior, Masters and DD2, and all drivers must hold a valid, ASN approved club racing license. Registration is available online only, and opens to the public on Monday, June 18th at 10am. For additional information, please visit baystreetgrandprix.ca