Where has the race season gone? It feels like just yesterday we were at SH Karting kicking off the CKN Summer Tour and now here we are, middle of August and only days away from crowning Canada's 2018 National Champions.
As much as I'd like this season to slow down, I know it's not possible and with that, I am very excited for Nationals 2018. Back at Mosport for the second year in a row seems a little unfair for the other provinces, but I don't think anyone can argue that Ontario is producing the largest number of racers across the board right now and after having a peek at the Pre-Entry, there will still be a number of provinces represented this week, which is great. It would be nice to have every karting province represented, but that's all up to the racers and their plans.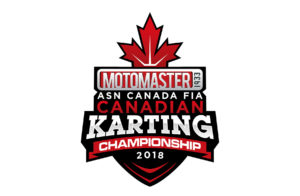 When I break down the event, there are three different programs on tap: Briggs 206, Vortex Rok and Shifter. All different beasts and all with superb drivers showing off their best talents this season.
Briggs 206 has been and will be the leader when it comes to entries and excitement as the low-cost program developed by Briggs & Stratton continues to attract racers new and old, especially those who are budget conscience. Coming off of a wild CRFKC SummerFest at Mosport, there is simply no predicting who will come out on top at Mosport, as I expect around 40 drivers to make the entry in Senior and nearly that in Junior, Junior Lite and Masters. I'm really hoping to see some of Quebec's best Briggs racers take part as well, knowing how strong their program has been in 2018.
For the Rok Cup Canada program, which has hit the ground running in 2018 after a late-season start last year, there is plenty on the line and I really hope that draws a good number of drivers. Rok Cup International Final tickets to the race winners as well as the Pfaff KartSport Cup Champions means we could see some serious scrapping in the National Finals on Sunday, just like we did last year with the Rotax Max classes. While perfect weekends are attainable, they're very difficult to achieve, however, we have our eyes on a couple of drivers who could make it happen, including the likes of Dale Curran and Ryan MacDermid, who will be looking to defend their National titles from a year ago. Both also showed incredible speed at this past weekends SKUSA SummerNationals in Indiana, USA.
Finally, Open Shifter. I don't know why, but this class just can't seem to consistently get into double-digit entries. The shifter class is by far the most attractive to racers looking to step up in their motorsports careers, but I don't see karters lasting long enough in the sport to even give themselves a chance in some proper Shifter kart racing. That being said, it will be interesting to see who throws themselves into the pack this week and if anyone can dethrone Davide Greco, who is nearly unbeaten in Canada in 2018.
Invite your friends, invite your family. Along with great racing, a fan zone is being set up with support from Motomaster and Canadian Tire. There will be lots to see and even a food truck on Sunday to check out, that is, if you can resist the delicious temptations from That's Sapore inside the paddock. I've got inside information that That's Sapore will have a grilled chicken sandwich on Saturday and fresh steak on a bun Sunday, so along with your karts, racers, bring your appetites.
If you haven't done so already and know you are going to race Nationals, please complete your online registration. It helps everyone organizing the event be as best prepared and also gives us at CKN heads on who to watch out for. It only takes a few moments, so log on to http://kartsportcanada.ca, and register now. You won't want to miss this great event. The paddock is already filling up with many drivers taking part in Sunday's MIKA club race, which paid tribute to the late Paolo Solaroli, an avid karter at Mosport who passed away just a week ago.
It's going to be a great week karters. I hope you're as excited as I am to see who can come out on top at the 20th annual ASN Canada FIA Canadian Karting Championships.
See you there!