Italian Leonardo Lorandi (Baby Race/Parolin) has captured his first karting victory in the United States, picking up the massive win in KZ2 at SuperNationals 22. Lorandi, bouncing between karting and Italian F4 in 2018, had good pace throughout the week, but never had fought for the lead in any of the heats. However, when the pressure was on, the 18-year-old came up in spades.
Lorandi had set the fastest lap of the race at the halfway point, having moved from sixth to third at that point, trailing only Marijn Kremers (PSL/BirelART) and Noah Milell (RPG/TonyKart). Two laps later, the Baby Race driver made a slick move on Milell, demoting the Swede to third and now had his sights set on Kremers. The only problem was that the Dutchman had a 2-second advantage and was lapping similar times. Then came a race stoppage on lap 18 of 25.
Tyler Coffman had been involved in an accident in turn 9 that brought out the red flags, bringing the field to a stop on track. The 2-second lead had evaporated in an instance for Kremers, much to the delight of Lorandi and a handful of contenders.
Before the race was restarted, defending winner Paolo De Conto was parked by the SKUSA officials for working on his kart during the red flag stoppage, surrendering his position near the top-five.
On the restart, Kremers brought the field to the green flag at a snails pace. The BirelART driver took off from there, leading the field as he had for the first 17 laps. Lorandi, fully aware he may not have another chance to be this close to Kremers, took advantage by passing for the lead on the second circuit after the stoppage.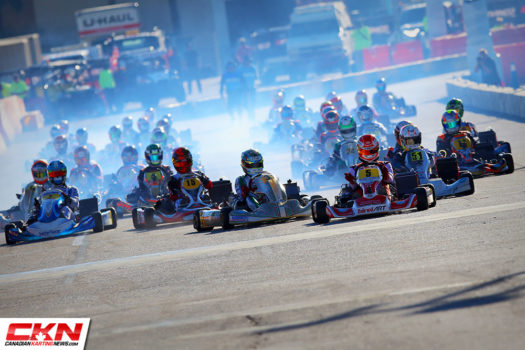 Lorandi's pace was too much for Kremers at this point to overcome, only being able to close within a kart's length on a few occasions. It was a tale of two races as Lorandi picked up the win in a race Kremers was almost certainly supposed to win.
Noah Milell ran third for the majority of the race, but a missed shift with two to go opened the door for Maximilian Paul (DR Kart) to jump into third. Paul and Milell ran together in third and fourth at the stripe, followed by Kyle Wick (CRG) a half-second back for the final podium spot.
Canadian Antonio Serravalle (DR Kart) fought hard throughout the two race segments to come home sixteenth while Lucio Masini (FA Kart) was the biggest mover of the race, advancing up 17 spots to finish twenty-first. Randy Tang (Prime/BirelART) was a DNF after a hard crash on lap one.
Report by Kart360/CKN
Watch the race below courtesy of SuperKarts! USA