The official schedule from Goodwood Kartways and Mosport Kartways has been revealed and there is something new in view: the Ron Fellows National Championship.
The new Ron Fellows National Championship, which is currently a working name as a presenting sponsor is in the works, will be covered in three rounds with a unique race format. Round one will be held on May 19/20 at Goodwood Kartways with round two to follow on July 7/8 at Mosport Kartways. The third and final round will be in conjunction with the ASN Canadian National Karting Championships, which will also be at Mosport Kartways.
We caught up with Daniel Di Leo of Goodwood/Mosport and asked how the new series came to light and what the plan will be.
"With some uncertainty surrounding the future of the ECKC in 2017 and with the requirement of a National series on the 2018 karting calendar, we worked with ASN Canada along with Ron Fellows to come up with an alternative program. Ron has been a huge supporter of our sport and continues to push for races that develop our next group of Canadian racers."
"This new series will be simple and eliminate the long race weeks that races have been known for. For the two standalone rounds, the track access will be restricted on the Friday, only allowing trailers to move in and setup. The two-day format will be one set cost that includes practice and two Final races."
"Both Briggs & Stratton and the Rok Cup Canada are in full support of the programs and we will have some great prizes to give away. I can't wait to lock down more information and pass it on when we're ready."

Looking at the event structure, we're excited to see something new that should appeal to all racers. The two-day format will see four rounds of organized practice along with Qualifying on Saturday afternoon, which will see racers get only one lap to post their best time. Returning to the track on Sunday, racers will then compete in a Prefinal to set the grid for Final 1. After Final 1, the top-10 finishers will be inverted to set the grid for Final 2.
There will be two divisions of the Ron Fellows National Championship. The Briggs Cup Canada, featuring Junior Lite, Junior, Senior and Masters classes where all four class Champions receive Entry Fees and transportation to an International Briggs Race that will be announced in the near future.
The second division will be for Rok Cup Canada which will have Mini, Junior, Senior (Masters) and Shifter classes. All five Champions will receive a ticket to the Rok Cup International Final in Italy.
---
To view the official announcement, click here
---
We are sure more information about this exciting new series will come, but nonetheless, we are very happy to have a full schedule of Canadian events for 2018 out before the year has even started and for that, we commend all of our race organizers across the country.
However, with this news, it appears that there will be no Eastern Canadian Karting Championship in 2018.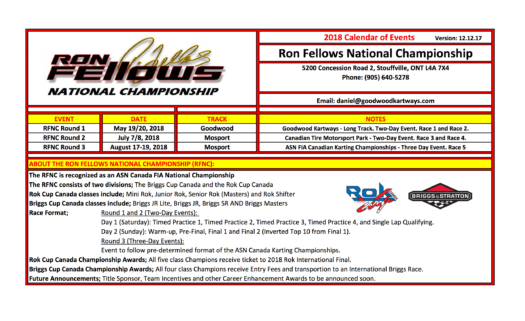 ---
With the majority of all of Canada's major events in 2018 now confirmed, be sure to check out our schedule of events.