Latest News
Florida Winter Tour to Provide additional Grand Finals Awards for 2013
Formula Kart Productions, the exclusive owner and promoter of the Florida Winter Tour kart racing program, announced today that BRP/Rotax has awarded the FWT Rotax Max Challenge two additional Rotax Grand Finals tickets, bringing the 2013 FWT RMCGF award total to six tickets.
FKP's Bill Wright: "I'm honored to be awarded these additional Grand Finals tickets. It's no coincidence that they are awarded to the DD2 and DD2 Masters categories as 2012 saw a significant FWT and worldwide growth in the participation and prestige of both of the DD2 classes. RMCGF administrator Robert Gumpenberger has responded by once again increasing the number of drivers invited to the 2012 RMCGF in the DD2 categories, and awarding FWT two of these additional spots to the 2013 Grand Finals."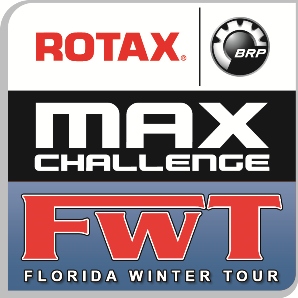 2013 FWT drivers will now be chasing two Grand Finals tickets in both the DD2 and DD2 Masters classes and one ticket each in the Senior MAX and Junior MAX classes. These drivers could add their name to three previous FWT award recipients who went on to claim a Rotax World Championship at " the Olympics of Karting", the Rotax Max Challenge Grand Finals.
Recent announcements add even more excitement to the upcoming 2013 FWT DD2 and DD2 Masters categories as two-time Rotax World Champions Ben Cooper and Pier-Luc Ouellette, reigning and three time U.S. Rotax Grand National Champion Danny Formal, reigning and three time Canadian Rotax Grand National champion Jesse Lazare and a growing list of many top level Rotax drivers from around the globe are currently committed to running the DD2 categories at the 2013 FWT.
The Florida Winter Tour is one of the world's largest, longest running and most geographically diverse kart racing programs. In 2012 the FWT featured over 400 drivers from 28 countries and all six karting continents, and for the 5th consecutive year was the world's largest official Rotax Max Challenge series and event.
For more detailed information log on to the official FWT web site at www.floridawintertour.com