Latest News
Flea Market & Trade Show Feb. 23 Presented by The Waterloo Regional Kart Club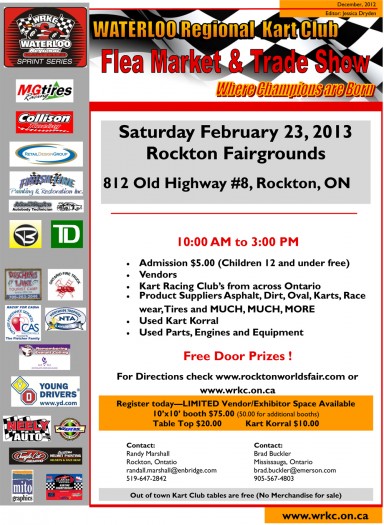 The Waterloo Regional Kart Club is pleased to announce that on Saturday February 23rd, we will be holding our annual Flea Market and Tradeshow at the Rockton Fairgrounds. The show will run from 10:00 AM to 3:00 PM. Admission is $5.00, children 12 and under are free.  Door prizes will be drawn through out the day.
The show will feature used parts, engines, and equipment.  Product suppliers will be on hand for Asphalt, Dirt, and Oval kart racing.  There will be a used Kart Korral for those looking to either buy or sell a used kart.  Did we mention there will be door prizes drawn through out the day!  Not only is it a great place to go for those looking to clear out that space in the Garage they need to get ready for the upcoming season but it is also a great place to come catch up with all the events that are planned for the 2013 season.  We expect to have representatives there from many of the club's and series.
For more information please visit our club website at www.wrkc.on.ca.