#CupKartsCanada
Drivers Share Their Excitement for Cup Karts Grand Nationals 7
Trailers are rolling in and getting set up, karts are being finished up and Briggs 206 engines are getting their final touches tonight on the eve of the largest four-cycle race of the year. The Cup Karts North America Grand Nationals 7 kicks off on Thursday at New Castle Motorsports Park and there will be rolling thunder for the next four days in Indiana.
60 Canadian drivers covering 68 of the more than 500 entries this weekend are ready to hit the track and we caught a few of them just in time to get their thoughts and excitement for the big event. Many are competing at the Grands for the first time and will get their first taste of the world-class NCMP circuit on Thursday.
The event will rip by quickly this weekend and staying out of trouble will be the biggest keys to even having a chance at the podium. Friday is hot lap qualifying followed the first heat race. Saturday will run two more heat races, with the progressive starting grids shuffling up the action every time a driver hits the track. Sunday morning will run the last chance qualifiers to set the grids for the Grand Finals on Sunday afternoon.
Cup Karts is no stranger to starting massive numbers, and the Senior Light and Mediums classes look to run 50 karts every time the group hits the track this weekend.
So what did our drivers have to say? See below.
"The main thing that excites me is that it's my first National race and to be a part of the grand Nationals with 500+ entries is super exciting, especially getting the opportunity to race with my friends from Canada and race against a ton of new people in the USA." – Noah Van Stratan
---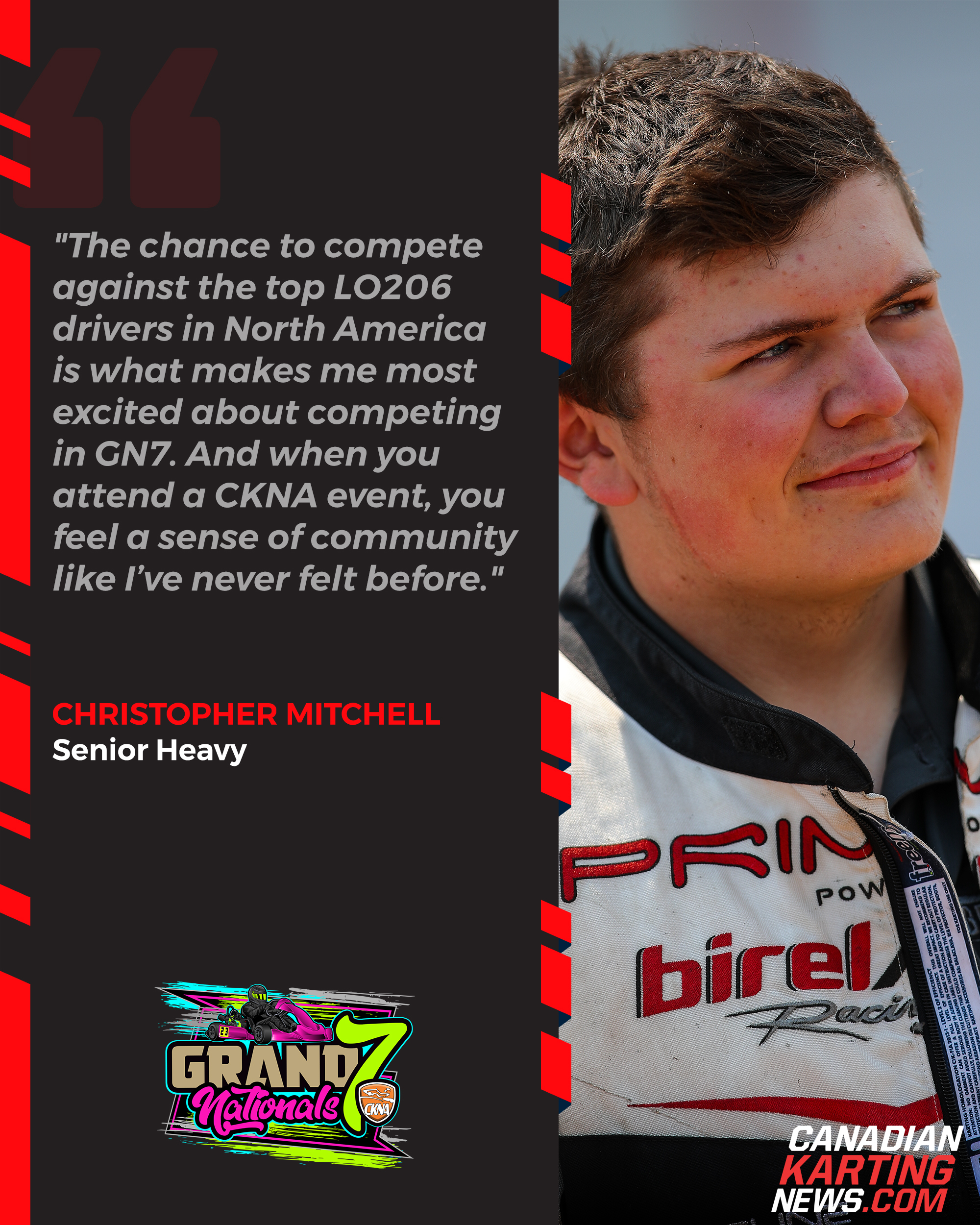 ---
"I am super excited to race in bigger fields with drivers I've never raced before. It will be a great learning experience and challenge!" – Jason Rothman
---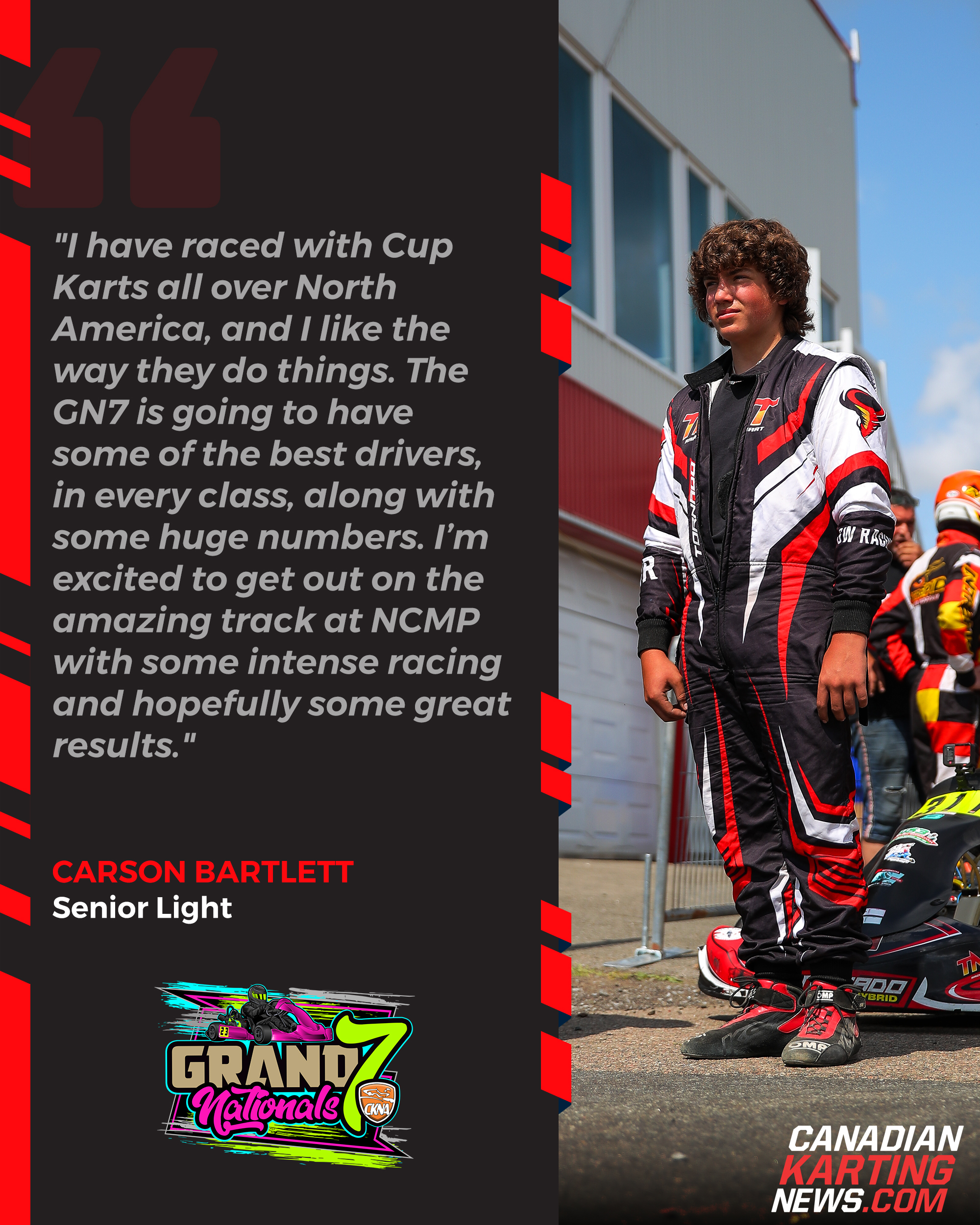 ---
"I am really amped up to drive on the NCMP track and at the biggest Briggs race in the world. I am also looking to improve on my Spring Nationals result too. This weekend should be fun and I'm hoping for a top 10!" – Sebastian Day
---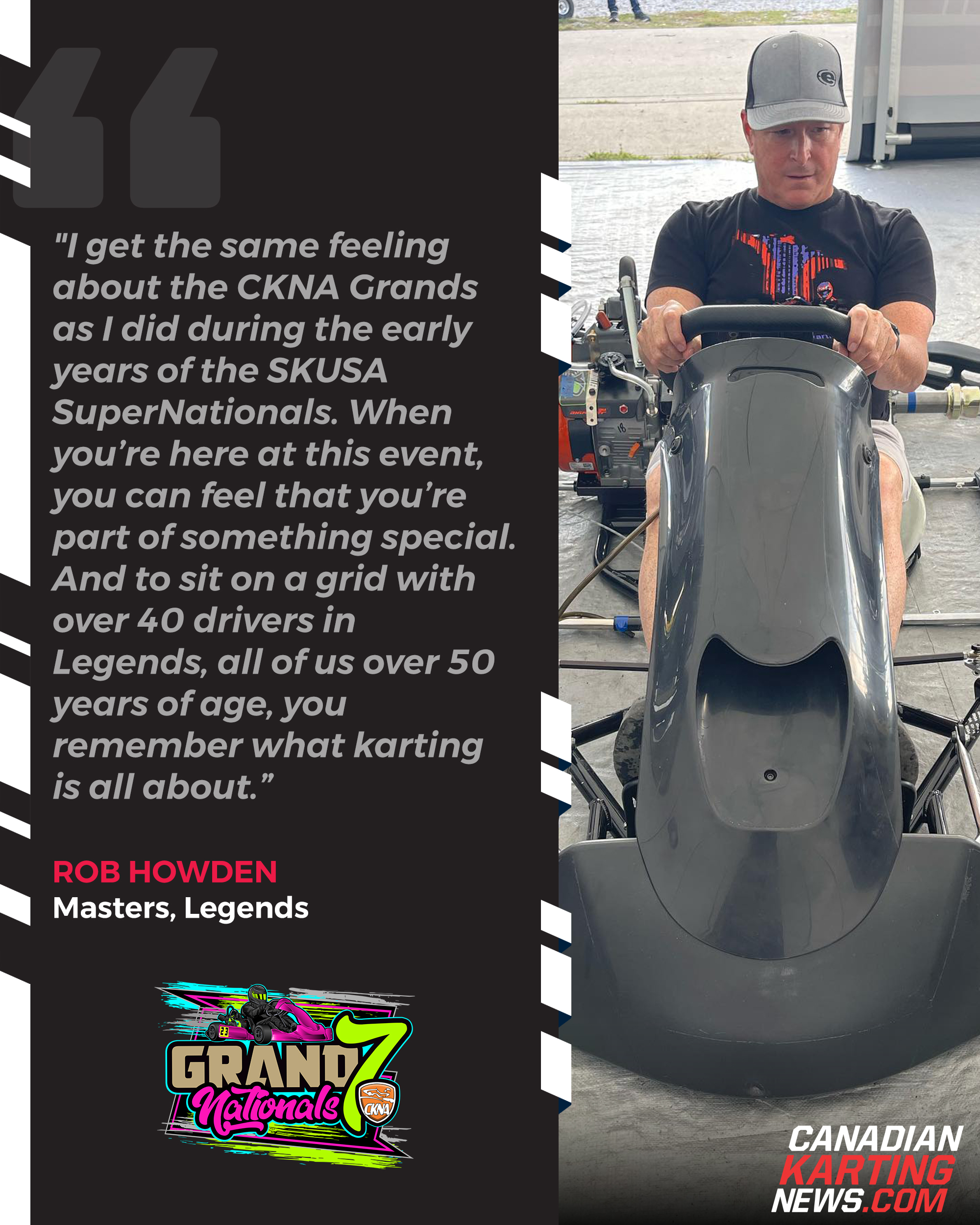 ---
"What I'm most excited about is probably being able to test myself against the best four-cycle drivers In North America and since it's my first time at this track I'm excited to learn the track layout and hopefully be able to get my kart up front of the field. Missing a couple of days of school isn't so bad either." – Cole Morgan
---
"The whole atmosphere of the facility. Competing with some of the best Briggs talent in the world and having the dream team of Canadians alongside for the ride is epic." – Chad Webster
---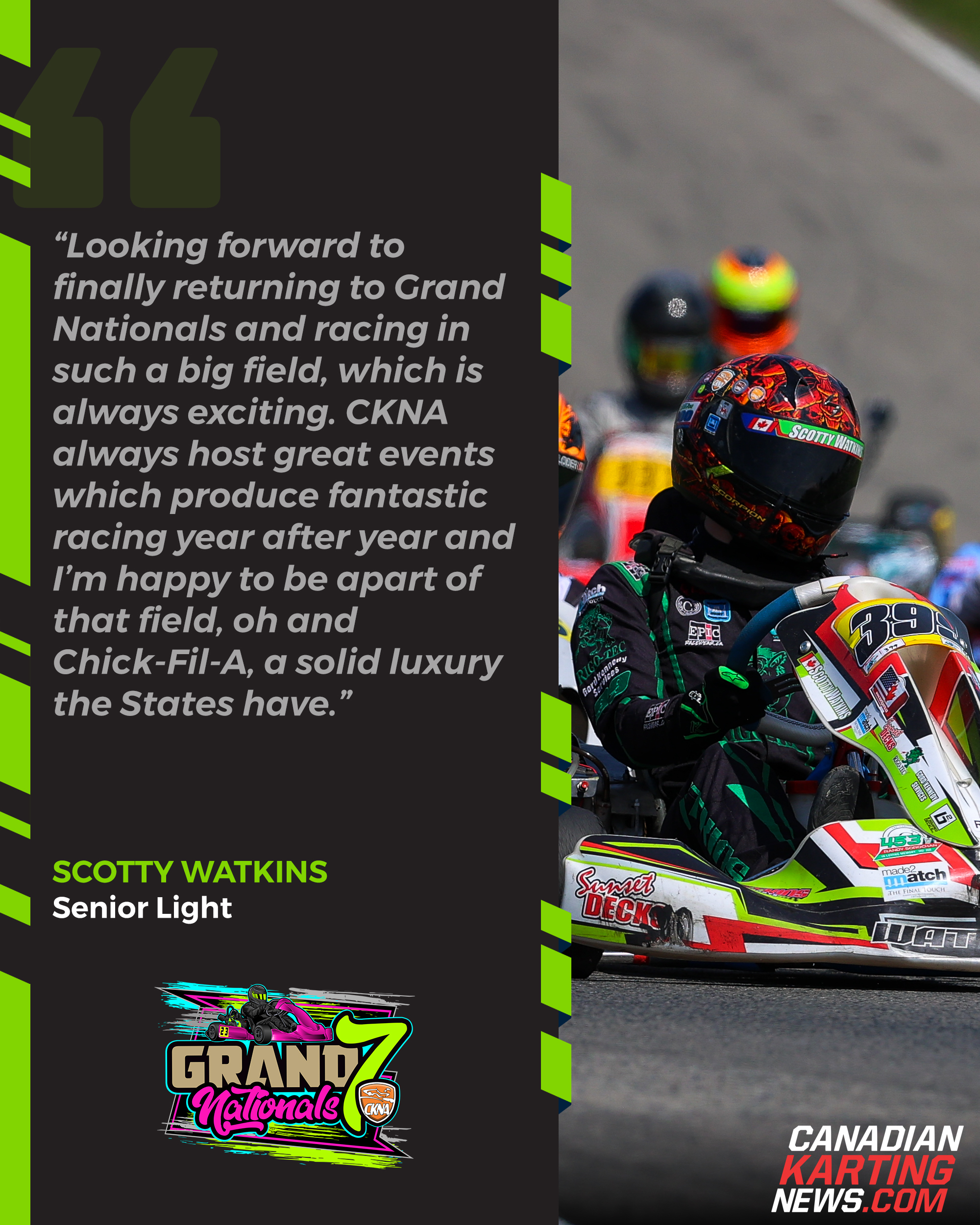 ---
"I'm excited for the close racing and the huge fields of karts that the Grand Nationals brings. Also, I can't wait to be racing some of the best 206 drivers from Canada and the U.S." – Jaden Harry
---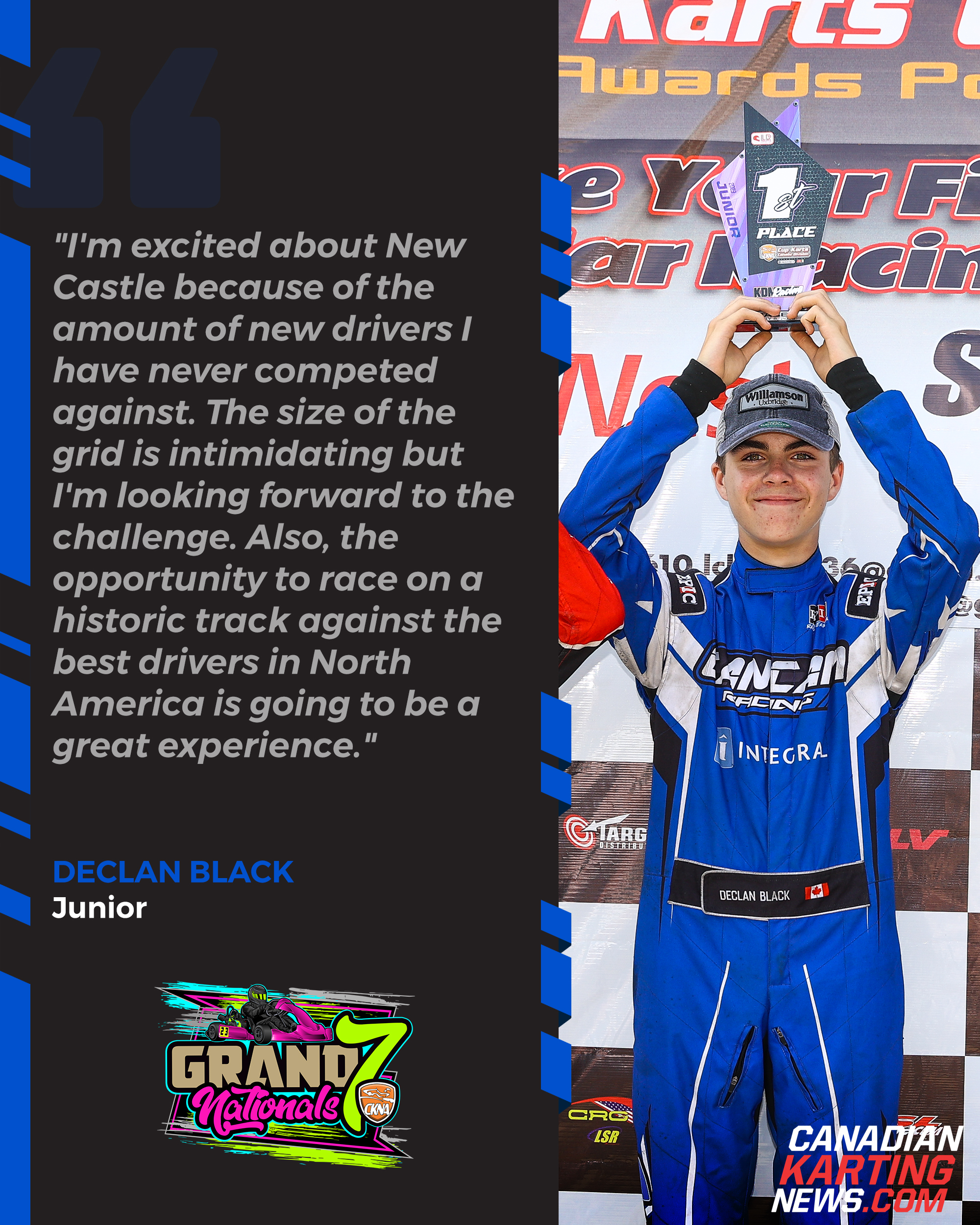 ---
"To be racing against the best of the best is what I love about the Grand Nationals. Overall it supports the expansion of the sport. Also, the high entry numbers at a purely 4-cycle Briggs event puts the focus solely on us and nobody else." Jon Treadwell
---
"Excited to race against new competition to learn a new track to see how I can fare on my Factory Kart against the Americans and I'm excited to race at the Grand Nationals!" – Aidan Shimbashi
---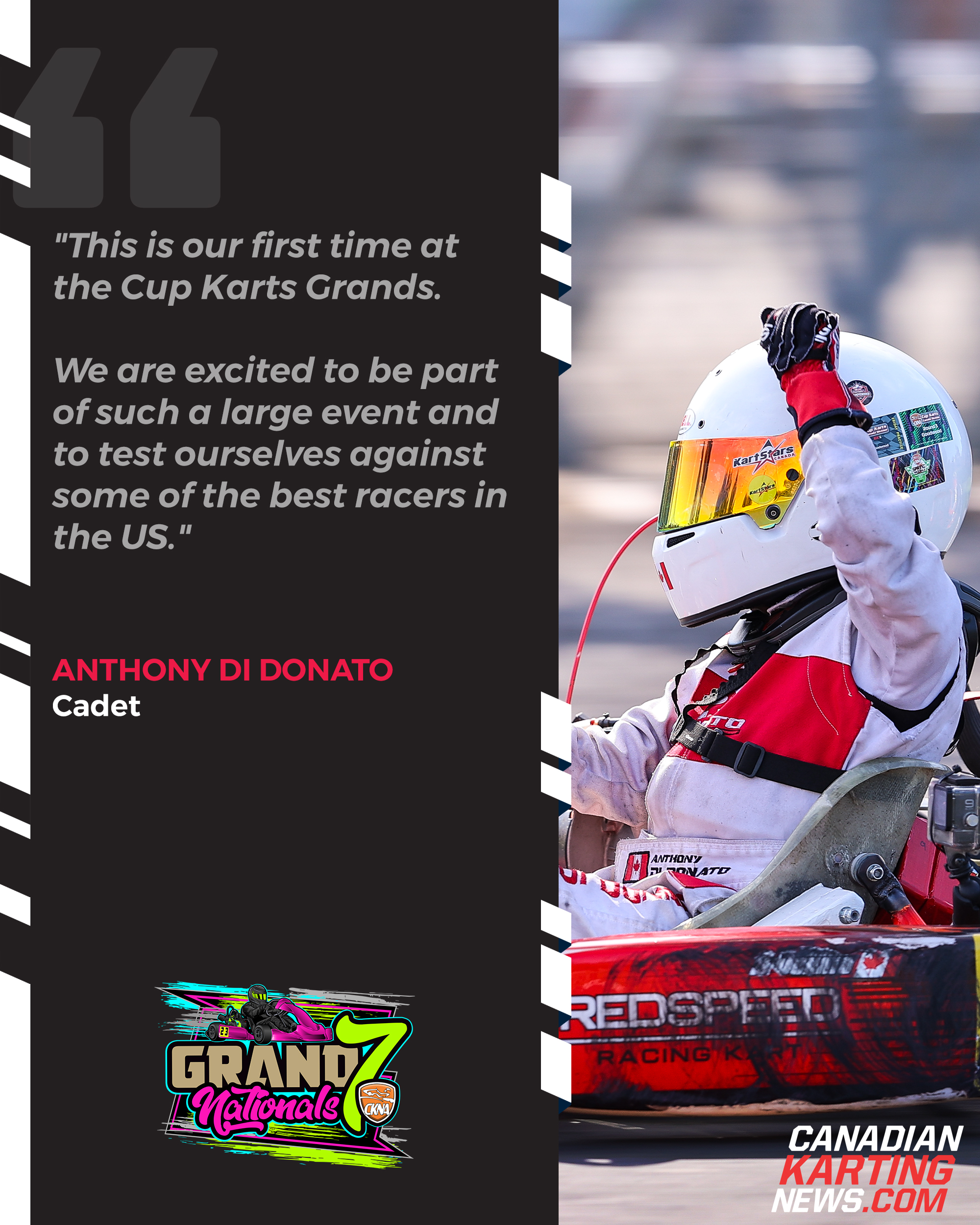 ---
"I am looking forward to racing against the strongest competition of my career and the talent depth. Not only do I enjoy racing with others who share a passion for the sport, but it's a great way to end the season with my friends and karting family." – Kevin May
---
"It's the level of competition that makes this race so exciting and prestigious. I believe that grand nationals are the pinnacle of Briggs and Stratton Racing. This is because we racing side-by-side with the best drivers from the US and Canada. With a fantastic organizer that has a unique set of rules." – Mitchell Morrow
---
"I feel like it's important for our 4-stroke program to be present at the biggest 4-stroke race in North America. It gives our drivers the chance to further their development and race against the best. It is also a great way to showcase how strong our Briggs engine program is. Our engines have won this event three times beforem which is something we are very proud of." – Darryl Timmers, Professional Racing Ontario