Driver Blogs
Driver Diary: Parker Thompson @ SKUSA SuperNationals XVI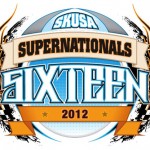 My race week started busy and started early. Monday I had to pack everything and head to the airport to catch a direct flight to Vegas. I got used to the bright lights and slot machines early as the airport was packed full of them. Then it was straight to the Rio to get checked in, then off to bed. Tuesday I got to sleep in, which was a nice change. After a nice breakfast it was straight to the track to get registered and to prepare the kart that I would be driving. After all the preparation that needed to be done was completed, I headed to the UPS Store in the Rio to pick up my fresh new lid from Polen Designs. Then I went and had dinner with my dad at an Italian restaurant and after that it was straight to bed.
WEDNESDAY
With only two practice days and four seven-minute sessions per day, we had to make sure we stayed on top of things. We couldn't afford to miss sessions because of mismanaged time. It was imperative as well that we stayed out of trouble and brought the kart back in one straight piece – straight being a very key word in that sentence! The first practice went well. Honestly though, I don't care if we set the pace in the first session, as long as the kart and engine feel strong and nothing goes wrong I am very happy with the first session. The second session went a little off-plan though. I thought my mechanic left a hub loose because the kart didn't feel right. I pulled in on the first lap and there was no hot pit so that was the end to session two. My nerves must have been getting to me, as we evaluated the kart and everything checked up just fine. Session three went very well, we put it in the top ten and I was happy with how things were developing after the disastrous session two. Session four was a tough one. We made too many changes that didn't go as planned and didn't put new tires on. This put us in the back half of the field and in the slow group for all practices and qualifying. We honestly didn't realize the consequences of what that would do to us. For one, the slow group goes first which is right after the cadets. So the slow group sweeps the track for the fast group, essentially. For two, you're always in traffic with the slow group. We didn't know it at that time but it was going to be a long struggle after our poor performance in that final practice session.
THURSDAY
The second day of practice was all about fine-tuning the three elements to go fast in karting: driver, then chassis, then engine. When you have dialed in those three components correctly, you will hit the top of the sheets. I just made it sound like dialing in those three elements is easy, but obviously it's extremely hard. We just had to keep focused on our program and not lose sight of the big picture – getting through the slow group and recovering our weekend. All Thursday practice sessions went close to the same, without problem but we needed more speed. We had an idea of what would be our qualifying setup; we just hoped that it would come together for us in qualifying.
FRIDAY
Qualifying and Heat 1 were on Friday and it was the day that could make or break our week of racing. If qualifying did not go perfect it could ruin our starting position for the heats. If our first heat didn't go perfect it could lead us to the LCQ. For me, qualifying was very respectable. With the track being a couple tenths off for the slow group we were only a couple tenths off the fastest drivers in the fastest group. Overall we qualified 17th. I could work with that, and it put me in Group 'A' and on the inside for every start, fifth row. I was really excited to get the racing underway. At the start of Heat 1 the excitement was quickly gone. In my opinion, I don't know why the flagman threw the green. It was the first heat start of the Junior TaG category! I mean come on, you know it's almost going to be a throw away! We had 45 teenagers trying to win it in corner one! Also, the formation of the start was all messed up. The inside row was scattered. The outside charged the inside row and up further from where I was starting it caused an accident. The driver I was following made a late avoidance; I didn't even see the crash until it was too late. To make it worse, my starter didn't work. So Heat 1 was a DNF. Not the start I was looking for.
SATURDAY
After a night of re-shaping the chassis, we could only hope that hard work would pay off and we'd have a good practice session to start the day, but of course we only got two laps because of a red flag incident, just our luck. Now we were going into the heats blind, with no clue what kind of chassis we had on our hands. We just had to hope for the best. Amazingly, in the second heat I couldn't believe how well the kart handled. We charged from ninth to a fifth-place finish and took fastest time overall between all the groups by nearly two tenths! The next heat was another perfect drive up the field to fifth again with another very fast time. The weekend was starting to look up at last! Only problem was that with the DNF in heat one, I was starting 26th for the main on Sunday. Still, team Buddy Rice Karting and I were quite confident that we would be in for a very good finish.
SUNDAY
After building confidence through heats two and three, we were ready to take on the Super Sunday Final of the SKUSA SuperNationals. Everything went smoothly in morning warm-up, and we were prepared for what everyone had been waiting for. At the start of the final I went from 26th to the inside and nearly into the top ten round corner one! But, coming out of corner one we had an engine failure, which lead to me not finishing the race. It was one of the toughest race weeks I've ever had. Going from being so fast to not even making the first lap was a tough pill to swallow. Nonetheless, the boys at Buddy Rice Karting and J Power Racing Engines worked extremely hard to get me as fast as I was and I can't thank them enough along with my partners: Bell Racing Helmets, OMP, Polen Designs, RLV, Tillett Racing Seats, Courtney Concepts, CanadianKartingNews.com and Sylvan Lake R.V. for all of their support.
With the SuperNationals behind me, I now look forward to representing Team Canada at the Rotax Max Challenge Grand Finals next week in Portimao, Portugal. Tune in to CKN for full coverage of the event.
-Parker