#MRFKC
Di Leo Continues to Prove He is One of Canada's Best
At the tender age of 29, Marco Di Leo is much older than the majority of his karting competition these days. One of the few drivers from his generation to continue to put on the helmet and drive for his pure passion for the sport, regardless of the age of his competitors and refusing to even consider to move to the Masters ranks. And as a veteran of the sport Di Leo is always a threat for victory, whether he has the speed to drive away with it or the race craft to physically earn it.
Coming off of a spectacular season that saw Di Leo take home his first Canadian title in nearly a decade in 2015, there were high hopes for a repeat, but it got off to a rather slow start with an unusual fourth place championship finish in the Eastern Canadian Karting Championship, a series title he has won four times before. But with a fresh opportunity at the Canadian Championships in Mont-Tremblant, Di Leo proved he is one of Canada's best kart racers of this generation, taking home the National title for the second straight year. With his father turning the wrenches, the moment was even more special for Marco.
The win also earned him his eighth invitation to the Rotax Grand Finals, sending him to Italy as part of Team Canada. At an event that has historically not been very kind to Di Leo, he drove like the veteran he is, advancing to the main event in some of the most challenging of changing conditions the race has seen before. His consistent results also helped Team Canada take home the Nations Cup title.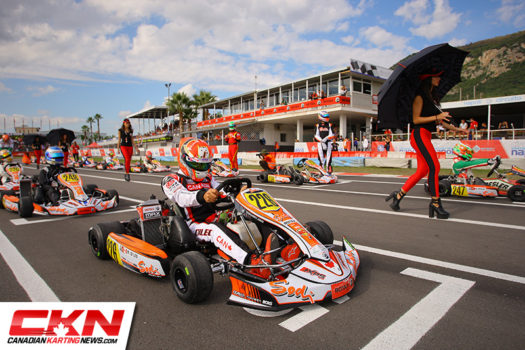 Back at it a couple weeks later in Las Vegas, USA, a last minute decision to race at the US Open Championship Finale saw Di Leo battle for the win before finishing on the podium in third place, once again competing against a group of racers much younger than him.
On top of his national and international races in Rotax Senior, Di Leo also takes on the challenge of racing in the Briggs & Stratton Senior category whenever possible. Making a full series effort in the Champion Ron Fellow Karting Challenge, he took home the championship after an extremely tight battle that saw four different race winners in four races.
Di Leo also co-owns the Goodwood Kartways facility with his brother Daniel and manages the Goodwood/Intrepid Kart Race Team that travels and competes around North America. He can also be found supporting the Canadian Rookie Karting Championship as well as kart clubs at TRAK and MIKA. Simply put, karting is life for Marco Di Leo.
With no interest in hanging up the helmet, Di Leo continues to take any opportunity to race and compete at the highest levels. In 2017, he has interest in driving a shifter kart again as well as continuing in Rotax and Briggs Senior at the club, regional and national level, challenging whomever is up for a great race.
---
Enjoying his short off-season, Di Leo sat down with CKN for a short conversation about his season.
MD: Hey Cody,
Firstly, thanks for reaching out to me during the off season and great job by the CKN staff this year!
It was a pretty decent year for you in 2016, reflect on your season. What moments stood out to you?
MD: 2016 was an enjoyable season of karting for me both as a racer, track and team Owner. Inside of the kart, winning The Canadian Championships in Senior Max was special. I had great pace all weekend and fun defending [Gianfranco] Mazzaferro on our last lap. It was also nice to win the Champion Ron Fellows Karting Championship in Senior Briggs. The deciding race was a showdown between myself, [Marco] Signoretti, [Alex] Da Silva and [Tyler] McCullough racing under the lights, on a wet track with slicks! The new Summerfest event in Mosport was awesome too! The Senior Briggs class showcased forty talented drivers and brought out many old faces. I finished second in this race and it was nice to lock out the podium with Intrepid teammates; [Jonathon] Treadwell and McCullough. On the International scene, the Rotax Grand Finals in Sarno was a memorable experience. Followed by a podium finish weeks later at the US Open in Las Vegas.
You keep close ties at Goodwood and Mosport. Talk about the next generation of racers you are seeing at the two clubs and the rookie series.
MD: Outside of the kart, it was nice to see the huge fields in the Briggs & Stratton classes as well a successful kick off to Summerfest and the Champion Ron Fellows Karting Championship. Goodwood Kartways and Mosport Kartways are growing and continue to bring in new faces and talented drivers to the karting scene through their Canadian Rookie Karting Championship. It is also promising to see recent and upcoming efforts from our friends in Quebec at their ICAR and Mont-Tremblant facilities. This should build karting across Canada and make it more enjoyable and competitive for everyone especially at the ECKC.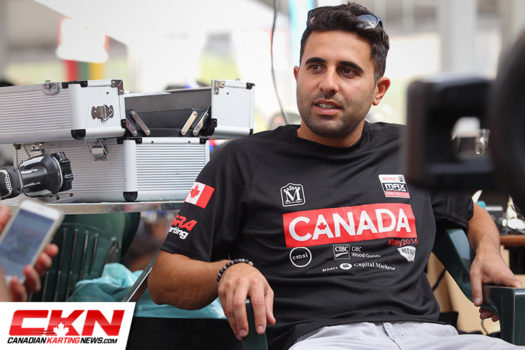 Back-to-back Rotax Senior Canadian titles. After missing out for so many years, how does it feel?
MD: ECKC was hard work this year, I knew it since Round one at Goodwood Kartways which is historically a good result for me. Franco, my dad and mechanic, and I tried different chassis' and set-ups looking for the missing tenth but we just never seemed to close the gap throughout the championship. As an old school driver and a team boss I never like to blame the engine but at this point I was pretty convinced that; I was either OLD & SLOW or I was missing some waft. My original plan was to win ECKC and race in Briggs at the Canadian Championships. However after disappointing in ECKC I didn't want it to seem like I was giving up so I decided to stay Rotax Senior and give it another shot. Oh and buy a new cylinder! Early into the weekend it was clear I had better pace with the new cylinder, it just seemed to be a bit of an easier weekend which resulted in leading all the laps and winning the Canadian Championships again. This was a great feeling after struggling during ECKC and at this event in the past, but truthfully the most rewarding part was that Franco would stopped telling me, 'you, suck!'
Internationally you closed out the year with solid results at the Rotax Grand Finals and US Open of Las Vegas. Does it feel good to know you're still competitive around the world against drivers that are nearly ten years younger than you?
MD: This year was my eighth trip to the Rotax Grand Finals. I headed to Italy much more relaxed and just wanted to make sure I enjoyed the experience. I raced far more mature and maybe less aggressive than normal and was able to run cleanly inside the top ten for most of the weekend. I made bad decision to rotate my worn tires in the final which probably kept me from a much better result, but in the end it was a good result and great week in Sarno.
Coming back for 2017? If so, what categories and races? Also, what motivates you to keep racing these days against the much younger competition?
MD: I'll be back in the kart in 2017 and really looking forward to all the positive changes coming from the Rotax camp with respect to a softer tire and a more powerful, equal cylinder. I am also really excited to jump in a KZ kart as we start to introduce shifter racing again here in Ontario. I'm sure I'll fit in some Briggs racing as well. Sounds like another FUN year!
Wishing everyone a very Merry Christmas and a Happy New Year!