#RMCGF
Di Leo Aiming for More Success in Eighth Grand Finals Appearance
As a back-to-back Canadian National Champion in Rotax Senior, Marco Di Leo has proved at 29 years old he is still at the top of his karting game even when he's competing against drivers often more than ten years younger than him.
Qualifying for his eighth Rotax Max Challenge Grand Final this year, Di Leo is still seeking a personally satisfying result at the event but this year he is more determined than ever to finish inside the top-ten and compete against the worlds best Rotax Senior drivers.
"I've finished in the top-ten before at the Rotax Grand Finals and this year hopefully I can adapt quickly to the track and equipment and with a little luck find myself on the podium," elaborates Di Leo. "I haven't quite been able to get it right racing at the Grand Finals in the past, this is due to driving style, perhaps lack of prep or even unlucky equipment."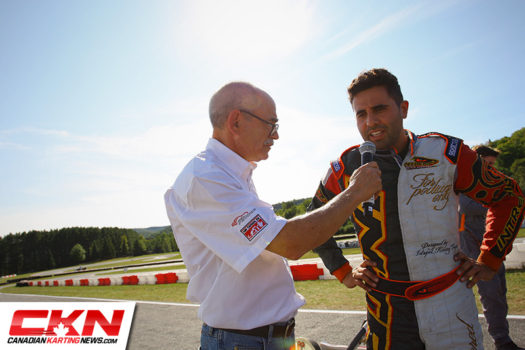 On top of it all, it is going to be a busy trip to Italy for Di Leo, with it starting more than a week before the Grand Finals even gets underway, but it's still all karting and all business for the driver from Toronto, Ontario.
"I'll be doing some business in north Italy the week before the event. A short visit to the VEGA [tires] factory and later a few days' work at the Intrepid Kart factory which will lead to a few days of 2017 chassis testing at South Garda Karting. Friday I will drive South towards Napoli, visiting my friend Aldo at IMAF and also visiting the TM Engines factory. Will be a busy trip, with competitive racing and of course great food."
Leading up to the race, Di Leo is doing what he can to prepare for the race, jumping in a kart as often as his busy life allows while also training in the gym.
"I try to get in a kart as much as possible but with work and private life, I am in a kart a lot less than I probably should be. I do manage to hit the gym a couple times a week to train and stay fit."
As a four-time Eastern Canadian Karting Championship Champion, it was a less than stellar ECKC season for Di Leo, who admits he needed a little more focus on the Canadian Championships in Mont-Tremblant, Quebec to make Team Canada. He delivered, dominating the Sunday Final to secure his position on Team Canada and taking the victory ahead of the ECKC champion Gianfranco Mazzaferro, one of four teammates he will have in the Rotax Senior category in Italy.
"It's always a good feeling to win a race but this year it was great feeling to win Nationals. I put a big effort into it after not being so successful at ECKC and it paid off."
And as a driver who's been to the Grand Finals seven times before, he has some simple advice for his fellow Canadians making their first trip to world stage.
"It's a long week of racing, stay focused, qualify well and stay out of trouble in the heats."
---
The Rotax Max Challenge Grand Finals runs from October 16 to 22 in Sarno, Italy. Team Canada has qualified 17 drivers to compete in the event and CKN is the official media partner for Team Canada covering every aspect of the event. Tune in often as we preview members of the team travelling to Italy.