#CoupedeMontreal
Coupe de Montreal Sending Mazzaferro and Gysi to Rok INTL Finals
The Coupe de Montreal and the APKLQ joined forces at the Jim Russell Karting Academy in Mont-Tremblant, Quebec on the weekend to close out the karting season, crowning many champions and handing out plenty of awards. Two of the most
Two of the most sought-after prizes on tap this season were the tickets to compete in the Rok Cup International Final in South Garda, Italy. These prizes were made available to champions in the Shifter and Shifter Masters categories and while the race is less than two weeks away, Canada now has two more members traveling to Italy compete in the event.
After a spirited battle with Patrick Woods-Toth for the championship, Gianfranco Mazzaferro controlled the races on Sunday to stay on top in the standings and take home the big prize. A number of drivers pressured Mazzaferro up front including Woods-Toth, Dominic Legrand, Davide Greco and Ethan Simioni, the latter who will also compete in Italy, qualifying through the Vega Cup. But mastering his starts and pulling out early gaps helped Mazzaferro stay out front when it mattered most. Woods-Toth and Simioni completed the podium.
It was a similar story in Shifter Masters has Christian Gysi brought home the race victory to secure his ticket to Italy. Gysi had a quick starting Dany St-Hilaire to contend with most of the day while Nicolas Bedard was a distant third.
All in all, there were 20 shifter karts on track in Mont-Tremblant and within the chatter throughout the paddock, it appears it will continue to grow in 2018 with some new additions.
The Rok Cup International Finals will take place on October 11-14 at the world-famous South Garda Karting track in Italy. Canada will have seven members in attendance and CKN will be trackside to cover all the action!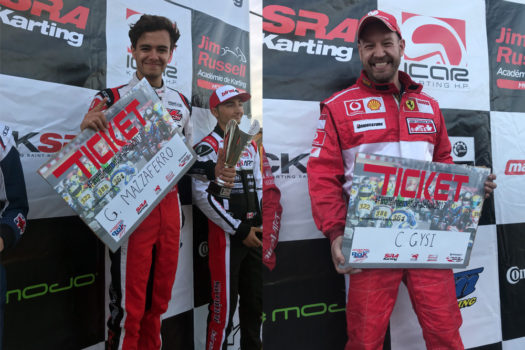 ---
Watch below! The start and opening lap of the Shifter Final