Club News
Club News: Several Championship Battles Heating up as CKRC Season Progresses
75 competitors were greeted by clear blue skies and hot temperatures at North Star Raceway for the Calgary Kart Racing Club race #8.
Rotax Masters (10 competitors)
Ashley Hughes cleared the field by a half second margin in qualifying but as the heat of the day increased fortunes would change as chassis set-up became more important. Josh Carter took the Pre-Final win but could not hold off Brendon Sanguinetti took the lead on the first lap for his second feature win of the season. Josh Carter leads the championship by 58 points over 2nd place Brendon Sanguinetti.
1. Brendon Sanguinetti
2. Josh Carter
3. Mario Gimenez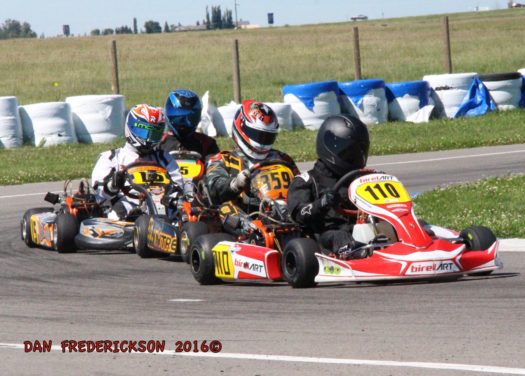 Shifter (7 competitors)
Nathan Bartley dominated the day with the Pole, Pre-Final and Final win. Evan White and John Kwong tangled at the exit of the infield chicane with both karts tied together until a marshal could come and free the two karts from each other. Brian Taylor and Alan Haggerty had a race long battle and finished within half a second of each other as they crossed the finish line. Nathan Bartley leads the championship by 33 points over 2nd place John Kwong.
1. Nathan Bartley
2. Brian Taylor
3. Alan Haggerty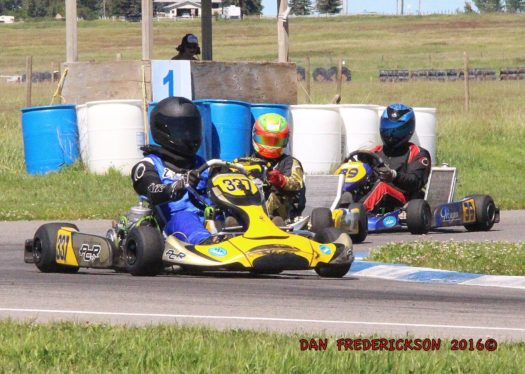 Junior 1 Briggs (12 competitors)
Kiefer Peet continued his dominance with his 2nd feature win in as many races while taking the Pole and Pre-Final wins as well. While the front runners did not change positions the midfield runners were changing positions with the sole MicroMax runner moving up from 10th to 7th overall. Kiefer Peet leads the championship by 26 points over 2nd place Enzo Sartor.
1. Kiefer Peet
2. Enzo Sartor
3. Nikolas Ruhrmann
Senior Briggs (15 competitors)
Skylar Dunning continued his dominance with Pole and Pre-Final win but had his string of victories come to an end after losing his chain at the first corner of the final. A titanic battle ensued between Tanveer Deen, John Kwong, Kevin Canning, Alan Haggerty and Dave Cameron with multiple passes throughout the race. A decisive drafting pass on the main straight by John Kwong with 3 laps to go left Deen, Canning and Haggerty to duke it out. Kwong hung on for the win but only by a .222 second margin over Deen. John Kwong leads the championship by 234 points over 2nd place Scott Meyer.
1. John Kwong
2. Tanveer Deen
3. Kevin Canning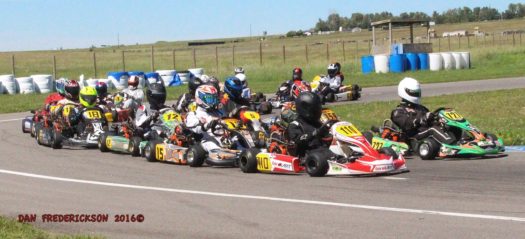 Masters Briggs (5 competitors)
Phil Haggerty swept the pole and Pre-Final and Final Masters class honors and mixed it up with the Light class drivers for a 12th overall finish. Two rookies, Dave Nelson and Neil Shearer rounded out the podium. Phil Haggerty leads the championship by 356 points over 2nd place Wilson Dolan.
1. Phil Haggerty
2. Dave Nelson
3. Neil Shearer
Rotax Junior Max (3 competitors)
Levi Schmidtke continued his strong run recently by taking the Pole, Pre-Final and Final. Connor Peet leads the championship by 514 points over 2nd place Naila Deen.
1. Levi Schmidtke
2. Connor Peet
3. Naila Deen
Rotax Mini-Max (4 competitors)
James Altamirano has dominated the MiniMax category this year by winning every club race so far and continued this run by taking the Pole, Pre-Final and Final. James Altamirano leads the championship by 4 points over 2nd place Enzo Sartor.
1. James Altamirano
2. Spencer Perreault
3. Enzo Sartor
Senior Rotax (8 competitors)
The Senior Rotax class participation has been struggling a little lately but the quality has not. Mark Newson returns to form after some midseason engine power issues and takes the Pole and Pre-Final win. Visiting driver from EDKRA, Ben Maxfield took the win and fastest lap over Evan White and Mark Newson. Evan White leads the championship by 82 points over 2nd place John Kwong.
1. Ben Maxfield
2. Evan White
3. Mark Newson
Junior 2 Briggs (11 competitors)
Naila Deen took Pole position in qualifying, broke through to take her first win of the season and fastest lap of the race over James Altamirano and Levi Schmidtke. The trio held their places until lap 6 when Naila and Levi traded the lead 3 times with Naila holding the lead to the end. In the midfield racers were trading spots regularly with Connor Peet coming from 8th to 4th. James Altamirano leads the championship by 208 points over 2nd place Garrett Cook
1. Naila Deen
2. James Altamirano
3. Levi Schmidtke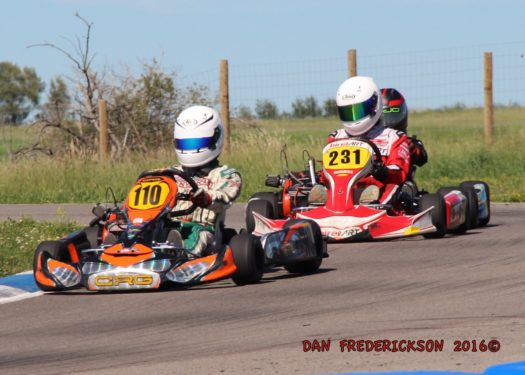 Next CKRC Race is Sunday August 14th