Club News
Club News: Intense Heat for CKRA Race #5 in New Brunswick
CKRA Round 5 was held on one of the hottest race days in recent memory. The forecast called for a slight chance of thundershowers, but thankfully that never materialized.
Cadet Class (Ages 8-12)
Seven drivers entered the Cadet class. There was no Pre-Cadet today and so Ethan Lowther joined the Cadet crew.
The heat races certainly had some exciting racing on track: Jacob LeBlanc won both Heat 1 and Heat 2, but not without considerable effort, as he traded paint with Ryan Musson, William Lowther, Callum Baxter and Myah Knickle in both races. All five drivers led at some point in the race day.
Heat 3 went to Myah Knickle, who passed two karts in one move to hold off Lowther to the flag.
In the final, the action was fast and chaotic, as all five drivers swapped the lead. Eventually, Jacob LeBlanc made a small mistake and dropped to fifth, while Ryan Musson muscled his way through the karts to win the race by only 0.12 seconds. Lowther finished second, Knickle third, Baxter fourth and LeBlanc fifth.
Both William Lowther and Jacob LeBlanc netted 77 points today, and so Lowther's 10-point lead is preserved (Lowther 327, LeBlanc 317). Callum Baxter holds third (303), a single point ahead of Ryan Musson (302). Myah Knickle is fifth (287).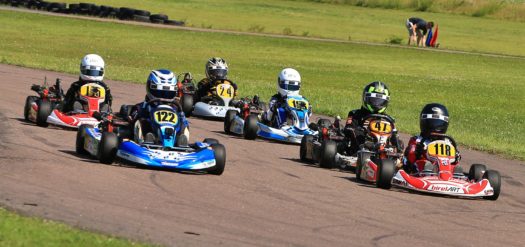 Junior Class (Ages 12-15)
The Junior class ran six drivers on this race day.
In the Heat races, championship leader Kelsey Hann, who started at the back of the grid, was able to pass all the drivers and sweep the three preliminary rounds.
In the first few races, Isla Kants sat a comfortable second. By Heat 3, however, Isaac Teed began to apply some pressure. After a long, hard-fought race, Isla Kants held off Teed in Heat 3.
By the final, Hann drove away in the lead again. However, this time Isaac Teed found a way past Isla Kants and held second for the full 20 laps, despite relentless pressure. Ben Israel was fourth, while Evan Rose beat Eric Rose to the finish line for fifth and sixth, respectively.
Kelsey Hann's dominance continues, as she completed a clean sweep of today's races. She now has 356 points. Isla Kants is second at 315 points. Isaac Teed and Devin Wadden are now tied for third (298 each), while Ben Israel (293) is fifth.

Senior Class (Ages 15+)
The Senior class featured seven drivers.
Heat 1 saw Aaron Kennedy win (a theme that would continue all day), followed by Jared Meade and Brett Miller. In Heat 2, Meade's kart broke down, and so Miller fought Kennedy for the win, but it would be Kennedy who took the flag. Stephen Oliver ran into rotten luck in Heat 3, as his kart never even made it to the green flag, failing during the warmup laps and did not collect any points for the Heat. Kennedy won again.
In the Final, both Oliver and Meade were looking to make up for lost ground, but tangled as they fought for third place. Meade got the worst of it and fell to fifth. Kennedy would win, Miller finished second, and Oliver received a one-place penalty for agressive driving, dropping him to fourth. Alexander Davison completed the podium in third.
Aaron Kennedy's perfect race day certainly helped him claw his way back up the standings. Brett Miller holds a thin 2-point lead over Kennedy (Miller 330, Kennedy 328). Stephen Oliver is third (306), Jared Meade is fourth (283) and Alexander Davison is fifth (280).
———————
The 7th round of the championship will be on a Saturday night (under the lights!) on August 6th. Admission is free!
The series runs 9 events from early-May to late-September at East Coast Karting at Exit 474 of the TransCanada, on the outskirts of Dieppe, New Brunswick.
For more information and latest news on the series, visit www.ckranb.com , or find "Championship Kart Racing Association" on Facebook!