Club News
Club News: CKRA Championship Round Review
CKRA capped off it's 32nd season of action on a crisp, cool fall day at East Coast Karting with a healthy number of entrants vying for glory.
Cadet Class (Ages 8-12)
A grouping of 10 karts entered the Cadet class. All eyes were on P.E.I. racer William Lowther, who attempted to lock up the Cadet title for the first time ever, having fallen just a few points short of the title in 2015.
In the early heat races, it became clear that freshly-crowned National Champion Myah Knickle was on another level. In the cool temperatures, these potent 4-cycle engines run at their best, and tires are able to retain their heat, giving cars a surprising amount of speed. With this combination of situations, Knickle spent the day hunting down CKRA's Cadet track record, posted by Isla Kants last season at 28.303 seconds. Knickle posted a great lap of 28.356 in the first heat, falling just shy of the record. Meanwhile, the battle was on for second place between points leader Lowther and up-and-coming star Callum Baxter. In the two first heats, Lowther held off the challenge. In Heat 3, Baxter snuck by to claim a 2nd place finish. The performance, however, was enough for Lowther to start on the front row in the all-important Final.
Meanwhile, in the lead in Heat 2, Knickle finally broke through the record and posted a lap of 28.251 seconds, simultaneously claiming the Cadet Rookie and Cadet Overall track record. She bested that lap with an unbelievable 28.142 second lap in Heat 3, taking off a considerable time off a fastest lap that would have been seen as impossible to achieve only a few hours earlier.
In the final, Myah Knickle cruised to victory, claiming her second victory in three events. Callum Baxter finished second, Jacob LeBlanc third, Ryan Musson fourth, and William Lowther falling back to fifth.
Championship Table:
William Lowther's race day was enough to crown him the 2016 CKRA Cadet Champion with 556 points. Myah Knickle's late-season performance leap-frogged her to second in the championship with 534. Jacob LeBlanc finished third (530), Ryan Musson fourth (521), and Callum Baxter fifth (496).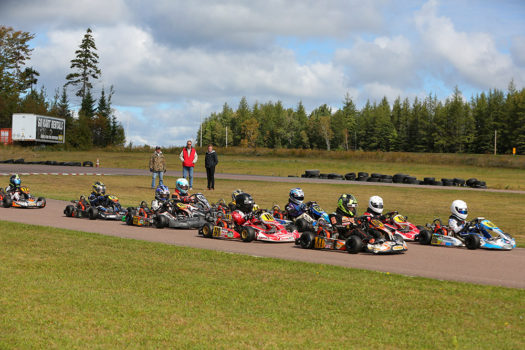 ---
Junior Class (Ages 12-15)
The points race in the Junior category was essentially a foregone conclusion when the seven drivers arrived at the track. Kelsey Hann, driving her #607 machine, only needed to enter the event to become champion. However, this did not dampen the racing that happened on track.
After a few tough weekends of racing, Isaac Teed was determined to get a good result, and clung to Hann's kart for most of the first heat, eventually finishing second. By Heat #2, Isla Kants muscled her way into second place, and went wheel-to-wheel with Hann for the lead, eventually finishing second by only 0.2 seconds.
Another pair of drivers who seemed eager to challenge were Ben Israel and Devin Wadden. In the final, Hann and Kants were joined by Israel and Wadden for a 4-kart battle for the win. Initially, Hann led with Israel jumping to second. Then, Isla Kants made an agressive pass to get by Wadden for that all-important podium placing in third. It seemed like a podium was now out of Wadden's reach.
On the last lap, Ben Israel had now fought his way to the lead, and going into the last corner of the race, Kelsey Hann locked up the brakes on her kart and skidded by the pack and ECK's fifth and final corner. Israel collected the win, Kants finished second, and Wadden received consolation with a podium placing after all. Isaac Teed was fourth and Kelsey Hann rejoined and finished fifth.
Championship Table:
Kelsey Hann became the 2016 CKRA Junior Champion with an impressive 612 points. Isla Kants finished runner-up in the series with 539, while Ben Israel was a close third (523), Devin Wadden fourth (495), and Isaac Teed fifth (490).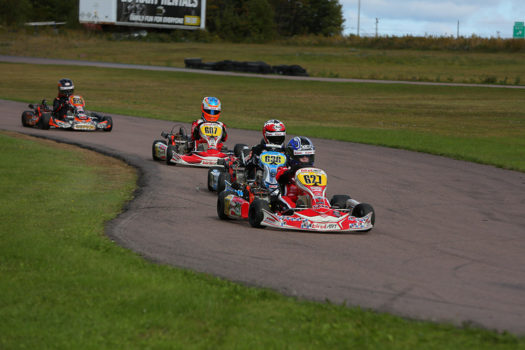 ---
Senior Class (Ages 15+)
The Senior class was a case of "Throwback Sunday".
In the points championship, "Mr. Consistancy" Brett Miller needed to run the event and stay largely out of trouble and would be crowned champion (regardless of where he finished).
But in the field were the two Kennedy brothers: Aaron and Jordan. The talented brother duo had been involved in Kart Racing for 15 years with a long list of successes, and was making an infrequent dual appearance at their home club.
As soon as the race day began, it was clear that Aaron Kennedy would be the man to beat. He lead the early heat races with challenges from newly-arrived Senior driver Stephen Oliver. By Heat #2, Oliver was now being challenged by younger Kennedy brother Jordan. He held him off, but needed some serious speed to keep opponents at bay during Heat #3, setting a lap time of 25.046 seconds, flirting with the Senior track record, but missing it by a few hundredths.
In the final, Stephen Oliver ran well until a mechanical gremlin parked his kart at 1/3rd distance. The race was eventually a familiar sight to the, shall we say, "seasoned" members of the club: a Kennedy 1-2 (Aaron ahead of Jordan) with Brett Miller in third, thereby claiming his title.
Championship Table:
Brett Miller becomes a two-time CKRA Senior Champion with his race result, collecting 557 points. Stephen Oliver was impressive in second with 527 points, followed by Alexander Davison third (507), Jared Meade fourth (480) and Aaron Kennedy fifth (418).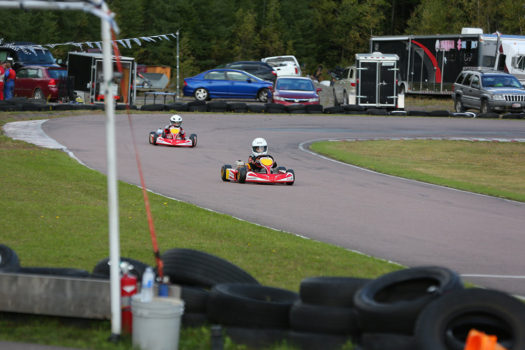 ---
A big thank you to all teams for a fantastic season, and a congratuations to all the drivers who participated in the series.
The 2016 championship is now complete, and CKRA will now run a non-points Enduro event next weekend (October 1st – 2nd) to complete the season. The CKRA banquet will be held on October 29th.
For more information and latest news on the series, visit www.ckranb.com, or find "Championship Kart Racing Association" on Facebook!