Club News
Club News: Calgary Kart Racing Club Race #7 Race Report
By: John Kwong – CRKC / Photos by: Dan Frederickson
CKRC Race #7 was greeted by sunshine and good weather with 59 entries across the 8 different classes.
Junior Rotax (2 entries)
1. Connor Peet
2. Naila Deen
Rotax Mini Max (3 entries)
1. James Altamirano
2. Kiefer Peet
3. Enzo Sartor
Senior Rotax (5 entries)
Evan White broke Skylar Dunning's perfect record in Calgary by taking the Pole and challenging briefly for the lead in the Pre-Final. What the field lacked in quantity it made up for in quality as any of the 5 contenders could have won.
1. Skylar Dunning
2. Evan White
3. Jake Thompson
Junior 2 Briggs (8 entries)
1. James Altamirano
2. Connor Peet
3. Steven Humeniuk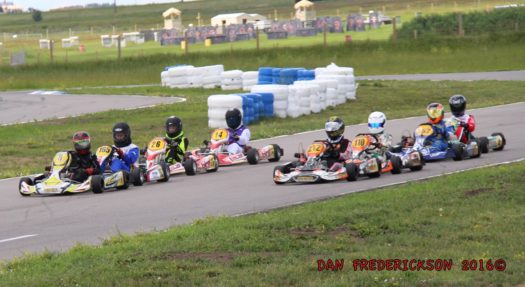 Rotax Masters (11 entries)
Lots of position changes behind Pole and Pre-Final Winner Josh Carter as the other Master driver's battled to get onto the podium. In the end it was Brendon Sanguinetti coming from 7th on the grid to finish the podium. Video from 5th place finisher John Peters: https://youtu.be/-iCKjQv-DKg
1. Josh Carter
2. Lonnie Ganz
3. Brendon Sanguinetti
Shifter (8 entries)
Evan White in his Stock Moto took the Pole and Pre-Final win but did not get the start he had hoped for in the Final as the top 3 finishers got the holeshot into turn 1 with Brian Taylor leading after the first lap. On the 2nd lap Bartley challenged Taylor on the inside down the main straight leaving Taylor a little out of shape on the exit of Turn 3 allowing Kwong to get a run past on corner 4 into 5. Video from 2nd place finisher John Kwong: https://youtu.be/-iCKjQv-DKg
1. Nathan Bartley
2. John Kwong
3. Brian Taylor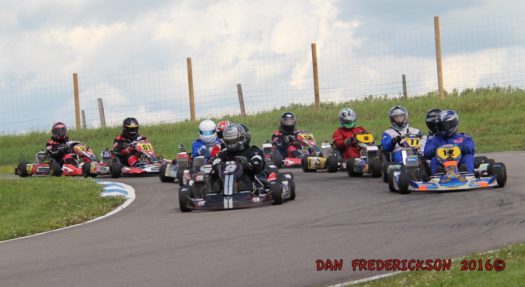 Junior 1 Briggs (9 entries)
Kiefer Peet continues his dominance of the Junior 1 Briggs class with Pole, Pre-Final and Final win in convincing fashion. A red flag incident on lap 4 stopped the race as two karts came together going into Turn 1. Once the injured driver was attended to, there was a single file re-start and Kiefer went unchallenged for the rest of the race. We hope that Alexander Berg makes a speedy recovery and is back racing with us soon. About half of the field of the Junior Briggs drivers completed the annual CKRC Driver Development Program just days before this event and all had shown great improvement in their lap times and general race craft.
1. Kiefer Peet
2. Nikolas Ruhrman
3. Enzo Sartor
Senior Briggs Light (10 entries) and Masters (3 entries)
Skylar Dunning dominated Senior Briggs Light once again by taking Pole, Pre-Final and Final while Tanveer Deen and John Kwong had a spirited battle in the Pre-Final and Final. The midfield runners had their hands full with many positions changing throughout the race.
1. Skylar Dunning
2. Tanveer Deen
3. John Kwong
Masters
1. Phil Haggerty
2. Dave Nelson
3. Ernie Plett
7 IMG_4308.jpeg
Next event is CKRC Race #8 on July 24th