Features
CKN SKUSA SuperNationals XVI – Shifter Classes Preview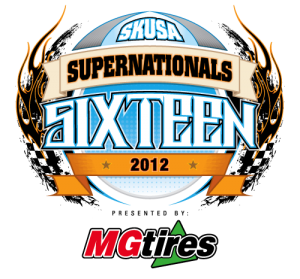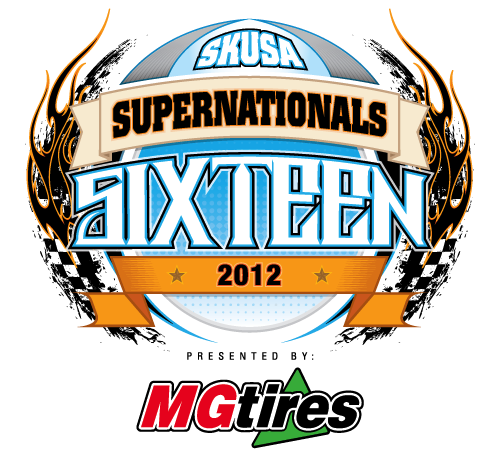 The time has arrived. The SKUSA SuperNationals are finally here; known as the largest karting event in North America. It is the only event that draws the International attention of not only the media, but factory teams and drivers as well. The annual event, in its sixteenth season, returns to the RIO All Suites Hotel and Casino and Las Vegas, Nevada, USA from November 14-18 Once again it has a stacked lineup of classes and kart racers, all seeking SuperNationals glory.
With the Canadian karting season complete, many Canadian teams and drivers make their annual trip to the SuperNationals.  Phillip Orcic was the most recent Canadian to top the podium, scoring a very impressive TaG Senior victory last year, fending off 79 other competitors.
KZ2 – SuperPro
The KZ2 SuperPro class has attracted some of the best kart racers from around the globe in the past five seasons, and many drivers will hit the track for the final time of the season. Last year, France's Anthony Abbasse piloted his Sodi-Kart to victory earning the $10 000 payout and adding his name to the impressive list of victors. This year's class feature's drivers from around the globe as 14 countries are represented.
Thirty four drivers are on the entry-list for KZ2, with four Canadian drivers all seeking the podium. Making his unofficial return after a short hiatus, Michael Vincec will hit the track aboard a Checkered Flag Racing/Vemme Chassis. Vincec has a SuperNationals podium on his resume and will look to shake off the dust early before attacking the top of time sheets. After finishing fifth at the CIK World Cup in KZ2, British Columbia's Phillip Orcic will make his North American Shifter debut in Vegas aboard a Chiesa Corse/Zanardi Chassis.  Rounding out the Canadians in KZ2, Ontario pilots Zach Meyer and Nico Fattore will both pilot Innisfil Indy/GP chassis in Las Vegas.
I'm feeling really good going into the SuperNationals. I'm confident that the Vemme package will be up front. It feels great to get back into a shifter kart again and I'm looking forward to the race.
– Mike Vincec 
Canadian powerhouse operation PSL Karting will house three International favourites, as the Netherlands Jorrit Pex and Max Verstappen will join American Fritz Leesmann aboard their CRG chassis in Vegas. IPK North America out of Toronto, Ontario, will make their North American debut under their new name and will have four International drivers competing in KZ2. 2012 CIK World Champion and previous SuperNationals winner Bas Lammers leads the Praga team into Las Vegas, with Wilson Hurtado, Patrik Hajek and Martin Doubek rounding out the IPK KZ2 roster.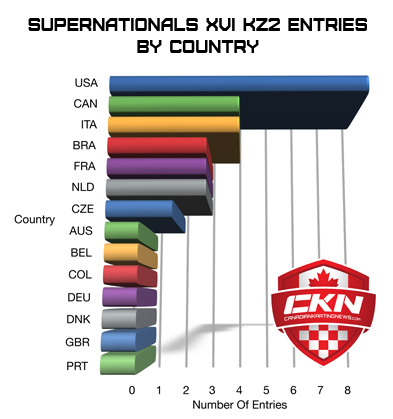 S2 – Stock Moto Semi-Pro
The S4 Stock Moto Semi-Pro division has gained a head of steam in previous years for producing some of North America's newest talent. This year, four Canadian's will compete in the S4 class headed up by Remo Ruscitti. Ruscitti, who will also be vying for the SKUSA Pro Tour TaG Senior Champion, has had the most experience aboard a shifter kart, and will be joined by teammate and BC province mate Scott Hargrove under the Italian Motors/ITALKART team tent. Hargrove just recently travelled to compete in the IAME International Finals in France, and will be looking for the top of the podium in Vegas.
I cant wait for Supernationals 16 to start. I've been working hard all season to get to this point. I would not be in this position without the support of my Dad, Italian Motors USA and Italkart and I am really looking forward in battling for the Pro Tour Championship and race victory in Tag Sr. and also very excited to be running in the S2 class and hoping to challange for a win.
– Remo Ruscitti 
Two Alberta drivers round out the Canadian lineup in S4, as both Adam Dowler and Austin King will make their shifter kart debuts at the SuperNationals. Dowler will compete under the Buddy Rice Karting/Energy Kart banner, while King will continue his development under the watchful eye of Joey Guyon and the Overdrive Karts/PCR operation.
The quadrant of Canadians will have their work cut out for them as 44 drivers are entered in S2.
S4 – Stock Moto Masters
Two Canadian's will hit the track in Vegas in S4 Stock Moto Masters division. Both hailing from British Columbia; Don McGregor will pilot his usual Italian Motors/ITALKART, while Chris Perrault will join the Checkered Flag Racing stable aboard a Vemme Kart. McGregor has been very quick in the past at the SuperNationals, and will be a threat for the podium on Super Sunday.
S5 – Stock Moto Junior
Nelson Learn returns to Las Vegas to compete in the S5 Stock Moto Junior division. Learn will work with the Innisfil Indy/GP Canada operation and looks to improve on his finish from last year.
---
What class are you most excited at this years SKUSA SuperNationals?
KZ2 SuperPro (49%, 50 Votes)
TaG Senior (25%, 26 Votes)
TaG Junior (16%, 16 Votes)
TaG Cadet (5%, 5 Votes)
Other (5%, 5 Votes)
S1 (1%, 1 Votes)
S2 (0%, 0 Votes)
Total Voters: 103

Loading ...
---
CKN will complete their preview of the SKUSA SuperNationals XVI tomorrow with a rundown of the TaG classes.
Beginning Wednesday November 14, CKN will be trackside in Las Vegas covering the entire event. Be sure to 'like' our Facebook Page, and/or follow us on Twitter for updates as they happen. CKN will also have photo galleries and more as the event progresses.