Features
CKN Preview: 2012 RMCGF Team Canada – Rotax DD2
The 2012 Rotax Max Challenge Grand Finals are right around the corner, and CKN can't wait to touch ground in Portimao, Portugal for the event. CKN will have exclusive coverage of Team Canada as they pursue their sixth Rotax World Championship, and hope to improve in the Rotax Nations Cup after finishing second in 2011.
In the coming days, CKN will break down all the members of Team Canada, class-by-class. Starting off, CKN looks at our Rotax DD2 team members. In 2011, Pier-Luc Ouellette won his second Rotax World Championship in Al Ain, UAE, to give Canada a total of three Championship crowns. Ouellette is back again this year, and he is joined by three others, making it possibly the strongest Team Canada DD2 contingent ever. All four drivers have what it takes to become a World Champion and potentially a sweep of the podium.
Catching up with each Team Canada DD2 member, CKN asked them if they had driven the Mach 1 Chassis before (this years official chassis for Rotax DD2), and what they have done to prepare for this years Grand Finals.
---
Ben Cooper – Mont-Tremblant, QC
2012 Florida Winter Tour Champion (Rotax Max)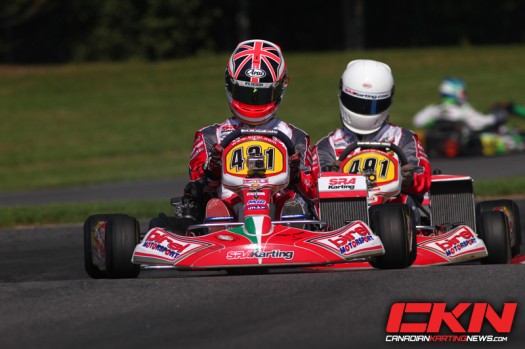 Ben Cooper joins Team Canada after winning the 2012 Florida Winter Tour Rotax Max division. However he will compete in Rotax DD2 after accepting the invitation from Rotax. Cooper is a very skilled pilot behind the wheel, and brings a jam packed resume to the team. He also was crowned the 2012 Canadian Rotax DD2 Champion and 2012 Eastern Canadian Rotax DD2 Champion after a stellar season with SRA Karting aboard a Birel chassis.
This will be the first time Cooper will compete with Team Canada at the Grand Finals, but he has been there before. He is a two-time Rotax World Champion (2008 and 2011) both in the Rotax Max division and this will be his fifth Grand Finals appearance.
"I have never driven the Mach 1 chassis before, but my few with the different chassis types are that a kart is a kart and that they are all designed to do the same thing. As for preparing myself for the World Finals I haven't really been doing to much. I have been on track a few times at SRA to just get in the kart and do a few laps. Also I have done a few laps in the wet on slicks to get the feel of the DD2 kart in the wet as I have never drove a DD2 in the wet before. I wish I had done a little bit more in the kart, but when I look back at the Grand Finals that I have won in the past I didn't do too much driving before them so hopefully this year that approach still works for me."
CKN Prediction: Cooper is a sure shot for the podium, and a complete weekend could have him win his fourth major championship in 2012.
---
Nicholas Latifi – Toronto, ON
2012 Florida Winter Tour Champion (Rotax DD2)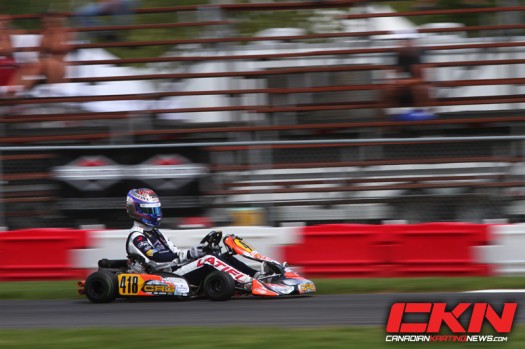 Making his third trip to the Rotax Grand Finals, Nicholas Latifi will put his Italian F3 Car aside when he steps back into a go-kart in Portugal. Latifi spent the summer globe-trotting between an intense Italian F3 Championship and a full Rotax DD2 season in Canada. Starting off the season at the Florida Winter Tour, Latifi made his mark, winning races and taking the overall title and booking his ticket to the Grand Finals.
Last year in Al Ain, Latifi turned heads from the moment karts hit the track, and he nearly won the Final. Winning a heat race, and battling for the lead until he was punted off track on the final lap, Latifi has some unfinished business to take care of in Portugal and he has the speed to become victorious. It is also rumoured to be his final kart race as he steers his focus to car racing in 2013.
"I have tested on the Mach 1 chassis before and I'm feeling comfortable with the way the kart handles and reacts to certain changes. I took part in the Mojo Cup race on November 2-4, which was the last opportunity for anyone qualified for the worlds to practice on the track we will be racing on. It was good preparation and I'm feeling confident heading into the Grand Finals at the end of the month."
CKN Prediction: If Latifi gets off to a good start, watch out. He has the pace to be up front and comes into the race fully prepared to take a shot at the top of the World Championship podium.
---
Pier-Luc Ouellette – Terrebonne, QC
2012 Eastern Canadian Karting Championship Runner-Up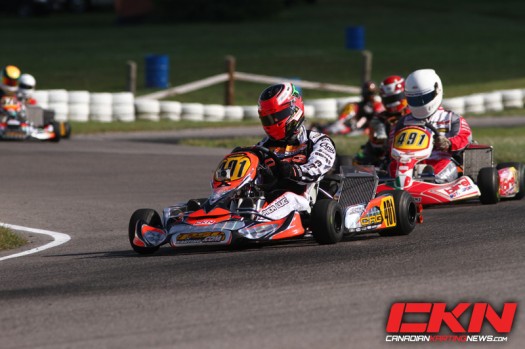 As the defending and two-time Rotax World Champion, Pier-Luc Ouellette will have the eyes of the entire DD2 class on him from the moment he arrives in Portimao. Ouellette went head-to-head with Ben Cooper this summer, and although he may have lost the battle in Canada, he is not yet giving up on the war. Ouellette's preparation method has his on track in a kart as much as can, even in the cold weather, also while utilizing a health and fitness program from P1 fitness.
Finishing second in the Eastern Canadian Karting Championship, and driving a brilliant race from last on the grid at the Canadian Championships to finish fourth, Ouellette definitely has the ability to earn his third World Championship Crown in Portugal. This will be Ouellette's sixth trip the Grand Finals, making him the veteran of the young Team Canada.
"I have never tried a Mach 1, however I do not think this the main thing to know is the chassis because we are all on equal equipment in Portugal. We all have the same equipment and we cannot change a lot on a DD2. And like I always do before the World Finals, I am on a specific training program for 2 months now and also doing a lot of sport like playing hockey. But the one and only thing that I have to do is to go on the track even if its 0 degrees outside because no matter what you do in the gym or sports beside karting, the most important one is the track time. I am lucky there is no snow outside, its pretty cold but its okay.
CKN Prediction: Ouellette will be a contender from first practice in Portugal, and if he can avoid trouble throughout the week, will be a threat in the Grand Final to defend the Rotax DD2 Championship he currently holds.
---
Zacharie Richard-Robichon – Ottawa, ON
Canadian National Karting Championship Runner-Up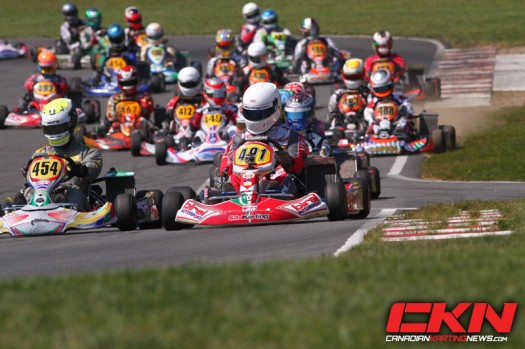 The final member of Rotax DD2 Team Canada for this years Grand Finals may have the least amount of experience at the Grand Finals, but is not one to be left out of the equation. Zacharie Richard-Robichon finished as the runner-up to Ben Cooper at the Canadian National Karting Championships, and showed a very impressive pace all season in the stacked Rotax DD2 class in Canada.
This will be Robichon's first trip to the Grand Finals, but having a great team around him with Cooper, Latifi and Ouellette should help him adapt quickly to the Grand Finals atmosphere.
"I've never driven the Mach 1 chassis before so the first few sessions in Portugal will not only be about learning the track but learning how the chassis works. Since there is such a limited amount of changes you can do it's all going to be about working with the kart you have and trying to adjust your driving to make the kart work. As far as preparation goes I have not been able to get on track very much since Canadian Nationals because of work and school, I just did a day of driving at SRA too just get back in the kart before Portugal! Since I haven't been able to practice I've been following a P1 fitness program since mid September and have been trying to get to the gym five days a week to get in shape for the Rotax World Finals."
CKN Prediction: Robichon will have his work cut out for him, but a solid week could easily see him in the top-ten in his first Grand Finals appearance.
---
What Canadian do you think will do the best in Rotax DD2 at the RMCGF?
Pier-Luc Ouellette (44%, 91 Votes)
Ben Cooper (29%, 61 Votes)
Zacharie Richard-Robichon (22%, 45 Votes)
Nicholas Latifi (6%, 12 Votes)
Total Voters: 209

Loading ...
---
Up next, CKN will look at the Rotax DD2 Masters trio of drivers representing Team Canada in Portugal.