Features
CKN Predictions: Micro, Mini, Masters Max – ASN Canadian National Karting Championships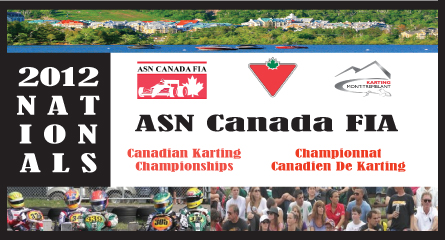 The ASN Canadian National Karting Championships return to beautiful Le Circuit Karting Mont-Tremblant this week and with teams already moving into the paddock the excitement level is beginning to rise. The country's best kart racers, teams and tuners have set their sights on becoming one of eight new National Champions, and Rotax racers have their sights set on becoming members of Rotax Team Canada, thus gaining an invitation to compete this Fall at the Rotax Max Challenge Grand Finals in Portimao, Portugal. CKN will be trackside from the first unofficial practice sessions beginning Wednesday, keeping readers informed on the event every step of the way.
With views on predicting who should fare well in working toward those goals, Canadian Karting News has prepared unique class previews for this year's National Championships, with staffers Cody Schindel, Neelan Nadesan and Jason Holland each submitting top-10 predictions in Rotax Junior, Senior and DD2. Taking into account results from this year in the Eastern Canadian Karting Championship, Western Canadian Championship and Quebec Cup; last year's performances in Tremblant, and their general track record, drivers were ranked by the CKN trio.  Then, taking the average of the three ballots, an unofficial class ranking was created. Drivers that were not listed on all three ballots were issued a score of 11. CKN will present its predictions in the coming days, continuing today with Rotax Senior.
Rotax Micro-Max
After a stellar season that saw him win four of the six Eastern Canadian Karting Championship Micro-Max races, Matthew Latifi enters this years Canadian National Karting Championships as the favourite. Not to be outdone, Latifi will have his work cut out for him, as drivers such as Matthew Barry, William Chayer, Tommy Savard and Xavier Harris will definitely give him a run for his money. The Rotax Micro-Max will for sure provide plenty of excitement, and come Sunday will crown a new class Champion, as last years winner Antonio Serravalle is not competing this year.
---
Who you think will win this years Rotax Micro-Max Canadian National Championship?
Matthew Latifi (48%, 44 Votes)
William Chayer (23%, 21 Votes)
Matthew Barry (21%, 19 Votes)
Other (7%, 6 Votes)
Xavier Harris (2%, 2 Votes)
Tommy Savard (0%, 0 Votes)
Total Voters: 92

Loading ...
---
Rotax Mini-Max
A full field of Rotax Mini-Max drivers have travelled to Mont-Tremblant to compete in this years Canadian National Karting Championships. With drivers from the Ontario, Quebec, BC, and Manitoba, it is one of the most represented classes in Tremblant.
Leading the charge in Mini-Max is ECKC Champion Gianfranco Mazzaferro. The young Ferrolati Corse pilot scored three victories in ECKC competition en route to the championship. Fresh off his third-place finish at the US Rotax Grand Nationals, dual-citizen Devlin Defrancesco has made the trek to Tremblant seeking his second National Championship. The 2009 Canadian Rotax Micro-Max Champion has raced all over the globe this season and would enjoy nothing more than capping off his final year in Mini-Max with a Canadian Championship. Other names to watch this weekend in Mont-Tremblant include Natael Cantin, Joe Soranno, Jeff Fulham, Alex Murphy and Austin Riley.
---
Who you think will win this years Rotax Mini-Max Canadian National Championship?
Devlin Defrancesco (65%, 111 Votes)
Gianfranco Mazzaferro (15%, 25 Votes)
Joe Soranno (7%, 12 Votes)
Other (6%, 11 Votes)
Natael Cantin (5%, 8 Votes)
Jeff Fulham (2%, 4 Votes)
Total Voters: 171

Loading ...
---
Rotax DD2 Masters
The battle for the Rotax Max DD2 Masters Canadian Championship is set to be a heated one. A variety of champions hit the track this weekend, seeking the final spot on Team Canada for this fall's Rotax Max Challenge Grand Finals. 2012 Western Canadian Championship DD2 Champion Scott Campbell has made the trip from Saskatoon to challenge 2012 ECKC DD2 Masters Champion Stuart Clark. Add in 2006 Rotax Max Grand Finals Masters Max Champion Luc Sauriol, defending class champion David Ivichek and Elvis Stojko and this years race is going to be a thriller!
---
Who you think will win this years Rotax DD2 Masters Canadian National Championship?
Scott Campbell (46%, 36 Votes)
Elvis Stojko (15%, 12 Votes)
Luc Sauriol (13%, 10 Votes)
Stuart Clark (12%, 9 Votes)
Other (9%, 7 Votes)
David Ivichek (5%, 4 Votes)
Total Voters: 78

Loading ...
---