Features
CKN Predictions: Rotax Junior – 2012 ASN Canadian National Championships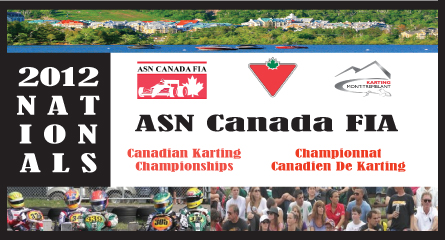 The ASN Canadian National Karting Championships return to beautiful Le Circuit Karting Mont-Tremblant this week and with teams already moving into the paddock the excitement level is beginning to rise. The country's best kart racers, teams and tuners have set their sights on becoming one of eight new National Champions, and Rotax racers have their sights set on becoming members of Rotax Team Canada, thus gaining an invitation to compete this Fall at the Rotax Max Challenge Grand Finals in Portimao, Portugal. CKN will be trackside from the first unofficial practice sessions beginning Wednesday, keeping readers informed on the event every step of the way.
With views on predicting who should fare well in working toward those goals, Canadian Karting News has prepared unique class previews for this year's National Championships, with staffers Cody Schindel, Neelan Nadesan and Jason Holland each submitting top-10 predictions in Rotax Junior, Senior and DD2. Taking into account results from this year in the Eastern Canadian Karting Championship, Western Canadian Championship and Quebec Cup; last year's performances in Tremblant, and their general track record, drivers were ranked by the CKN trio.  Then, taking the average of the three ballots, an unofficial class ranking was created. Drivers that were not listed on all three ballots were issued a score of 11. CKN will present its predictions in the coming days, starting today with Rotax Junior.
Rotax Junior:
The consensus number one selection in Rotax Junior is ZCD Autosport/CRG driver Zachary Claman DeMelo. Racing in both Europe and North America this season, DeMelo has simply dominated the past few months in Canadian Rotax competition, claiming the ECKC championship in the process and earning his second-consecutive invitation to join Rotax Team Canada. He is well known for his strong support team in the paddock, and barring any hiccups in the coming days he could easily walk away as this year's National Junior Champion.
One among those who could potentially offer a challenge, 2012 WCC Champion and ECKC runner-up Parker Thompson scored an average of 2.33 in the balloting, but it appears the TonyKart driver will present no challenge at all, opting to instead compete at the final round of the 2012 Rotax Euro Challenge in preparing for the upcoming Rotax Max Challenge Grand Finals, his second-consecutive participation with Team Canada. With the lead ranked pair already qualified, the Team Canada seat remains available as the rankings continue.
Olivier Bedard is well known for his qualifying ability at Tremblant, and last year finished on the podium at Nationals in third. He, too, raced for Team Canada at Grand Finals, and stated early on that his season goal was to make a return trip in 2012. The Max Karting/Birel driver has consistently been toward the front in ECKC competition, and at Tremblant will definitely need to avoid the incidents that derailed his championship bid. The CKN predicting trio have noted his potential, as he comes in with an average of 3.33 ranking points.
In what has been a break-out season of sorts for Tyler Kashak, the Intrepid North America driver heads to Tremblant fresh from winning two Ontario Grand National 'Bears' at Shannonville and from a strong performance at the ECKC season finale in Trois-Rivieres. He was on the front row in the final qualifying run of the calendar, and very nearly took pole from all others. He's a driver on the rise, and he averaged 4.33 ranking points from the CKN pundits. He's known he could race for some time, and now he knows he can win, too.
Samuel Fontaine comes in at number five of the initial offering, also looking a threat to win a position on Rotax Team Canada. The PSL/CRG driver can make a claim matched by very few in the paddock, as he heads to Mont-Tremblant as a former National Champion. Fontaine was the best Rotax Mini-Max driver in the country in 2009, and will be looking to add the same claim as a Junior in 2012. He enters with 5.67 ranking points, and all struggles endured during the season will quickly vanish if he meets his goal this weekend.
Full tabulations for Rotax Junior from the CKN trio:
| | | | | | |
| --- | --- | --- | --- | --- | --- |
| Driver: | Chassis: | Rank 1 | Rank 2 | Rank 3 | Average: |
| Zachary Claman DeMelo | CRG | 1 | 1 | 1 | 1 |
| Parker Thompson | TonyKart | 2 | 2 | 3 | 2.33 |
| Olivier Bedard | Birel | 5 | 3 | 2 | 3.33 |
| Tyler Kashak | Intrepid | 3 | 4 | 6 | 4.33 |
| Samuel Fontaine | CRG | 7 | 5 | 5 | 5.67 |
| Jeffrey Kingsley | Birel | 4 | 6 | 9 | 6.33 |
| Matthew Moniz | Vemme | 6 | 11 | 4 | 7 |
| Tommy Lamaire-Ouellet | TonyKart | 9 | 8 | 7 | 8 |
| Nicholas Dore | Birel | 8 | 7 | 10 | 8.33 |
| Tyler Ripani | LH Kart | 11 | 9 | 8 | 9.33 |
| Cameron Morrison | TonyKart | 11 | 10 | 11 | 10.67 |
| Jordan Redlin | Intrepid | 10 | 11 | 11 | 10.67 |
Please Note:
– These are strictly predictions offered up for CKN readers, and not any type of formal ranking.
– With no official pre-entry list, predictions were based strictly on those who are qualified through the ECKC, WCC and Quebec Cup.
– These are just for fun, read and enjoy!
---
Who you think will win this years Rotax Junior Canadian National Championship?
Zachary Claman Demelo (32%, 53 Votes)
Olivier Bedard (32%, 53 Votes)
Tyler Kashak (12%, 20 Votes)
Other (5%, 9 Votes)
Samuel Fontaine (4%, 6 Votes)
Tommy Lamaire-Ouellet (3%, 5 Votes)
Cameron Morrison (3%, 5 Votes)
Jeffrey Kingsley (2%, 4 Votes)
Nicholas Dore (2%, 4 Votes)
Tyler Ripani (2%, 4 Votes)
Jordan Redlin (1%, 2 Votes)
Matthew Moniz (1%, 1 Votes)
Total Voters: 166

Loading ...