Features
CKN Predictions: Rotax DD2 – 2012 ASN Canadian National Championships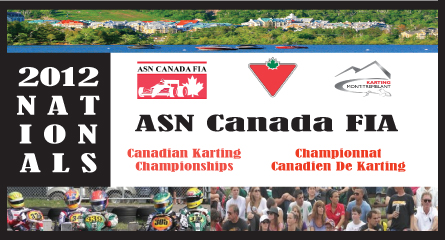 The ASN Canadian National Karting Championships return to beautiful Le Circuit Karting Mont-Tremblant this week and with teams already moving into the paddock the excitement level is beginning to rise. The country's best kart racers, teams and tuners have set their sights on becoming one of eight new National Champions, and Rotax racers have their sights set on becoming members of Rotax Team Canada, thus gaining an invitation to compete this Fall at the Rotax Max Challenge Grand Finals in Portimao, Portugal. CKN will be trackside from the first unofficial practice sessions beginning Wednesday, keeping readers informed on the event every step of the way.
With views on predicting who should fare well in working toward those goals, Canadian Karting News has prepared unique class previews for this year's National Championships, with staffers Cody Schindel, Neelan Nadesan and Jason Holland each submitting top-10 predictions in Rotax Junior, Senior and DD2. Taking into account results from this year in the Eastern Canadian Karting Championship, Western Canadian Championship and Quebec Cup; last year's performances in Tremblant, and their general track record, drivers were ranked by the CKN trio.  Then, taking the average of the three ballots, an unofficial class ranking was created. Drivers that were not listed on all three ballots were issued a score of 11. CKN will present its predictions in the coming days, continuing today with Rotax Senior.
Rotax DD2
He's two-for-two since 'coming to America' and this week Ben Cooper will be looking for his first stand-alone title on the continent. Having already won the Florida Winter Tour series and the Eastern Canadian Karting Championship series, Cooper now takes aim at the Canadian National DD2 title racing on his new home track. The SRA Karting/Birel pilot has been nearly flawless since coming to grips with paddle shifting and has won three straight race starts. He's picked to top the podium on two of three ballots, and averages out at 1.33 ranking points.
The only other pilot to score a #1 prediction is Nicholas Latifi. The Ferrolati Corse/CRG driver has been bouncing back and forth between Europe and Canada this season in beginning his formula car career in Italian Formula 3, but has shown he can still find the karting podium in both Coupe de Quebec and ECKC competition. Latifi earned his first invitation to join Team Canada after finishing second in Mont-Tremblant as a Junior, and after starting on the front row at Grand Finals last year, will be looking to earn his third-consecutive Team Canada invitation this weekend.
As most Canadians will know, the man starting on pole at that Grand Final was Pier-Luc Ouellette, and the PSL/CRG driver went on to win the 2012 DD2 title, his second Rotax World Championship. PLO swept opening weekend of ECKC competition this year, and took the championship fight down to the wire with Cooper, earning an invitation to join Team Canada and defend his title in Portugal in the process. He's also the reigning Canadian National Champion, and earned that title on this very track last season. Another epic battle is surely shaping up in the fastest class.
Tied with Ouellette with an average rank of 3.33 is Zach Robichon. The SRA Karting/Birel driver is another that is very familiar with Le Circuit Karting Mont-Tremblant, and he scored an ECKC series win here in 2011. At Nationals last season, Robichon was a dominating force through the formation stages as he took pole position, and won heats one and two. He was second in heat three, but right back on the point after winning the National Prefinal. In the final he swapped a Team Canada spot many times before finishing third, and this year he has an eye to qualify.
The driver who emerged with the Team Canada spot after finishing second at Nationals was his SRA Karting/Birel teammate Christophe Boisclair. The multi-time and multi-class National Champion has had another strong campaign to date, scoring an ECKC win at Mosport and finishing on the podium four times in six starts. No driver in Canadian Karting history has attended the Rotax Grand Finals more than Boisclair while racing junior and senior, and if he wants to confirm a record ninth trip from Nationals he'll surely need the podium.
| | | | | | |
| --- | --- | --- | --- | --- | --- |
| Driver: | Chassis: | Rank 1 | Rank 2 | Rank 3 | Average: |
| Ben Cooper | Birel | 1 | 1 | 2 | 1.33 |
| Nicholas Latifi | CRG | 3 | 5 | 1 | 3 |
| Pier Luc Ouellette | CRG | 2 | 4 | 4 | 3.33 |
| Zacharie Robichon | Birel | 5 | 2 | 3 | 3.33 |
| Christophe Boisclair | Birel | 4 | 3 | 5 | 4 |
| Brendan Bain | Maranello | 6 | 8 | 8 | 7.33 |
| Daniel Burkett | LH Kart | 9 | 7 | 6 | 7.33 |
| Daniel Morad | Maranello | 7 | 9 | 7 | 7.67 |
| Hugo Ouellette | CRG | 11 | 6 | 9 | 8.67 |
| Eric Gerrits | TonyKart | 8 | 10 | 11 | 9.67 |
| Fred Woodley | Maranello | 10 | 11 | 11 | 10.67 |
| Austin King | PCR | 11 | 11 | 10 | 10.67 |
Please Note:
– These are strictly predictions offered up for CKN readers, and not any type of formal ranking.
– With no official pre-entry list, predictions were based strictly on those who are qualified through the ECKC, WCC and Quebec Cup.
– These are just for fun, read and enjoy!
---
Who you think will win this years Rotax DD2 Canadian National Championship?
Daniel Morad (29%, 36 Votes)
Pier-Luc Ouellette (22%, 27 Votes)
Ben Cooper (13%, 16 Votes)
Nicholas Latifi (11%, 14 Votes)
Zacharie Robichon (5%, 6 Votes)
Eric Gerrits (5%, 6 Votes)
Other (5%, 6 Votes)
Christophe Boisclair (4%, 5 Votes)
Daniel Burkett (4%, 5 Votes)
Hugo Ouellette (2%, 3 Votes)
Brendan Bain (0%, 0 Votes)
Total Voters: 124

Loading ...