The third round of the 2013 WSK Euro Series hit the track this past weekend in Sarno, Italy, as many of the world's best kart racers and factories continue their front-heavy 2013 schedule of events. Five Canadian's were in attendance in Sarno, covering three of the five categories.
Coming off a huge victory last weekend in Germany, Alberta's Parker Thompson posted a quick time in his qualifying group to advance to the Super Pole qualifying session where the Energy Corse factory pilot blistered off a lap time good enough to earn the Super Pole in KFJ, the premier Junior category. Also competing in KFJ was Devlin Defrancesco but the DFR/CRG driver struggled in qualifying only managing to post the 50th best time.
The heat races were good and bad to Thompson as he would earn a heat win, but also a crash and would rank eighth after the four heat races, while Defrancesco would encounter trouble in each of his heats and fall further down the results tally.
Turning to Sunday, Defrancesco would finally come to some luck and drive an impressive pre final all the way to 18th, but would be one position short of making the main event, while Thompson would start and finish fourth lining him up on the fourth row for the Final where he would battle inside the top-five all race long crossing the line in fifth, another great result for the young Canadian.
In the KF division, the fastest single-speed category, Lance Stroll and Zachary Claman De Melo were back in action. A disappointing qualifying session would see Stroll ranked 25th and De Melo all the way down in 40th.
The two would work hard from deep in the field of each heat race, with Stroll recording results of 18th, 6th, 5th, and 7th to move up to sixteenth in his Chiesa Corse/Zanardi kart. But De Melo found plenty of trouble scoring finishes of 10th, 18th, 8th and 21st and ranked thirty-sixth, two positions short of making the main events putting the CRG driver on the sidelines for Sunday.
Stroll advanced forward in Pre Final to finish ninth and continued his charge in the Final to match Parker Thompson's result of fifth place and giving Canada it's second top-five of the weekend.
At Sarno @LanceStroll from above. Picture by @uglidibussinhttp://t.co/KoXIdOhFZx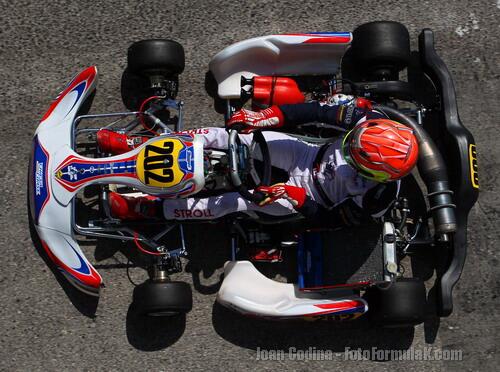 The final Canadian competing in Sarno was Antonio Serravalle as he attacked the 60cc Mini category. Competing in his first European race of the season, would struggle in qualifying posting the 28th best time. But he rebounded in the heat races placing 19th, 12th and 13th and ranking thirteenth entering the Pre Final.
Bouncing around in the Pre Final, Serravalle would complete the heat down three spots in sixteenth. But he would regain the three spots back in the Main event and finish his weekend in 13th overall.