Driver Blogs
CKN Driver Diary: Zach Robichon @ Canadian Nationals
The week of Nationals started off at the track with lots of preparation to get everything organized for the event as well as for my race. We had just recently added some curbing on the track so on Tuesday we all basically spent the day cleaning and making sure the track was good for the upcoming week. I just kept telling myself to approach the race like it was any other and try not to overstress myself, which is something I've gotten really good at over time.
WEDNESDAY
The first morning started with two break-in sessions to get the engines ready for the whole weekend. Knowing the track wasn't going to be quite ready for chassis testing we took to the opportunity to get everything ready to eliminate any possible problems. The real work started Wednesday afternoon, when we decided to put on a new set of tires to start the work on the chassis. Judging by the times we were running it was looking like the track was going to be extremely quick for the weekend. The last two sessions were more opportunities to test out things on the kart. Overall, Wednesday was a good day as we seemed to be only about a tenth off the fastest times. Wednesday night we got the kart ready for the morning and went off to bed, nice and early.
THURSDAY
Day two on track started off a bit like the first, where the track looked like it was going to be fast all weekend, but in the afternoon everyone's times started slowing up a bit like at Nationals last year. This seemed to make my life a little more difficult because with the slower and greasier track conditions the kart that seemed to be working so well suddenly was becoming really hard to drive. Can't blame this completely on the kart though, because when the track started getting slower I started pushing harder trying to squeeze out some extra time and ended up making everything worse. So Thursday finished on a bit of a bad note because of this, but I knew that if I was able to concentrate on my driving and not pushing so hard, that I was able to be in the right times and race with the quick guys. At the end of the day Thursday we started hearing rumours about two different tire codes for the front tires which apparently changed the handling of the kart. After looking it up we found out that we would be racing on the supposed slower of the two tires. As it turned out, the first set of tires I had used were the faster tires and the second set were the slower ones. This then made it really hard to tell which drivers were really fast or if they were just running on the faster tire. We would have to wait till Friday afternoon to know who was really gonna be fast.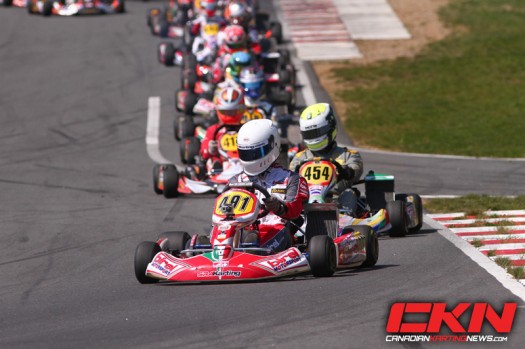 FRIDAY
Both Friday morning practices went well and we seemed to have enough speed to qualify in the top five. By the time qualifying rolled around the track seemed to change for the worse, and since we were the first qualifying session on the track had just enough time to be cooking in the sun. When we rolled on I immediately felt that the track had changed and saw that the times were quite slow. I can safely say that during that qualifying I drove really badly! When the times didn't start coming down I started making mistakes trying to push too hard to get an extra few tenths but ended up losing more then before. After all was said and done I was sitting 9th for the start of all heat races. Not exactly where we wanted to end up but still a decent starting position and more importantly, on the inside. After qualifying we didn't make that many changes considering we were only about two tenths off. Usually when you're starting 9th you have more changes and more time to catch up but the competition was so close this weekend that all the little things made all the biggest differences.
When the first heat came I just told myself this is only the first of three and the worst thing I could do was start crashing out in the heats because sometimes in these big races all you need is consistency to get a good starting position. At the start of the first heat I couldn't believe how aggressive everyone was being. You could see everyone was already trying to make up spots so I just tried working my way up without forcing my way by anyone to avoid contact and ended up 5th. Good start to the races, and hopefully I would be able to keep it up through every other race! At the end of the day Friday I had a little chat with Ben about how in the next heats I had to work on conserving my tires. One thing about him being a double world champion is that you don't really have a choice but to listen to him when it comes to these things. After getting everything cleaned up we all went for dinner at Ben's parents' house where a nice club sandwich got me ready for the days to come.
SATURDAY
When I arrived at the track Saturday I really got the sense that the intensity had turned up. After another quick morning warm-up we were again the first ones out for our second heat. In the second heat I really had in mind to try and conserve my tires. As it worked out I ended up being 6th. Still managed to win a few spots without pushing too hard and hurting the tires. The third heat was the first one where all hell seemed to break loose on the start. I seemed to be one of the only guys who got out without a scratch and ended up 5th after the first corner. After that I looked forward and got by Morad. After a few laps went by and I was sitting behind Herder and I found myself trying to figure out where I was in the points for the start of the Prefinal. As it turned out I'm not that good at figuring these things out, but I did know I was close to Herder in the points and if I got in front of him I would possibly be able to gain a spot for the Prefinal. I was able to squeeze by Herder and cruise to a 3rd place finish in the heat. So after all that it put me 3rd for the start of the Prefinal on Sunday. I almost couldn't believe it because I was hoping best case scenario after my 9th place qualifying I would be placed 5th for the Prefinal. Contrary to last year, everything seemed to be getting better and better instead of going downhill! Saturday night was a time to relax and not stress out, so a perfect time to have a barbecue with friends at my house to keep my mind off of racing.
SUNDAY
Morning warm-up was a quick 3 minute session. Not really a time to test anything because the track was nothing like it was going to be during the races so just enough time to make sure everything was good on the kart. The Prefinal went pretty much perfect for me. Off the start I was able to hold my third position and with Ben and Darren fighting a little in the front I was able to reel them in and after a few laps got by Ben. At the beginning of the race I didn't know if I was going to be able to keep up with Darren, let alone pass him, but I started seeing that he was making mistakes and that his kart looked like it was pretty tough to handle. I knew this would be my only time to get by because if his kart came in I didn't know if I would have the speed to keep up. With a quick look into 13 I got by Darren and for the first time of the weekend I was leading the race. Behind me everyone started fighting, so that allowed me to build a gap and save my tires a little bit and cruise to the finish. Before the final they organised an opening ceremony, which was good – if only it wasn't so hot sitting on the grid! You could see all the drivers were going into race mode and the Canadian Championships were about to be decided.
The start of the race seemed to go pretty good but it was really hard to judge how slippery the track was, especially since I was sitting at the front. The one good thing about being behind is that you can use the people in front to judge how slippery the track is and being in the front I wasn't quite able to figure that out. After about three laps Herder found his way by me and as soon as he got by I was able to judge a little bit more the speed of the track and keep up the pace. Next by was Ben, and as Ben got by I could tell he was going to be making a move to work to the front, so then I realised my best shot was going to be to try and follow him through. Although I wasn't able to get by at the same time when he got by Pearce, he slowed him up enough that I was then able to make a move a few corners later into corner 1. After that Ben and I were able to break away a little bit like in the Prefinal because everyone behind was fighting for position. At one stage in the middle of the race I thought maybe I would be able to take a fight to Ben, but the last few laps the kart started sliding and I knew if I could just keep my position I would get an invite to the worlds so I just concentrated on not making any mistakes. It was a good thing the race ended when it did, because towards the end Brendon started catching up pretty quickly and I think a few more laps he probably would have been able to get by! Last year I was the one hoping for a few more laps, but this year my role seemed to have changed! After the race I was incredibly happy with getting the spot to the worlds and I can safely say I've never been so happy to finish second. After the podium ceremony we all went out and celebrated a great weekend!
I must give a quick thanks to everyone from SRA Karting and everyone who helped me out at Nationals. Without them I wouldn't have been able to finish where I did.
-Zach