#MRFKC
CKN Driver Blog: Surprise DOTD Award for Gavin Sanders at CRFKC
Hey All,
As many of the racers in Ontario probably know, the Champion Ron Fellows Karting Challenge (CRFKC) Round #2 took place at Mosport Kartways this weekend. I was looking forward to this race because of my previous success this season at the beautiful facility in Clarington, Ontario.
Before I get into this blog, I just want to say how proud I am of my teammates this weekend. On the Saturday one of my newer friends Gabriel Savoie picked up his first "W" under the tent and William Chayer was very quick and ended up third on the podium at MIKA race #7.
When it comes to qualifying, I'm not always having the best of luck. I was still able to qualify tenth, even with only one good lap in due to traffic and having to overtake other drivers. In the pre final, I got off to a good start, moving up to seventh. However, the lead group pulled away and after I moved up to sixth there was no one in front of me to push because the pack was so incredibly fast. I ran the five loneliest laps I've ever had to do at Mosport.
The start in the final was a good one. As I headed up the hill in sixth, I was doing everything I could to gain spots and this payed off. I came down the hill in third, directly behind the two leaders and in a good place to take a shot at the win.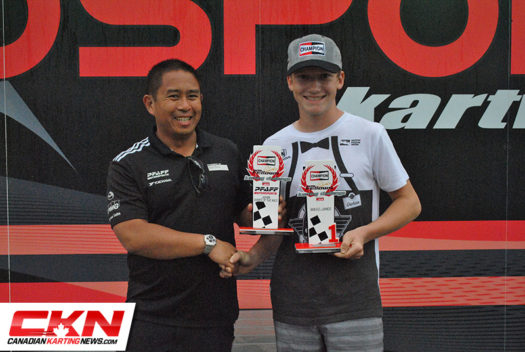 It began to get nasty in the pack, with people everywhere trying to thread the needle and make all-star passes so there were many karts sent off track and much confusion and displeasure between the drivers. I made my way into first and did not have any wheel-to-wheel combat with drivers for the rest of the race.
After the race, I was shocked to find out I was awarded Pfaff Motorsports Junior Driver of the day, for the comeback drive from P10 and winning an incredible race!
Looking to ECKC at Mosport this week, I am hoping to carry my momentum from this past weekend into next and really want to maximize all of my opportunities and give myself the best shot possible at the championship.
Hope to see you next weekend,
Gavin Sanders #610, Briggs Junior