Driver Blogs
CKN Driver Blog: Naila Deen Takes on the Alberta Summer Challenge
Well, this weekend went better than normal in the Rotax, but didn't end the way I imagined it would for the briggs.
After months of anticipation, the weekend had finally arrived for our only major event in western Canada, the 2016 Summer Challenge. And this year it came back better than ever, with cash prizes up for grabs. Fresh off a win in Briggs just last weekend at CKRC, I was equally excited to bring home some hardware.
Thursday marked the official practice for Rotax in the morning. Set up changes had to be made as rubber was laid down and karts were becoming over stuck. Knowing that I've struggled a bit with this track in the Junior Rotax, it made me slightly nervous. Additionally this was the biggest field I had competed in for a while, which added to my nervousness. The first session I struggled with speed and was only the 11th quickest. As the day progressed and changes were made, I would only move up a few positions, as the field was so tight. After reviewing Go-Pro footage with my good friend Coltin McCaughan, we realized cleaning up a few of my lines would pull a few tenths out. A gear change and a few tweaks with the kart to get it to loosen up, I would end our day only about seven-tenths off the leaders.
As for the last half of Thursday, I would practice in the Briggs. I was feeling pretty confident going into practice. However, my first mistake was going out on track first and all alone with no one to draft, while the rest of the racers had drafts. This would only come around to bite me in the butt, as I was only seventh fastest. The next few sessions were no different. I began to lose confidence in my self, as I was falling down the board. I ended the Briggs pretty upset that I could never join the draft in the allotted time.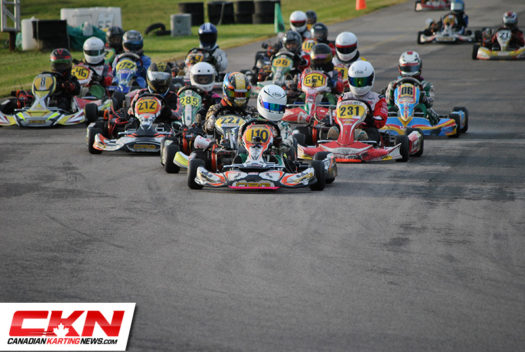 Friday morning would be the day that matters just as much as Sunday for me, it was qualifying day. The morning warm up didn't go as planned, I was a second off from first putting me back into 11th, which I wasn't too ecstatic about. I made some set up changes that didn't seem to work out. Going into qualifying I thought new tires all around would settle the issue, and in the end it unquestionably did. I would only qualify ninth but, the difference between third and myself was just less than a tenth. I was satisfied with ninth, as it would put me on the inside row. I would like to congratulate my best friends, Angelia Amorim and Griffin Dowler for sweeping up the front row in qualifying. As qualifying wrapped up for all the Rotax drivers, It was time to jump into the Briggs and get more practice in while the DD2 raced in between. But this would get shortened as we were tormented with heavy rain and lighting. Giving me the chance to sit back and relax a bit after a long day, the day before. Lighting stopped and so did the rain, and practice continued. Rain tires and rain set up would be brought out. I still didn't have the pace I thought I had and it was a disappointing end yet again for me in the Briggs.
Saturday would have its highs and lows with it being a race filled day. Morning warm up in the Rotax started off well. The rain would wash away some of the rubber. Then it was straight into heat 1, where I would capitalize on a huge crash in turn 1 and run away in 4th, only to get passed by a few drivers and finish in 6th. Going into heat 2, I was feeling pretty good but, a first corner crash would end my race early, having to retire with a bent kart. With both heats completed, it was on to the Briggs. Warm up went well and the track felt good. Going into qualifying I was somewhat nervous but I felt a little more confident with a fresh set of tires on. I would somehow manage to sweep up pole position. I immediately became super excited! And I knew the pressure was on.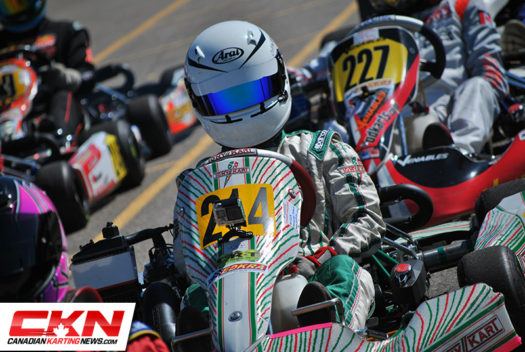 After all the qualifying sessions, Mother Nature would do her usual thing out here in Alberta and torment us again with rain and lighting, delaying our races again. I was super excited to get back on track despite the rain. After two hours of waiting, the racing would continue and the gamble for rains was on for the first heat. I chose to go out on rains and rains it was. However, not getting my gearing right for the rain would catch me off guard and I would finish in second. Going into heat 2, I would hold the lead but not for long. Matthew Taskinen would later pass me. Not knowing how big a gap we had, I knew that I had to work together with Matthew and run away. After sticking together for essentially the whole race. In the last lap, I would make contact with Mathew and fail to continue the race after going into the grass. Failure to complete the last heat would set me to start in 12th for the final.
Coming into the final, I knew I could gain some positions on the start. I had the speed and after some fighting, I crawled my way up to 8th, slowly gaining on to 7th but I ran out of laps to be able to complete a pass. Little did I know I would move up to 6 after an incident that happened way a head of me with the leaders and penalties that followed. I was content with sixth but really hoped for better. This would conclude the racing for the night, as heavy rain would return, cancelling all other races
After a long week, it was Sunday morning and it was on to the final day of racing. Track conditions would change from lots of rubber to greasy, low levels of grip. Morning warm up went reasonably well but, I immediately felt the track was slick and knew I would have to play it safe in the pre final. I would start the pre final in 12th, due to not finishing one of the heat races. I was a little nervous being on the outside but I knew I had to avoid any wrecks if I wanted to do well. Going into the first corner was a bit scary, karts were everywhere and starting on the outside would drop me a few positions. After a few battles and some contact I would hold out in 9th, putting me on the inside row, I was quite satisfied with that.
It was finally time for the finals and with a long 22-lap race ahead of me I knew anything could happen. Playing it safe to avoid any wreckage, I only gained one position. Some contact with the karts behind me would lead to the karts ahead of me to pull away. There were only a few kart lengths between them and I, slowly gaining on them I would climb to sixth by the fourth lap. I held on to sixth for a while and tried to real in fifth and I was able to make a pass on to fifth. I would continue in fifth for the remainder of the race and have a comfortable gap between the racers behind me and I. Lap traffic would narrow my gap, as a blue flag wasn't put out. I knew the pressure was on and the gap had narrowed, I just had to keep it clean despite being tired towards the end. In the end I would hold off and finish in a comfortable fifth, which was better than expected!
Overall I learned so much this weekend and had an absolutely amazing time. I would really like to thank all of the officials and organizers for putting on an amazing event. I was definitely happy with the end result in Rotax. However I was a little disappointed with my Briggs result in the end.
I want to give a quick shout out to Matthew Taskinen for lending me his engine, Coltin McCaughan for all his coaching and advice, everyone that travelled out west making our fields bigger than ever, and last but not least my family for all their support. Also a major shout out to CKN for giving me this opportunity!
Until next time!
– Naila Deen