Driver Blogs
CKN Driver Blog: Alex Da Silva Loves Mont-Tremblant
Mont-Tremblant – Dope place to have an event. Let me tell you guys a little bit about my weekend!
Now this is a story ALL about how my li……
Sorry, couldn't help myself LOL.
For real now, I had a blast in Mont-Tremblant. To be honest, it was nice to have an event there, so that outside of the track, you had a chance to unwind and chill out a bit from the seriousness of the event. Did my weekend go as well as I wanted? No, but, was it my worst weekend for results in the year? I've DEFINITELY had worse!
On Wednesday, I made the trek up to the track. My plan was to go straight to the track so I could get some seat time on another brand new track to me! I made it up there in time to get 2 sessions in, and luckily for me, I learned the track in about 5 laps. I was right on pace in my first session with some guys who had just raced there the previous weekend, and even catching some people who were quick there. In a Briggs kart, I love the way the track flowed! Suited my style well!
Thursday came and it was mostly raining, so I went out for a session to get a feel for the track and lines to take in the wet. Fortunately the weather cleared up towards the end of the day, and I was able to get more seat time…most important thing to do on a new track.
Friday was a little frustrating…I had good pace early in the day, but mid-day I was starting to have some engine issues. I had lost a total of 6 tenths of a second in two sessions. Doesn't matter how slow or fast of a driver you are, how can you lose 6 tenths in two sessions?! I knew something was up. Luckily, Darryl Timmers from PRO busted his backside getting my engine sorted that night (We'll forget about that luge start bro LOL).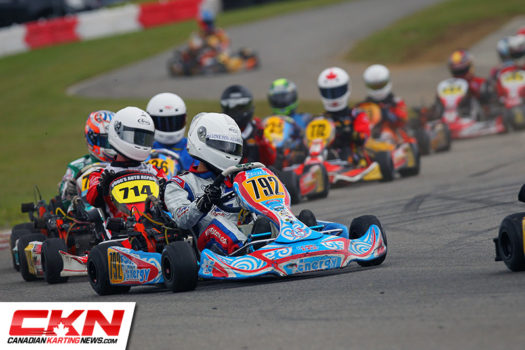 Woke up Saturday, boom, 8 tenths back. What a beauty. Warm-up was okay, had a decent pace to start the day. Then came quarry…again, something happens to me where I lose time / lose a draft because every session in Briggs Sr. is the World Championships basically. I got pinched up over a curb, lost a draft, and unfortunately started 12th for the heats. Then, my stupid, air-headed mechanic (me), decided to leave the bolts loose on me engine mount, and before I knew what was wrong, boom, chain popped on the out-lap of the first heat. It was a wet session, so I feel like I had a decent opportunity to do well, but instead I finished 23rd. GREAT way to start your heat totals .
Heat 2 came, and I missed my setup a bit. I went for too much of a dry setup, and really, the setup didn't come in well until the last lap when a dryer line was forming. The lap was like 7 tenths clear of what I'd been running the whole session. I ended up 9th. A trend was starting to form.
Time for Heat 3 and I ended up 8th. Was a decent session, made up some spots due to some carnage, and good passing / drafting. I had actually fallen back to 14th at one point, so 8th was not too bad.
Final 1 was by far my best session. I was finally able to push the pace I knew I could push. It was funny, because even with a 23rd in one of the heats, I was still up one spot from my qualy position. Even if I had another 8th place instead of the 23rd, I would've been starting around 7th for the finals, and from there, would've had a good shot at a top 5 finish.
So, I got a good start for Final 1, made up 4 spots on the first 2 laps, and was off. Alex Murphy caught and passed me, but we then hooked up and were off to catch the lead pack. We were almost three seconds behind the lead pack of six, but we eventually caught them within a few laps! After some good battling with the others at the front, I ended up 8th, but it was nice to finally run the pace I knew I was able to run the whole weekend, and be up there with the leaders.
Final 2 wasn't special. I finished 9th after a penalty, and some argey-bargey out there. It was a little hectic. The trend was formed. Basically I was good for about 8th/9th the whole weekend, but I feel like if stuff had gone a little more my way, I had a shot at top 5's. All in all, for my first time there, I didn't feel like I did too bad, just gonna make me hungry to go back there for Nationals!
I had a blast at Mont-Tremblant. Whether it was luge-ing, beer pong and kobe-ing the redemption cup to keep the game going, and eventually having our team win (Way to go boys!!), team dinners, blasting up the roads to the track, it was good fun!
Again, thanks to Darren, Marco, and the ENTIRE Energy Corse team for the support, hospitality, and just having a fun weekend! Thanks to Kelly Michaud for advice and support and parts, and Darryl Timmers / PRO for the engine tuning!
Can't wait for Mosport!
– Alex Da Silva, #792
By the way guys, I know everyone always wants another follower, so why not add me up on Insta! I'm gonna actually try to use the app, since I've used it like 3 times since January. I'll follow back, I gotchu. @alexanderd792. Peace!