This young man has been tearing it up as of late, racking up championships and race victories across North America. Zachary Claman DeMelo of Montreal, Quebec continues to turn heads and over the past twelve months he's secured some pretty impressive results; winning a Canadian Championship, an Eastern Canadian Karting Championship, along with a prestigious international Florida Winter Tour race victory, all in Rotax Senior. He also scored a Florida Winter Tour Championship in TaG Senior and a ROK Cup USA race podium in ROK Shifter, his debut in the category.
He has big plans for this season as well, with intentions to defend his Canadian and ECKC Championships, kart racing in Europe. along with some testing in formula cars.
We were able to track him down upon his return from Europe to complete our latest instalment on CKN Chatter.
---
CKN: In March, you had a stellar three weeks in Orlando, Florida. What was the highlight of the three weeks for you?
ZCD: For me I would have to say the highlight was winning the FWT TaG Championship and trying shifter for the first time. To drive the shifter for the first time was an amazing experience I'll never forget.
CKN: How did it feel to secure the Florida Winter Tour TaG Senior Championship?
ZCD: It felt really good after it all happened I knew it wouldn't be an easy race because it was so close in points.
CKN: You've had the chance to race with teammates such as Ed Brand and Arnaud Kozlinski, two drivers with very impressive karting resumes. How was it and were you able to learn anything from them?
ZCD: To just speak to them I learned a lot and being under the tent with them was a great experience. I am very close with Ed so it was nice to be under tent with him because I was able to learn a lot from someone with his experience.
CKN: You have made the transition from the Praga to the Intrepid chassis this year, have you noticed any major differences?
ZCD: I mean the Intrepid is a great chassis and it is very different from the Praga so I struggle to compare the two but the Intrepid is really a good chassis. The amount of work that was put into developing it was a lot and I think it shows with the results being earned around the world.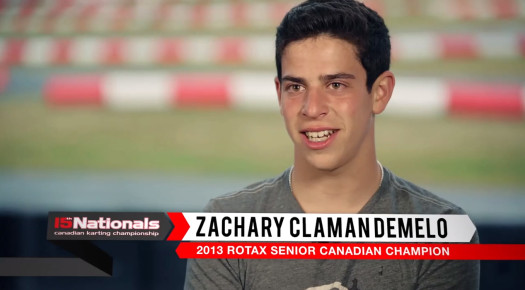 CKN: Will you be defending your Rotax Senior Canadian Championship this year? What are your plans for the season?
ZCD: Yes I will continue to do the Nationals this year and ECKC like I have done in past years. I think we should be very strong this year, maybe even stronger than last year as the kart is great and the amount of work HRS engines has put into my stuff should be hard for other people to compete.
CKN: Are you planning on moving up to cars in the future? What are your motorsports goals?
ZCD: I plan to go into Formula Renault 2.0 this year and begin to test minimally and maybe start the racing next year. But the main focus this year is really karting. As for my future goals it would honestly be a dream come true to go to F1 although I know it will be extremely tough. To make it to a high level of racing and make a living off of racing would be great!
CKN: You have done plenty of European racing over the past few seasons. What makes it so much different to racing here in North America, and where do you think we could learn from Europe?
ZCD: I think the racing there is a lot harder overall. It's hard to explain but the drivers there are a lot closer there is no room for error or the next thing you know you could be getting passed by six people in one corner. The racing is more aggressive and the times are close, and everything is very professional that is what makes the difference between here and there.
CKN: You have been working with Mike Wilson for a few years now, how is it working with a world champion of his calibre and what has he taught that stands out the most?
ZCD: Mike has been a role model in my life and I can't express in words how lucky I have been to work with someone like him. He has taught me how to be better on and off the track. We have worked a lot on my race craft over the past years and teaching me patience and when the right moment is. Off the track he's been like a dad to me and he teaches me to be sportsman like and always act professional.
CKN: Do you have any pre-race superstitions?
ZCD: I never really have up until lately. I always feel a little nervous before a race but I think it's only normal and it means I'm ready and aware. I always like to have a moment to think when I'm sitting in the kart where I have silence and picture in my head how the race is going to turn out.
CKN: Finally, Is there one specific event you are looking forward to this year, why?
ZCD: There is nothing in particular but I am focusing all my efforts on securing a spot to the Rotax Grand Finals so I can show this year what we can really do.
---
You can follow ZCD on his Facebook fan page, just click 'like' beside his status below!