CKN Chatter
CKN Chatter: Stéphane Couturier of SC Performance
Editors note: This interview was originally prepared in French before being translated to English. Click here for the original interview.
He's the man behind the development of a brand new go-kart track in Saint-Célestin, Quebec. A true karting advocate, Stéphane Couturier has been racing with boys for over a decade out of his SC Performance operation and is now adding "track owner" to the family business.
We had a chance to catch up with him in our latest installment of CKN Chatter as well as get a sneak peek at the intended track layout for his new track. See below.
---
First of all, how did you and your family get started in karting?
We started karting 11 years ago by going out to concession kart tracks for fun. From there we found out that it was possible for our two sons to compete competitively in the sport. We bought two 4-stroke karts for them and a few weeks later my wife and I purchased karts for our selves as well. Soon the boys raced the Coupe de Montreal, where I also competed for several years. Today Maxime and Alexandre race Rotax and Briggs in Quebec and Ontario. As for myself, I decided to focus on preparing the boys karts as well as those of my clients. In 2012 I founded SC Performance for Engine rebuilds and Chassis Maintenance, as well as selling parts and accessories for the Karting community.
What made you decide it was the right time to start a new team and open up a new track in Saint Celestin?
Three years ago I decided to make a career change. I initially was a Director at company in the Forestry sector then went on to becoming a Partner.  After 20 years I decided to start a business in karting turning our leisure activity into a serious investment. At first we tried to buy an already existing track but unfortunately there were two other buyers who acquired those facilities. When the Grand Mere track closed last year we wanted to find a way to serve their clients and bring the sport to as many people as possible. In terms of the team will be using the TonyKart Chassis in Quebec and are thinking of a different formula to operate the Race team.
What kind of facilities will be included on the property?
At first, it was important for us to have the track visible from a Highway. So we acquired four grounds in Saint-Célestin's industrial site, on the south shore of Trois-Rivières, near highway 55. There will be a two story building which will have a showroom, parts counter, a garage for mechanics to prepare the rental karts, and a restaurant with a balcony overlooking the track. The track itself is 1.2 km certified by ASN Canada and will be able to host major karting competitions as well as public rental karts. Also, approximately 250 000 square-feet of land will be fitted out for paintball in the forest next year. Therefore, for the people renting, lapping and competing, they will find various on location services such as, mechanical services, sale of engines, frames and new/used accessories, a good restaurant and possibility of the paintball for enjoyment purposes!
Are there any characteristics of the track that will make it stand out against current tracks in Eastern Canada?
In our opinion it is a technical track with tight corners and long straights that both drivers and mechanics will enjoy.
When will the track be opened to the public for the season 2014?
If everything goes to plan, the opening is set for the beginning of June 2014. We had to consider that a project of such a scale can be delayed due to many different circumstances But we are confident and we will do everything we can to meet this deadline.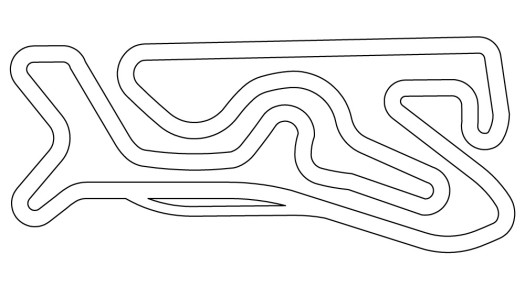 Do you plan on hosting any regional or national events in the coming years at the new facility?
Of course. We were on the calendar for the Coupe du Quebec round in July, but we thought it was too close from the date of the opening and unfortunately it was impossible to change the race to September instead. On the other hand, next year, we are open to bring as many competitions as possible to our track. We are looking for the possibility of welcoming club races and other Coupe races. For October, we are thinking of having a friendly race (Your ideas are welcome!). In a few years, why not host the Canadian National Championship and maybe more!
On to the team, as previously announced you have decided to utilize the Tonykart chassis line. What made you decide that it would be the best choice for your drivers?
From when we started karting we have used the TonyKart chassis line, with the exception of the last two years. The change wasn't because we didn't like the product, it was because we decided to follow SH Karting with the arrival of there new brand at the time. The decision to go back to the TonyKart chassis was to serve our customers and boys a better product to compete with.
Is it safe to say that you will have drivers competing in both the Briggs & Stratton and Rotax Max categories in 2014? 
Alexandre and Maxime, are racing in Briggs Senior and Rotax Senior, and several of our customers are in one of these two categories among the others available. Our main objective is to bring more drivers to club, regional and National events to help grow the sport.
The Briggs and Stratton LO206 category really took off in Quebec. How do you explain that?
I believe that, 4-stroke is the class to begin in karting because I think it's the best school and this category also forms better drivers. Having a less powerful engine, you cannot make mistakes. Plus, the cost is less in 4-strokes than in Rotax, which makes this category more accessible in a budget point of view.
In which championships will SC Performance be racing in during the season 2014?
Like in the past, we plan on competing in  Coupe du Québec, Eastern Canadian Karting Championship and the Canadian National Championships. If everything goes well, we will also be traveling down to Florida for the winter tour in either 2015 or the year after that.
Finally is there anything you would like to tell the CKN nation as you head into a big and exciting year?
Yes, we started a business, but it's a passion that drives the whole family. It really doesn't feel like work because we are doing something that we love to do and through that we will achieve success. Families, friends or work colleagues who come to rent karts and those who come to test and race, all are important for us. Karting is a sport, hobby, and an activity, this is what we want everyone who comes to our track to know as well.