Welcome to CKN Chatter, where CanadianKartingNews.com sits down with go-karters from across our nation and around the world. This weekly feature will see a different kart racer interviewed by CKN each week, with quick and simple questions about their karting past, present and future. 
After a few weeks off, CKN Chatter returns this week with another one of our 2012 Canadian Champions, Jesse Lazare. Back from a very up and down Rotax Grand Finals in Portimão, Portugal, Lazare was this years ASN Canadian National Karting Championships Rotax Senior Champion, and with it he became the first Canadian to win Canadian titles in Rotax Mini-Max, Junior Max, and Senior Max.
---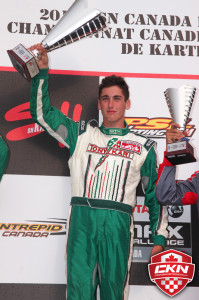 Name: Jesse Lazare
Hometown: Montreal
Age: 15
Years Racing: 8
Chassis Raced (to date): Tony Kart, CRG, Intrepid, Zanardi
Favourite Track: Tremblant
Racing Idols: Fernando Alonso
Supporters: Door Doctor
Accomplishments: Only driver in Canadian history to win Mini Max, Junior Max and Senior Max Canadian Championship
Education Aspirations/Job: Professional race car driver
---
To start, can you quickly recap your 2012 ASN Canadian Karting Championships?
We had a great week-end. It was hard from the start to the end but we won 3 heat races, the pre-final and the final race!
What is your most memorable karting moment?
My most memorable karting moment was the Senior Championship. It was my most satisfying victory and even if it looked easy it probably was the hardest race I ever had.
First trophy ever won? Do you still have it?
My first trophy was a the Cadet victory at SH Karting in 2005 and yes I still have the trophy.
How did you get started in karting?
I got started at Kartomania an indoor track in Montreal.
What is your favourite thing about racing?
I would have the say winning!
Who is your favourite person to race against and why?
My favorite person to race against is David Sera. When you race against David you really need to have eyes behind your head!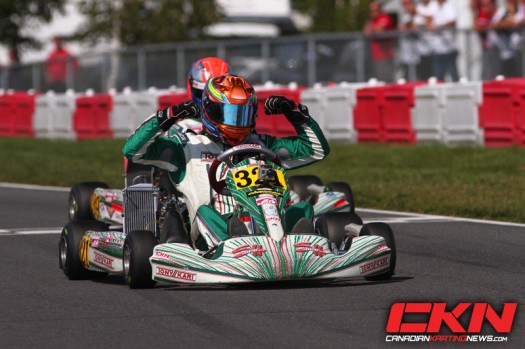 If there is someone from another generation you could race against, who would it be and why?
I would have to choose Vitantonio Liuzzi. He's an ex F1 racer as well as an ex karting champion. I've met him when I was younger and he's a great inspiration.
When you look at karting from a fan/spectator point of view, what do you see?
It's a sport where I feel most people don't realize that it's a real sport and how competitive it really is.
What is your current perspective on Canadian Karting and how do you think we could improve it?
Unfortunately I've seen Canadian Karting shrink in the years since I've been in this sport. One way to improve would be to try and lower the overall cost of it.
If you could win one race, and only one race, then retire, what would it be and why?
I would win this year's World Championship in Portugal because then, I can honestly say that I've accomplished everything I've aimed for in karting.
If you could choose one, would you choose a chassis tuner, engine tuner and driver coach?
I would choose STEVEN CHAMPMAN!! He's everything in one!
What is something karting people don't know about you?
There's not much karting people don't know about me, karting IS my life!