CKN Chatter
CKN Chatter: Bill Wright – Florida Winter Tour
It is getting cold in Canada and as per usual Canadians are preparing for their winter "off" season by getting ready for the annual Florida Winter Tour, an international karting championship held in the sunny southern US state during the January, February and March months. Tracking down the series owner and promoter Bill Wright, he was very excited to speak with us and spread the word on what is new and exciting for 2014.
---
Bill, thanks for taking a moment to chat with us. Can you quickly recap some of the new and exciting plans for the 2014 Florida Winter Tour?
It's always a pleasure to talk to my friends at CKN Nation. It's hard to believe this will be the 16th Annual FWT! And Canadians have always been a big and fun part of FWT! Oh, Canada, indeed!
This year I'm really focused on adding value for our participants. I've tried to lower or limit costs everywhere I can. I've re-introduced the discount for registering for all-three event-weekends, reduced the minimum number of set's of tires that are required to be purchased to enter, and introduced some lower cost class options. I'm aware that racers are being forced to make some tough choices about when, where and what to race, and I want to make sure FWT is still their number one option.
Most of the specific FWT news relates to the Formula Kart Racing weekends. As you know last year we added an exciting new format, that was very well received, and we'll continue with that format for 2014. We had really good TaG participation in 2013, up 16% over 2012, with Cadet averaging right at 40 drivers per event, and both TaG Senior and Junior averaging in the mid to high 20's. We have excellent parity in the TaG classes, just check the results!
I've said since day one that the FWT is only as good as the people racing with us. And this year…was the most competitive ever.
I'm excited to say that OGP and Homestead Karting have gotten back into shifter kart racing in a big way and will be joining us for all the FK weekends. And we're showcasing the low cost and great racing offered by the Briggs LO206 program.
I'm happy to report that we'll continue with the MG Tires / Granja 500 award program. And we're just putting the finishing touches on the Skip Barber program as well.
The FK weekend really is a fun, affordable and rewarding way to experience FWT. And for the "hard core" it also offers an opportunity to get some racing experience on the weekend prior to the FWT RMC.
Of course the FWT Rotax Max Challenge is held in high regard around the world as one of the most competitive RMC's anywhere. No question it's the "SERIOUS" part of FWT. In 2013 the FWT RMC featured participation from over 320 drivers from 26 countries and all six karting continents, including eight reigning or former Rotax and CIK World Champions, representing 15 World titles. Based on comments made during our annual trips overseas we can expect even more world-class competition in 2014.
But I'm conscious that not everyone comes to the FWT RMC to win a world title, so for 2014 we'll try to reel-in some of the costs of racing this program by providing the all-three-discount, and allowing drivers the option to race one set of tires for both race-days. And I'm excited to say I've added a Rotax Grand Finals "ticket" for our MAX Masters drivers for the first time in FWT history! I'm hopeful the combination of lower costs and more rewards will make the world's largest official RMC series even bigger in 2014.
The FWT will close at the Orlando Karting Complex this March, how did that come about after so many years finishing in Ocala?
It was a "perfect storm" of last-minute issues that created our current schedule. I am really proud to say that everyone involved worked really hard to give the racers the best options. I'm sure Jorge and the crew at OGP will, as always, provide a great event. I'm confident that once everyone see's how nice the "new" Orlando Kart Center is that it will be regarded as a great choice for 2014 and another great option for future FWT events.
It is awesome to see the Briggs LO206 classes added to the FWT Formula Kart weekend Finale. What brought this along this idea and how excited are you to hear the sound of four-stroke engines at Orlando?
Well, you may be hearing that sound at more than just Orlando in March! More on that soon! I've made no secret that I'm concerned about the cost of racing karts these days. And at the local level it has gotten kind of desperate. There is a lot of enthusiasm for this package, as you Canadians know. And after taking a hard look at it over the last two years I have to agree it's THE low cost option. In my opinion it has all the great attributes of the Rotax package at a fraction of the cost. And the racing is super close. I'm hopeful that we'll see it embraced at the club/local level and that it can become an ongoing component of FWT.
I hope to see growth in both the Formula Kart and Rotax programs [in 2014].
Do you expect to see many Canadians in the Briggs & Stratton classes when it hits the track in Orlando?
I'm confident we'll have a good showing from the Canadians. The major Canadian Teams have all committed to the program. And there are a few "incentives" coming that will make it a "must-do" for anyone racing the Formula Kart events.
You attended the Canadian Championships at Goodwood this summer, was there anything that stood out there to you?
Personally I most enjoyed the kabobs and the Molson! Seriously, what a nice place, eh? Goodwood is a classic karting track that offers hard fought, close racing. Cool weather. Great racing. Some of my closest friends and biggest supporters there. What's not to like?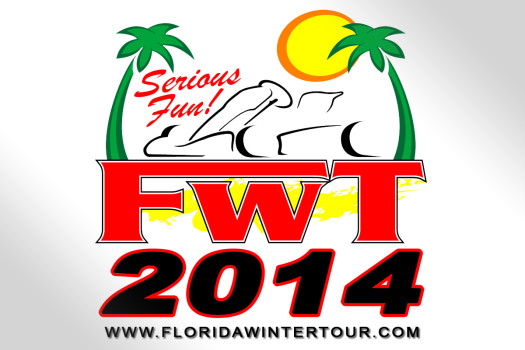 Your 2013 class champions have been very successful this year, winning races and championships around the world. What does that say about the competition at the FWT?
I've said since day one that the FWT is only as good as the people racing with us. And this year, thanks to the efforts of many supportive businesses and individuals, the FWT was the most competitive ever. And as I wrote earlier, based on the comments from teams and drivers from all over the world, 2014 will be even more competitive.
Where do you hope to see growth in the Winter Tour in 2014?
I hope to see growth in both the Formula Kart and Rotax programs.
The economy will play a major role. That is why I'm trying my best to make FWT "The Value Place to Be" in 2014.
Thanks Bill, any final words you want to pass on to the CKN Nation?
It is my pleasure. As always, keep karting "SERIOUS FUN!"
---
For more information about the Florida Winter Tour, be sure to visit http://floridawintertour.com.