Features
CKN Caption Contest: September 2012 – Vote for your favourite!
CKN Nation:
We need your help. The Judges cannot decide a winner for this months CKN Caption Contest and need you to submit your vote for the best caption, to help decide the winner of the amazing Art Rotondo lithograph.
The caption with the most votes will win. Voting ends on Wednesday September 26, 2012 at midnight.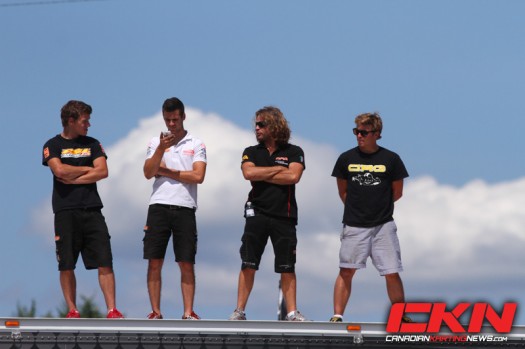 What is your favourite submission for the September Caption Contest?
"Anyone know how to beat this level of Angry Birds?" (Justin Knapp) (57%, 119 Votes)
"Hey guys,guys! The concession just ran out of poutine... No Way!" (Mario Alfreider) (18%, 38 Votes)
"Is that a laptime or a birth date???" (Steven Chapman) (10%, 21 Votes)
"Hang on guys...I'm not familiar with all the moves of this YMCA dance." (Barry Nickerson) (10%, 21 Votes)
"Ohhh man, apparently we're not allowed on the trailer!" (Kevin King) (5%, 11 Votes)
Total Voters: 210

Loading ...