Features
CKN Caption Contest: October 2012
The Canadian Karting News Caption Contest is back again. The first contest was very successful, but we know the CKN Nation can do better. September 2012 saw Justin Knapp take the inaugural title, taking more than 50% of the votes when it counted. Knapp chose the Sebastien Vettel artwork from Art Rotondo, but this month we have a very special piece from Art.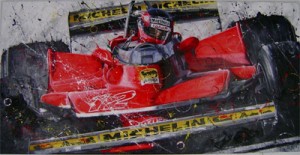 CKN has partnered with the awesome guys at Art Rotondo, a leader in Motorsports Artwork, who have offered a very sweet, unique and exclusive lithograph print from their 2012 F1 collection. This months Caption Contest winner will earn the Gilles Villineuve piece. This 24×36 print is individually numbered, signed by Art Rotondo himself and are 1 of only 100 limited edition prints. The winner will also receive a plak-mounted version of the photo with their winning caption.
The rules are very simple:
– Post a comment on the bottom of this post with your caption.
– Use your real name, and ensure we can contact you following the contest.
– The winner will be chosen by the CKN staff. A CKN reader vote may to be utilized as a tie-breaker.
– Entries are limited to 3 captions per person.
– Contest closes October 15, 2012
---
October 2012 CKN Caption Contest Photo:
John Cariati was simply ecstatic after winning the Kart Stars Grand Prix this summer, and here he is doing his best Ricky Bobby impression while being interviewed by Daniel Morad. Let's hear what you guys are thinking John's saying.
Caption away!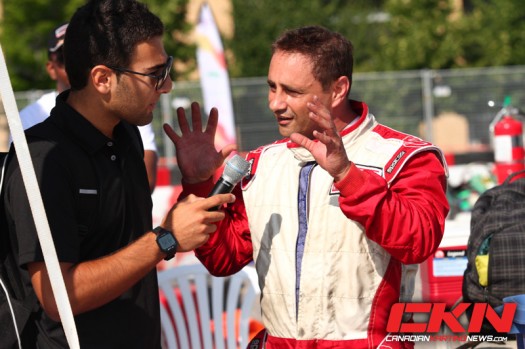 ---

Art Rotondo Inc. is a Motorsport artwork company based around canvas artist Arturo Rotondo. Born with tremendous artistic talent, Art combined this with the racing passion that was handed down by his late father. This is the inspiration that drives the Art Rotondo artistic expression.
The Montreal, Canada native has revolutionized the world of motorsport art by developing a unique way to capture the speed and the thrill of racing in his work. Having worked with many racers in all the top racing series, Art Rotondo has quickly become the reference in his domain.
Art Rotondo Inc. specializes in producing the finest motorsport oil on canvas paintings in a unique and dynamic way that depicts the racing frenzy that flows through these wonderful machines. From these unique motorsport works of art, we produce very limited edition lithographs prints in a sequentially numbered quantity. As a complimentary service we also offer unique auto racing helmet painting service to many of the racing world's top names which is also available to all racers from two wheels to four wheels and also no wheels at all.