Latest News
CDN Championships: Darren White storms to the pole-position in Rotax DD2 Qualifying
SH Karting Ontario team owner Darren White is back in the racing seat this weekend, his first race since the Florida Winter Tour in March. Posting his fastest lap early in the Rotax DD2 Qualifying session, White (SH Ontario/TonyKart) was able to earn today's Canadian Tire SuperPole, posting a lap time of 54.521 seconds around the beautiful Jim Russell Karting Academy track in Mont-Tremblant, Quebec.
Ontario driver Brendan Bain (Prime/Maranello) posted the second fastest time only a mere 0.1 seconds off White to position himself on the front row for each qualifying heat race, while Pier-Luc Ouellete (PSL Karting/CRG) powered his machine to third place. Daniel Morad (Prime/Maranello) was able to post the fourth quickest time, narrowly edging out Christophe Boisclair (SRA Karting/Birel).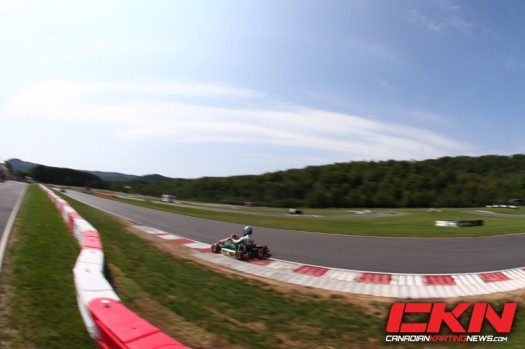 In the first heat race, White continued to set the pace cruising to victory, with Brendan Bain in tow. The tow snuck away early, while the excitement behind picked up. Christophe Boisclair was forced to retire from the fourth position early in the heat, allowing Pier-Luc Ouellette and Pearce Herder (Karts & Parts/LH Kart) to battle for third, with Ouellette taking the position at the finish. In an exciting battle, Zacharie Robichon (SRA Karting/Birel) was able to complete the top-five crossing ahead of his SRA Karting/Birel teammate Ben Cooper.
2012 CDN Karting Nationals: DD2 Pre-final with Pier-Luc Ouellette from Canadian Karting News on Vimeo.