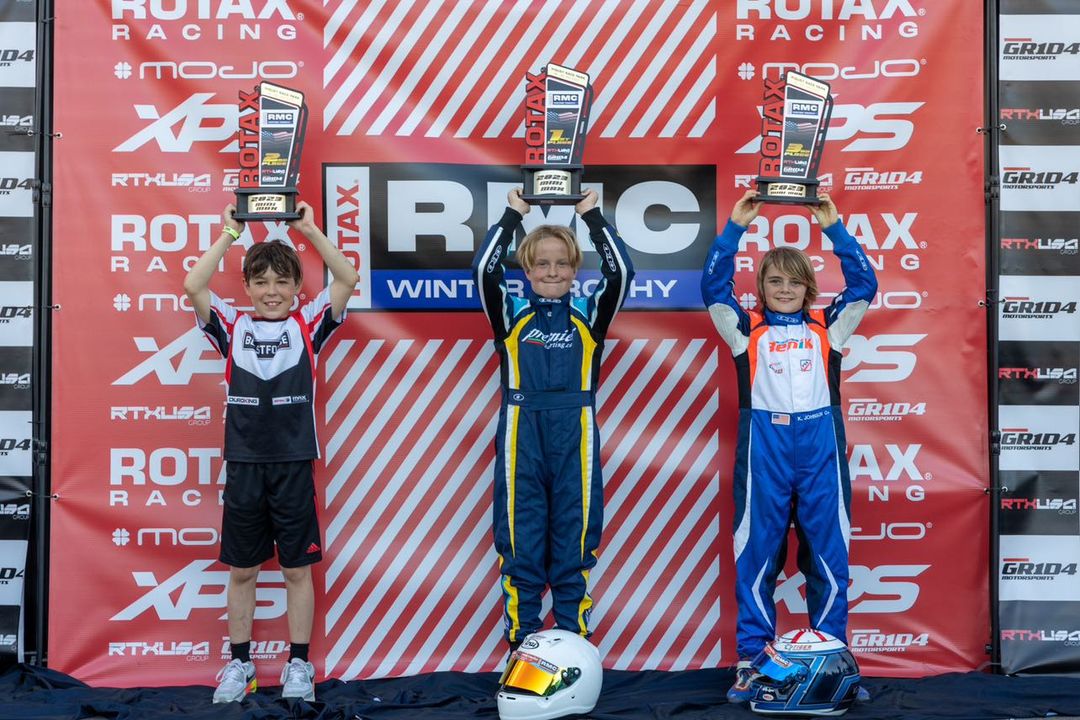 #RMCGF
Canadians Notch More Victories in Florida
Rotax Winter Trophy kicks off in Loxahatchee
Weekend four for the 2023 race season, we have more international race victories to report on!
A good number of Canadian racers took to the track in Loxahatchee, Florida at the brand-new Piquet Sports & Entertainment facility for the first stop of the back-to-back Rotax Winter Trophy mini championship where the first tickets to the Rotax Max Challenge Grand Finals will be awarded.
The Rotax Grand Finals is a yearly popular ticket for Canadian Rotax racers. Jumping on an opportunity early in the season has captured the attention of many as race teams like PSL Karting, Goodwood Kartways, Premier Karting, VSR Racing and more were in attendance and Canadians made up a good portion of the entries overall.
Scoring both victories on the weekend in the Rotax DD2 division was Gianluca Savaglio. He's seeking out his third straight ticket to the Grand Finals and got off to a great start in the opening weekend. He dominated the action and scored the maximum number of points he could to hold the lead ahead of round two this coming weekend in Orlando. Alberta's Matthew Taskinen and Colin Livingston made the long drive to Florida as well. Taskinen finished third on Sunday, after retiring only one lap short of the finish on Saturday while Livingston was the lone Masters eligible driver in the ground and finished fourth and fifth.
Canadians filled most of the grid spots in Mini Max on the weekend and were rewarded with four podiums over the two Finals, highlighted by a great victory for Antoine Lemieux on Saturday.
Lemieux led from flag to flag, made no mistakes and scored a margin of victory of 4.5 seconds aboard a brand-new Parolin chassis with Premier Karting. After a great battle, Alexis Baillargeon joined him on the podium with a runner-up finish while Edward Kennedy missed the podium by a tenth of a second and had to accept fourth-place honours. FWT race winner David Zhao wound up in sixth place on Saturday with Mathis Brunetti and Louis-Thomas Pelletier eighth and ninth.
Returning on Sunday, it was a three-kart battle for second place in the Final. Lemieux was able to secure his second podium of the weekend, and third in a row, with a second-place finish, just narrowly ahead of Zhao and Baillargeon as the three crossed the stripe within three-tenths of a second. Kennedy and Brunetti were seventh and eighth while Pelletier was twelfth out of the fifteen-kart field.
For Lemieux, his success was a great reflection of how far he has come in a year. He noted that last year at the Rotax Winter Trophy he finished in last place and to end up with a win is a huge accomplishment.
"It was really nice to win on Saturday as last year at this event I was in last place. The race for me was pretty good. I only had to do a good start and then they start fighting behind me, so I got away and just drove to make sure I made no mistakes and wasn't going off the track."
-Antoine Lemieux, Saturday Mini Max race winner
The largest category on track was Senior Max with 24 and it was dominated by Noel Leon of Mexico. He just had a pace that was unmatched throughout the entire weekend.
Scoring his third podium of the event, Gianluca Savaglio scored a third-place finish on Saturday, with a photo finish that saw him come up just short of second place. On Sunday, Savaglio finished in fourth and just missed out on a perfect weekend of podium finishes.
Also in Senior Max, Timothe Pernod finished seventh on Saturday and eighth on Sunday while Sophie Mrak was fifteenth on Saturday and an improved eleventh on Sunday.
Finally, two more podiums were secured in Junior Max. On Saturday it was Frederique Lemieux who drove to a third-place finish in the Final, fending off a hard battle for the spot late in the race to score the trophy. On Sunday it was Nathan Dupuis who scored the trip to the podium, also in the third position after a great race. Unfortunately for Frederique, she was crashed out of the race on the final lap while battling for the podium.
While there were no podiums to report in Micro Max, Mathys Lacroix, Melville Dos Santos and Aidan Kishun represented well. Lacroix and Dos Santos each secured a top-five on Saturday while Kishun was one spot behind in sixth on Saturday.
Many of these Rotax racers will be back in action again this coming weekend when the second half of the series shifts to the Orlando Karting Center to crown their champions.