#SuperKartsUSA
Burnett Scores Big Win at SKUSA Winter Series Opener
An update on how our Canadians did in Florida
Jensen Burnett is off to a hot start in 2023 as he led the way of the Canadian contingent competing this weekend at the SKUSA Winter Series opener in Homestead, Florida.
Burnett scored a pair of impressive podium appearances in the KA100 Junior division, the largest category of the weekend with 50 entries, including a last lap, last corner crossover pass to score the Saturday victory and then backing it up with a runner-up finish in the Sunday Final.
Also in KA100 Junior, Major Makovskis and Ty Fisher were in action. Makovskis was 23rd and 19th in his two Finals while Fisher was 29th on Saturday and a DNF on Sunday.
Burnett also competed in the IAME X30 Junior division, adding a top-ten finish on Saturday, the best among a number of Canadian drivers competing.
There were five Canadians in the X30 Junior division with Caleb Campbell finishing 13th, Mayer Deonarine finishing 17th while Nathan Dupuis and Anthony Martella were DNF's in the Saturday Final. All were back in action on Sunday with Martella rebounding nicely to score a top-ten finish, one spot ahead of Campbell. Deonarine was 17th for the second day in a row while Dupuis was 22nd and Burnett had a DNF.
Chatting with Burnett after the weekend, he sounded very happy about his start to the year, but hungry to keep pushing for more results.
"A great start to the year! I originally did not plan on racing that much this winter, but ended up doing a couple of races in between our vacation. The first race in Daytona [WKA Man Cup] was a very good way to start off the year, doing a clean sweep, winning every single session and dodging every single obstacle put in my way."
"The next two races in Homestead were tough at first, not being able to find any speed in the first two days of practice, but luckily, we found that speed on Saturday and qualified top-ten in both classes. In the Final on Saturday, we struggled a bit on the opening laps but found more speed later on in the race. On the last lap I was too far to make a move in any of the slow corners, so I had to roll the dice and pray for the best, hoping for a perfect switchback in the last corner of the last lap which would hopefully put me from third to first, and the odds came to me. The switchback worked and it was done to perfection securing me the win on day one."
"In the Final on Sunday, we were once again were lacking speed in the opening laps but found it later on, but I could not find the speed that we had on Sunday and was just short of winning, finishing P2 by just a tenth of a second. I was devastated, but was looking forward to using that anger as fuel to make me even hungrier in the upcoming races. It was a pleasure racing back where I started, realizing how far we've come since I started only a few years ago."
---
Just off the podium in X30 Senior
Matching the Juniors, there were five Canadians competing in the X30 Senior Pro division this weekend. A class packed full of talent, our drivers just missed out on the podium in both Finals with Ayden Ingratta leading the way on Saturday with a sixth place finish while Thomas Nepveu took fourth on Sunday.
With 39 in the class, results were tough to come by. In the Saturday Final, Nepveu was 15th, Lucas Nanji was 25th, while William Bouthillier and Laurent Legault scored DNFs.
Legault recovered to take 15th on Sunday, with Nanji 25th again. Ingratta only completed ten laps while Bouthillier sat out the days action.
Nepveu is set for another season of Formula car racing this year but taking advantage of some winter karting to stay active. Posting on his social media after the event, Nepveu was happy with his results from the weekend.
"It was not an easy weekend on track, but I had loads of fun with the Kart Republic, KartSport North America and BN Engines crew! Saturday was super hectic, with a tough qualifying session that set us back for the Pre-Final and Final. Sunday's Final went really well; I made up 12 spots to finish P4, just one tenth off the podium. Can't wait to be back on track in February!"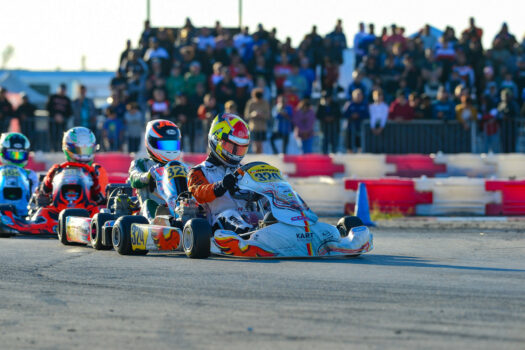 A few of our Senior drivers also pulled double-duty racing in the KA100 Senior category. Bothillier and Legault were 11th and 12th in both the Saturday and Sunday Finals just missing the top-ten.
Zachary Claman DeMelo was in early contention for the lead, running as high as second, but he slipped back to 13th at the finish line while Lucas Nanji was a DNF.
On Sunday, Nanji came home 18th while DeMelo was 20th after receiving a five-second penalty.
---
Micro and Mini Swift Results
It was a tough weekend for drivers in Micro Swift as there was only one driver to make it to the finish line in the Finals.
Olivier Chasse finished 18th on Saturday but had a DNF on Sunday. Leo Simone had a tough go in his first SKUSA race, scoring DNFs in his two Finals.
In Mini Swift, Alexis Baillargeon almost had a podium finish in the Saturday Final, but he had a pushback bumper penalty knock him back from fourth to eleventh in the results. A solid drive on Sunday saw him finish ninth on Sunday.
Canadians were all over the score sheet in Mini Swift on Saturday as Justin Di Lucia was 21st, Rocco Simone was 22nd, Hudson Urlin was 29th, David Zhao 31st, Decklan Deonarine 36th, Cole Medeiros 40th and Antoine Lemieux a DNF.
Lemieux was back in the top-ten on Sunday, finishing one spot behind his countryman Baillargeon. Behind them, Zhao, Di Lucia, Urlin and Simone were 14th, 15th, 17th and 19th while Deonarine and Medeiros finished up 35th and 37th.
---
The SKUSA Winter Series will return to the AMR Homestead-Miami Motorplex for their second and final stop on February 10-12.
SuperKarts! USA also announced on Sunday that the first round of their SKUSA Pro Tour will take place at the Orlando Kart Center in Florida on March 31 to April 3. Learn more on http://superkartsusa.com.