#RMCGF
Benny Cooper's Rotax Grand Finals Blog – Nations Cup Champions and a Big Thank You
Along with our daily coverage of the 2016 Rotax Max Challenge Grand Finals, we have tabbed 3-time Rotax Grand Finals Champion Ben Cooper to provide us with daily updates from his sights and scenes. Cooper is a special advisor for Team Canada in Italy, helping out any of the team members in need this week.
---
October 24, 2016
Nations Cup Champions and a big thank you!
Canada are the Rotax World Champions!!! From a country that only races for 6 months a year, that is an icredible achievement and I just want to take a moment to thank the whole team. Everyone from the parents to the mechanics and finally to the drivers. You have made this event very special and have showed by working together we can achieve great things.
My day started off with going around to all of the drivers in the Finals. I thought it would be best to speak to all of them prior to the Finals to give a few words of advice. I thought this could especially help our younger drivers through the days events. We spoke about being nervous and I reminded them that it's ok to be nervous because it means that they care.
We started the Finals with great promise with all of our drivers really showing huge potential for the finals. Anthony Sardellitti drove a great race to finish eighteenth. We all know Micro-Max racing where the draft is key and if the race had fell slightly different he could have finished top-ten easily.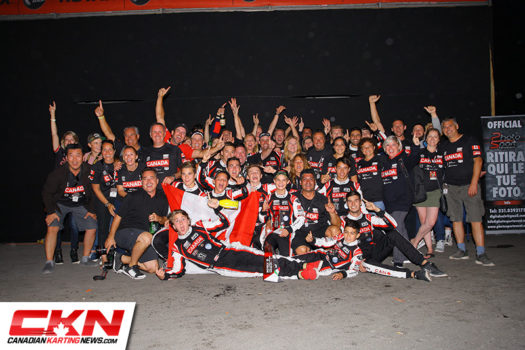 Now we come to our only Canadian on Pole for the Finals. Thomas Nepveu had impressed throughout all the races and he did so again in the final. Showing his fight, he didn't give up until the last lap. After a mid race battle, Thomas found himself in fourth, some way behind the leaders. A last lap battle insued ahead of him and he never gave up to come out of the last corner in second place. World Number Two!!!
What did I say a few days ago, Andrés De Alba would surprise us and that was the case in the final. Everything was looking good during the final when Samuel Lupien and Andrés De Alba were positioned sixth and seventh and working together catching the battle for third. Unfortunately for Sam he was caught up in someone else's incident and had to take avoiding action across the grass and would then drop back to fifteenth. Andrés would continue to battle away throughout the long race to come home after all the results were official in sixth place. World Number six for someone who was in 70th place after the heats.
Now is where we would struggle. Difficult races for our Senior drivers, Demelo and Di Leo and the same for Scott Campbell in DD2 Masters. It was shame to see his last race go like that. I'm sure we will see him come back in the future. If it was up to me he would be back next year! Unfortunately in DD2 a strong weekend for Signoretti would come to an end on lap two after running sixth. Kingsley would drive his heart out to finish 19th after being forced back at the start.
Now this is where the tension would rise. Before the DD2 Masters race team Canada were just under 100 points ahead of Finland and Australia in the Nations Cup. After that race where Australia won and Finland was second we had a slender advantage of 30 something points. Then after the unfortunate race for the DD2 drivers we were all waiting to see the final point standings. Around 10 minutes after the race we had confirmation that we were for the first time since 2007 the Nations Cup Champions.
After the racing we headed down to the tent to arrange everyone to get their suits ready for the podium. During this time we were speaking to Scott Campbell about his race and it was then when he told us how he pushed as hard as possible after his early crash to try and gain as many points as possible for the team. That was so nice to hear that even after the dissappointment of his own race he was still so determined to help the team.
The podium celebrations are going to be something that I will never forget. To see the whole team celebrating not only our success but Thomas Nepveu's podium. You could really sense the joy of everyone to be a part of it.
Now I would like to take this moment to thank the unsung heros of this success. Firstly Patrick Moreau, for all his efforts and organization. Not a lot of people realize but he has organized the team every year. There is not a single other country that has that. He puts in a lot of work behind the scenes filling out the registration forms and making sure that when the drivers arrive they have everything they need. It really is a smooth process and that is down to him. Trust me, I've had to do the registration process myself when I was with the UK and it's not easy, he has to do it for 16 drivers, so THANK YOU Pat!
THANK YOU also goes to ASN Canada, Paul and Chere Cooke. Not many people realize this either, but they are the only ASN in the world that gives our quialified drivers a free international license. That is a huge help to Team Canada. Also we just want to tell you that Paul and Chere were at Canada Motorsports Hall of Fame on Saturday night and Paul was able to announce to all in attendance what we had all achieved. It turns out we got a three to four minute applause from the audience. That just goes to show how much our success means to motorsport in Canada.
Finally, I personally would like to say THANK YOU to Michel Boisclair for providing me with this opportunity to help Team Canada at this years Grand Finals. When he came up with this idea, he mentioned to me about Team Canada's success in 2007 and that we haven't done it again since. Well now we have done it again and let push on to try and win it again in the future!!!
-Benny
---
October 21, 2016
Sometimes racing can be brutal
Well what to say about today? To be honest with you I really don't know. Sometimes racing can be brutal, it can break your heart, but at the same time it can make you so happy. We have had those emotions today, tears of joy and tears of disappointment.
What I can say though, I don't like this new system for the PreFinals. I always believed the heats are there to make it to the Finals. With this format, you can win all the heats and then fail the plug in the PreFinal and that's it your done, packing up and going home. I don't like it.
Someone who I haven't spoke much about this week is Marco Signoretti. He has been fantastic throughout the races. Consistent through all the heats, nothing silly, smart driving. Tomorrow he can go for it in the final and if he can keep his nose clean we could see a great result.
Someone who also impressed during all the races and it came to the forefront today is Thomas Nepveu. This is someone who I have been trying to beat all year with my team, but he has proven why he has been so hard to beat. He took the win today in the pre final with authority. What I mean by that was that in his head he was going to win and he was going to make it happen no matter what. If he has that same attitude tomorrow, who knows what will happen.
Yesterday, in my blog I had mentioned about Andrés De Alba and how he had showed his pace all week, but in the heats had struggled. Well how fortunes change. This mornings warm up he was second quickest, only because first place was on wets and guess what in his race it rained whilst on slicks. Moving forward he managed to come from the back row to ninth on the road, which would end up being sixth on the official results. So from being 70th in the rankings after the heats to end up 11th for tomorrow's finals is unbelievable. Remember what I said, we could see a huge surprise from him tomorrow.
Finally, Ryan McDermid, my heart goes out to this young man. My self appointed assistant captain, who is, let's be honest loved around the paddock, has done amazing all week. The first ever Canadian Junior on pole at the RGF's and winning a heat. He has done everyone in karting in Canada proud and all I can say is keep your head up little man you have an bright future ahead on you.
Let's wish the best of luck to all of team Canada in the finals tomorrow. We still have some fantastic chances for success. I think we could be bringing home a podium finish in the nations cup as well.
-Benny
---
October 20, 2016
A day of mistakes during the heat races
Today would have to be the day of mistakes. One mistake and you pay a huge price for it at an event like this. I believe that this is the lesson of the day.
We again had a mixture of good and bad results for everybody but my heart has to go out to Andrés de Alba. He has been one of the drivers who has impressed me the most with his driving and attitude for his first time at the Grand Finals. Fourth in group in Qualifying was great, he just got a little unlucky that the second session for qualifying was overall quicker. Coming to the first heat he had a solid first half a lap when he got sandwiched and spun in the middle of the track. With no where to go another driver crashed into him and that led to him being out of the race and with a trip to the ambulance after the race.
This is where he impressed me the most. After the ambulance to check his leg he turned and looked at me and said "Ben don't worry tomorrow I will win!" That's when I saw the motivation in his eyes. Unfortunately today again would not be a good day with crashes in both heats. Again we had a good conversation at the end of the day and I reminded him of what he told me. I think we could see a surprise from him tomorrow.
Now a huge shoutout has to go to the old man of the group, the most experienced man of the group, Mr. Scott Campbell. He and his father are a true testament to karting. They are what karting is all about, father and son working together to go racing and WINNING! This has to be the most focused I have seen Scott since I have been part of Team Canada. Let's hope he carries on this path for the rest of the weekend. I know what it's like to try and go out with a bang in what could be your last race and I really hope he can make it happen.
More to come…
-Benny
---
October 19, 2016
Highs and Lows on Qualifying Day!
What can we say about today. The highs and lows of racing were very evident.
This mornings early start meant that the warm ups were very much a write-off due to the heavy rain fall last night and a very heavy mist on the track this morning. In fact the Micros were on track at 8 am and I think it was 8:30 before we could actually see more than one corner on the track due to the fog. It took until the last DD2 warm up for the track to get within half a second of the times in practice.
Qualifying started with the Micro's and Mini's and it was a difficult session for both Anthony and Thomas, struggling to find a good position on track. Then it was time for our juniors. What can we say!!! Andrés put it P4 in his group and then it came to Ryan and Sam. The two of them had their plan and they stuck to it so very well. The first two out on track and immediately the first two on the board. Then with one magical lap at the end Ryan managed to put himself P1 overall and Sam P6 overall.
Then we could say the heart break would come not long after in the DD2 with Jeff Kingsley being in a great position for a good lap time and then he slowed to a stop on the straight. A seized engine would end his hopes of a good qualifying result.
This would be the same case of highs and lows in the heat races. It started great with Anthony in Micro moving forward after a bad start and taking the tenth fastest lap in the heat. Thomas raced fantastically well to move forward throughout the heat.
Then a heat that included mixed emotions. All of our juniors were out together in the first junior heat. Andrés was out of the race in the middle of the first lap. During the race Mathew Taskinen had been moving forward until a mid race incident put him back. Then at the front of the pack Ryan and Sam put on a show to end P1 and P2.
In the other senior races there were mixed emotions again with drivers not finishing or finishing mid pack. As we always say "that's racing" and hopefully tomorrow will be a great day for the whole team!!!
-Benny
---
October 18, 2016
Practice, Practice, Practice!
I think the key thing I have to say so far is that the team spirit is fantastic. Our drivers are respresting Canada in a great way. In every catergory they are working together with their mechanics to improve. This is what the Grand Final are about.
So far like I said in part one, all our drivers are showing the speed to compete at the front. It may not show in the ultimate lap times but to watch on track, visually our drivers look great. With the draft being so critical, at least three-tenths in most classes, and even more in Micro and Mini, the ultimate lap time can be very deceiving, but to see our drivers going through the pack with ease or set fast times on their own is great. As we know racing however is a different story.
We have had a couple of issues through the practices so far with a few drivers having issues and missing a session, but they have bounced back well. Especially our Micro driver Anthony. Unfortunately his spark plug failed this morning in his first session today. He didn't even complete a lap. After waiting around for the most part of the day for his second session, Anthony then put in a superb lap in his second session to give him a fantastic sixth position overall. With some small errors to fix he could be right there for tomorrow.
As of right now we have had only one driver who has found some technical issues and that is Thomas in Mini. With Thomas we are struggling to find RPM at the end of the straight and we are working hard with the help of Rotax to solve this issue for tomorrow's qualifying.
The next part of CKN's Benny Coopers Blog will be tomorrow after qualifying and the first heat races for all classes. However I do think that my self appointed assistant team captain Ryan McDermid should write that one.
-Benny
---
October 16, 2016
Foreword
My first thoughts on Team Canada for the Rotax Grand Finals are that we have a strong team that could see us take home multiple top-10 finishes with the chance of sneaking a few podiums if everything goes well. Over half of our team has competed at this event before so there is a lot of experience in our team, with Scott obviously being the most experienced of the team, if not the most experienced out of the entire paddock.
At the GF's you tend to find the usual quick guys aren't always the quickest as the field is leveled up, being on the same kart, therefore this event is very close in times. That means it's about minimizing mistakes and staying out of trouble. With the new CIK ruling, the Last Chance Races being replaced by two semi finals where the top-17 qualify for the Final. It's going to make the heat races very interesting as there should be less need for risk taking to stay out of the LCQ. Everyone will have the chance to make the final.
With this all being said I do believe that many of our drivers could have the speed for the podium, which means it's down to racing where it could get tough. Obviously at this event our drivers will be racing 36 drivers on track where one mistake won't necessarily cost one position, but could cost five to ten depending on the circumstances.
I'm looking forward to seeing how the week develops. I will be there on hand to help out all of our drivers with anything they need. Many people have asked me if I will be coaching Team Canada, which is not the case. Everyone of our drivers has there own way of doing things, whether it's with their mechanics or parents and I don't want to get in the middle of that. I will merely be there to provide advice and information on what I think can help. I will be closely watching the timing screens and sector times to provide information for our drivers and their mechanics.
-Benny