Features
ASN Canadian Karting Championships – Thursday Update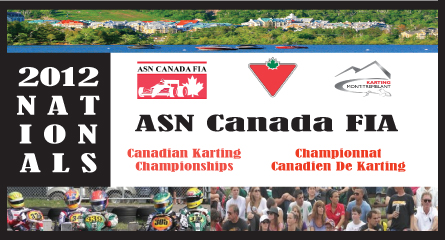 Two official practice days are complete at the Jim Russell Karting Academy in Mont-Tremblant, host of the 2012 ASN Canadian Karting Championships. The tension in the paddock is building as drivers and mechanics prepare for Friday's official qualifying. CKN is on site, and have gathered a few paddock notes before the action officially begins tomorrow:
Large Contingent competing in Rotax DD2
Along with the usual suspects in the competitive Rotax DD2 class, a handful of one-off drivers have added themselves to the mix this weekend. 2010 Rotax Grand Finals DD2 World Champion Daniel Morad is competing with Prime Powersport on a Maranello Kart. SH Ontario team owner Darren White is pulling double-duty as he is racing aboard a TonyKart while managing the team operations, while Pearce Herder has stepped into a Karts & Parts LH Kart in Tremblant. Another addition to the class is current USF2000 standout Matthew Di Leo racing on a Praga chassis. The class also has a combined five Rotax Grand Finals Championships competing this weekend; Daniel Morad (1), Pier-Luc Ouellette (2) and Ben Cooper (2).
Healthy turnout in Briggs & Stratton classes
After a season that has had many up's and downs for the Briggs & Stratton classes across the country, this weekends Senior class (combined with Masters) is well into the twenties, while Junior had fifteen drivers hit the track today. The growth comes as drivers from outside the Quebec region have travelled to Mont-Tremblant, including a strong showing from New Brunswick.
Marco Di Leo aboard a Praga Kart
2012 Eastern Canadian Karting Championship Rotax Senior Champion Marco Di Leo has traded rides this weekend. Competing aboard an Intrepid chassis for the past few seasons, Di Leo is racing on a Praga kart this weekend, helping to promote the other brand his Goodwood Kartways operation distributes through Praga North America. Catching up with Marco today, he is very happy with the chassis but was quick to note it is much different from the Intrepid he usually drives.
Four drivers pulling double-duty this weekend
While many drivers choose to focus on one class when the Nationals roll around each year, four drivers are pulling double-duty this weekend. Junior drivers Sarah McKay and Trevor Rancier are racing in Briggs & Stratton Junior and Rotax Junior, while Alex VanSnick and Steven Szigeti are both racing in Briggs & Stratton Senior and Rotax Senior.
Double-Canadian Champion back in action
1985 and 1986 135cc Formula K Canadian Champion David Nevin has jumped back into a go-kart to compete at this years Nationals. After a long hiatus from the sport, Nevin returned to the track when his son showed an interest in the sport. However, he too found the kart racing bug and has been back racing this season. Competing aboard an Intrepid chassis with the Intrepid North America operation, Nevin is racing the Rotax DD2 Masters class.