News
Alpinestars Launches NRG Collection for Kart Racing
By: Alpinestars PR | Official Product Launch Date: April 14, 2014.
Alpinestars launches the NRG Collection, a new range of highly distinctive and aggressively styled kart racing products, to further strengthen its current offering of class-leading racing gloves, suits and footwear.
Using the K-MX 5 suit, the Tech-1 K glove and the Tech-1 K shoe as the reference, great attention has been paid in the NRG Collection to color detailing and placement of the iconic Alpinestars logo to appeal to new generations of kart racers.
The NRG Collection features energy-infused color combinations that have been carefully selected to offer unique styling and match meticulously with other products in the range.
When worn together, the distinctive NRG products offer a uniquely eye-catching 'Total Look' ensemble, yet they are also highly versatile and can be worn separately, meaning they are a great addition to your kart racing kitbag.
As well as making a statement on track, the products in the NRG Collection offer the ultimate in performance, incorporating the latest material technologies and advanced design construction to deliver unsurpassed levels of comfort and protection, with the K-MX 5 NRG
Suit meeting the demanding requirements of the CIK FIA homologation standards.
---
K-MX 5 NRG Kart Suit key features:
The K-MX 5 NRG is a distinctive and aggressively styled suit guaranteed to get you noticed, especially when matched with shoes and gloves in the new NRG collection. Adapting many of its technical innovations from Alpinestars premium auto racing suits for the unique demands of karting, the K-MX 5 NRG has strategically placed stretch zones and an advanced fully floating arm construction, offering exceptional mobility while driving.
Complies with the CIK FIA Level 2 homologation standard.
Construction
High performance nylon outer layer is engineered for superior durability and abrasion resistance.
Mesh panels positioned on the shoulders, armpits and seat area provide excellent ventilation performance.
Poly-mesh lining around the torso greatly enhances driving comfort.
Ergonomic fit
Innovative fully floating arm is constructed from knit fabric for maximum flexibility around the shoulders while driving.
Stretch inserts around the lumbar area enhance flexibility and help maintain the suit's fit both in and out of the kart.
Comfort
Knitted wrist and ankle cuffs provide a snug fit and help prevent unwanted movement of the suit.
Alpinestars Formula 1 style shoulder epaulettes.
Adjustable collar and waist belt allows a customized fit.
Two flat pockets offer a convenient storage option for those times away from the driving seat.
Alpinestars iconic logo prominently displayed on chest.
Suit features bold colorways and has been carefully designed to meticulously match other products in the NRG collection for a stylish 'total look'.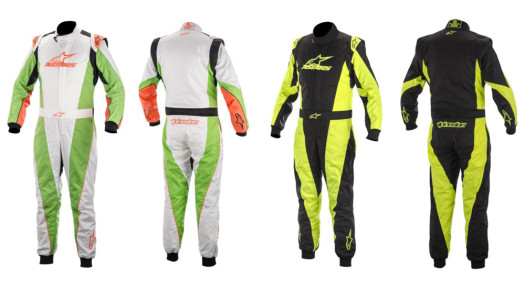 ---
Tech 1-K NRG Glove key features:
Incorporating Alpinestars pre-shaped fit and tactile sensitivity the lightweight Tech 1-K NRG karting glove is available in bold and highly distinctive colorways. This streamlined performer has been specifically engineered to offer kart racers exceptional levels of comfort and control while the glove's pre-curved design features an ergonomically reinforced palm for superior comfort, grip and vibration absorption.
Two-layer stretch poly-cotton construction provides the optimum combination of weight, feel and comfort.
Grip treatment on palm features an innovative 'slash dot' pattern for improved feel and control.
Ergonomically positioned synthetic leather patches on the palm and fingers are backed with memory foam for greater grip, durability and shock/vibration absorption.
Pre-curved finger and palm design aids fit while reducing material bunching when gripping the wheel.
Revised thumb construction for superior comfort and ease of movement.
Mesh fourchettes provide greater airflow while driving to improve comfort.
Foam padded knuckle for comfort and performance fit.
Straight cut cuff design with Velcro® wrist closure ensures easy, secure fitment.
Gloves feature bold colorways and have been carefully designed to meticulously match other products in the NRG collection for a stylish 'total look'.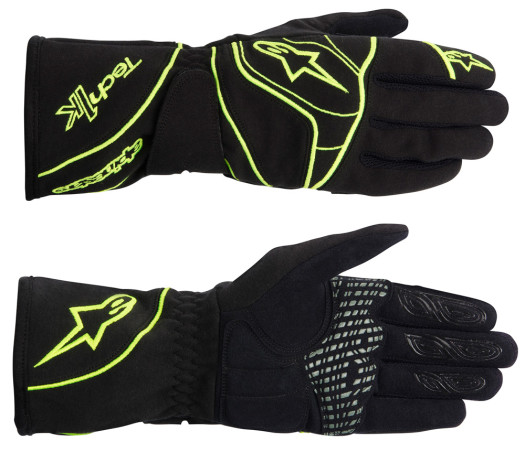 ---
Tech 1-K NRG Shoe key features:
Designed to be worn with other products in Alpinestars NRG Collection for an energy-infused 'total look' at the track, the Tech 1‐K NRG is constructed from microfiber for durability. Specially developed by Alpinestars auto racing footwear department, the shoe features an exclusive rubber compound sole for grip and an innovative foot counter affording excellent support, movement and sensitivity on the pedals.
Construction
Advanced hybrid construction consisting of durable microfiber upper with perforated side panels for an ultra‐light weight and highly breathable shoe with superior feel.

Strategically placed mesh paneling placed in the tongue offers excellent ventilation.

External toe reinforcing for additional abrasion resistance.
Formula 1 derived sole
Ultra‐thin Formula 1 specification sole uses Alpinestars exclusive rubber compound which is strategically ribbed to provide pedal sensitivity and grip – in both wet and dry conditions.
Innovative Alpinestars foot counter for maximum performance: an ergonomic, Polypropylene heel counter provides support and stability inside the shoe, while a flatter forefoot with die-cut ribbing provides greater feel on the pedals.
Comfort & Closure System
Low profile ankle with Velcro® strap closure for a customized and secure fit with support and padding for comfort.
Innovative lacing system features Kevlar-reinforced eyelets for durability, styling and secure closure.
Ergonomic footbed for greater feel and precision.
Shoes feature bold colorways and have been carefully designed to meticulously match other products in the NRG collection for a stylish 'total look'.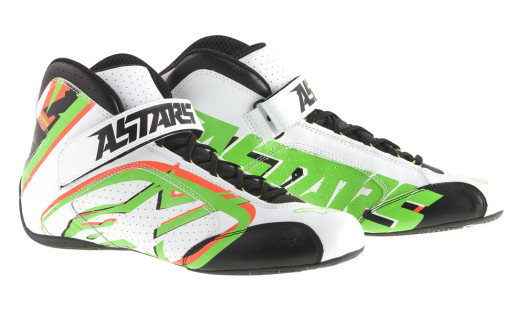 For more information be sure to visit http://alpinstars.com.