The Eastern Canadian Karting Championship is stepping up their policing of on track action in 2017 with the introduction of a camera marshaling system, further showing the efforts that ECKC organizers are going to, to host professional events for Canada's drivers. This is a similar setup that was utilized at the ASN Canadian Championships last summer in Mont-Tremblant and by Maxspeed Entertainment at the Florida Winter Tour.
"While on track eyes are important, ECKC officials know that they can't catch everything, even with three sets watching and thus the financial investment was made to secure the system that will be used at all ECKC races," elaborated Dominic Labrecque.
The cameras were welcomed at the ASN Canadian Championships last summer in Mont-Tremblant and received positive reviews as officials were able to review incidents that were called in before accessing a penalty.
Having utilized the system at the Florida Winter Tour and US Open for the past two years Patrick Moreau and Christian Parent will manage the cameras in the control room this year while Bill Oakman, Steven Hubert and Norman Jennings will continue to monitor the action trackside as the race directors and stewards.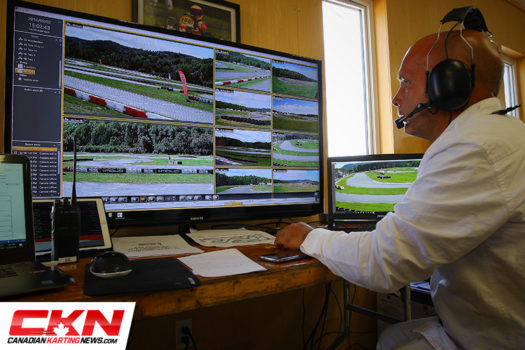 "It is an upgraded version of the one that was used last year in Mont-Tremblant for the 2016 Canadian Nationals. Cameras with better resolution have been added and improvement was made to the network system," explained Christian Parent. "The video system give us the opportunity to go back to the action and see it from different angles and get the whole story leading to the on track call. In the two years that the system was used, at first, the number of calls went up but, competitors and team managers have seen how reliable it can be, leading to cleaner races and a decrease in calls, protests and arguments."
The cameras will get their first test in just under a months time as round one of the Eastern Canadian Karting Championship will take place on May 20 and 21 at Goodwood Kartways near Stouffville, Ontario.
Registration for the Goodwood round will open on ECKC website on May 1. Drivers are urged to complete their registration for the race before the event.
More information about the Eastern Canadian Karting Championship can be found on their website, http://eckc.ca. Further announcements about the series 2017 plans are also to be released in the coming days.
---
Follow ECKC on Instagram!